WA's Favourite Local – The Botanica
The Botanica beer garden is one of those places that's perfect for sitting back and having a couple of beers on a lazy Sunday afternoon. This joint really pushes the boat out when it comes to a Sunday sesh but lunch time see's plenty of families and groups enjoying a bite to eat.
The pub is poised just up the road from Scarborough beach and over the road from the Innaloo cinemas. It makes for a great spot for a bite to eat before or after a movie.
We started with the bruschetta, which came as four pieces making it a great option to share. Grated parmesan sprinkled over the top was a massive miss and spoiled the flavour.
I am a sucker for the Sunday steak special – T-Bone, chips, salad and bearnaise sauce for $20. While the value is good, it was a tough piece of meat that was over cooked from the medium-rare I had ordered. The saving grace was the creamy bearnaise sauce and generous serve of chips.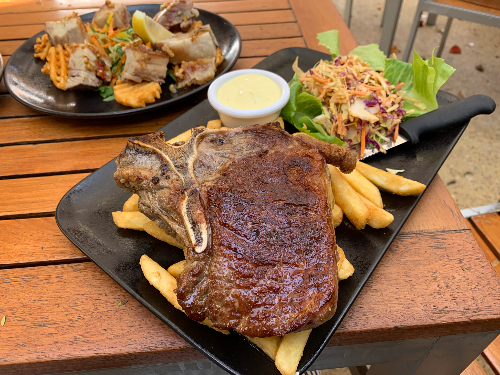 We also tried the pork belly bites, which seem to be in vogue at almost every pub at the moment. The portion was generous it was just missing that real crispiness on the fat that makes pork belly so delicious.
If you like your squid well battered then the Botanica is for you. Squid does so much better when it's lightly battered so this dish missed the mark.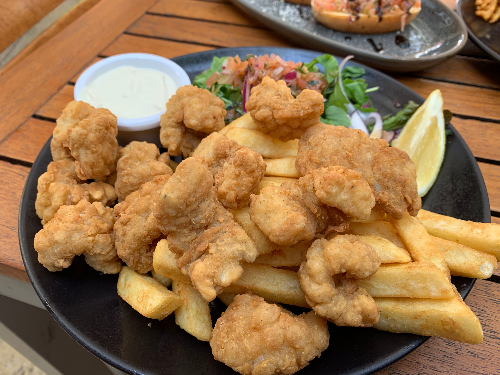 The four meals came to about $70, so there is good value and variety available here. You cannot fault the service and the meals arrive within a good time frame.
There's plenty of beers on tap, which includes the usual suspects alongside craft varieties such as Pirate Life and 4 Pines. Wines are predominately Australian, which was refreshing to see given the white selection is often dominated by drops from across the ditch. There's plenty of options by the glass and there's a handful of top end titles for those who like a premium wine.
Every weekday there is a $12.50 dinner special rotating through pub classics such as a parmi, lamb shanks and fish and chips.
The Botanica is really an all occasions venue, whether it be a lunch with your extended family, a date with your other half or to catch up with friends.
The Botanica Bar & Bistro – 401 Scarborough Beach Road, Innaloo
Score 13.5/20
Alby – a smooth, refreshing and easy drinking West Australian lager by Gage Roads
Download this podcast here