WA's Favourite Local – Picabar
If you're like me and feel like a lizard searching for that perfect warm spot to unwind with a cool drink, you're going to love the many sunshine-drenched spots to sit and while away a few hours at Picabar.
What I particularly enjoyed about the venue is its ability to cater to a wide-array of social gatherings without feeling cut off or compromised. We relaxed on a table big enough for four enjoying a work-lunch. Next to us, a table of four blokes enjoying pints and steak sandwiches. Next to them, a girl enjoying a sandwich and a coffee with her headphones on, writing and watching the passers-by. Inside the venue are comfortable couches set around sturdy tables and tucked away tables for 4 or more and out the back, beer hall style long tables for groups, under the leafy branches of several welcoming trees. Essentially, whatever kind of gathering you're after you'll find a decent spot to plonk yourself down at Picabar.
The menu is similarly crowd-pleasing. What it lacks in length, is made up with options to suit whatever time of day or hunger level you're arriving at. There are smalls/bites options including reliable bar snacks like fries with aioli AND tomato sauce (to avoid the inevitable pub sauce argument!), truffle fries, warmed Sicilian green olives and house spiced nuts. If you're wanting to throw down a few options among a group, the shares are strong enough to get tastebuds going, but not to have to think too hard about. We chose the Picabar Tasting Plate and it was easily big enough for four people, with generous servings of three kinds of cheese, enough pepper crackers to keep your beer-fuelled appetite down, an impressively big offering of prosciutto (no scrimping here folks), plenty of fresh grapes and pickles with enough vinegar to make your eyes water (just how I like them). Everything on the tasting plate was fresh, firm and I can easily picture myself coming back to pick at it over a pint with some mates in tow.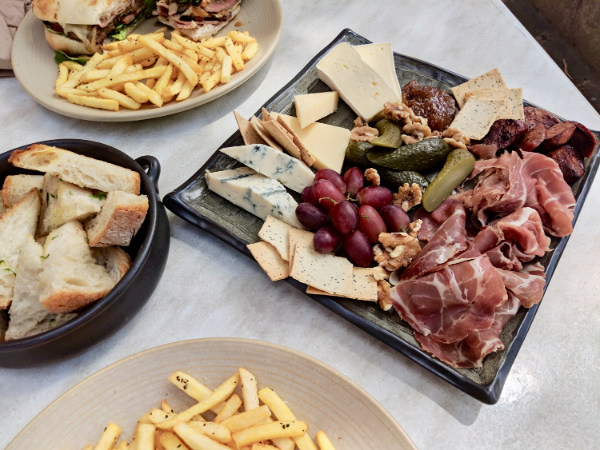 If you're after a proper meal you can tailor your choice to whatever kind of hungry you are. Pub-staples like the Steak Sandwich and the Wagyu beef burger are complemented by slightly unexpected options like the Parmy Burger (in a broiche bun, yes please), the Fried Chicken Burger and some very fancy looking sandwiches (mushroom béchamel toastie if you don't mind!). If you're after a light lunch the salads on offer are varied and can have chicken added to them.
The Fried Chicken Burger I picked because I like a challenge… and in my experience fried chicken in a burger means the chicken itself isn't enough of a star. Not here though. It was expertly cooked, with enough flavour in the coating to warrant it starring on its own. The bun was light, but not in that 'falls-apart-in-your-fingers' kind of way and offered enough flavour to work with the chicken, but not enough that it's a scene-stealer. I loved the low-key cheese and lettuce and the condiments were definitely there, but not screaming in your face. A solid performer I was happy to have taken the risk with.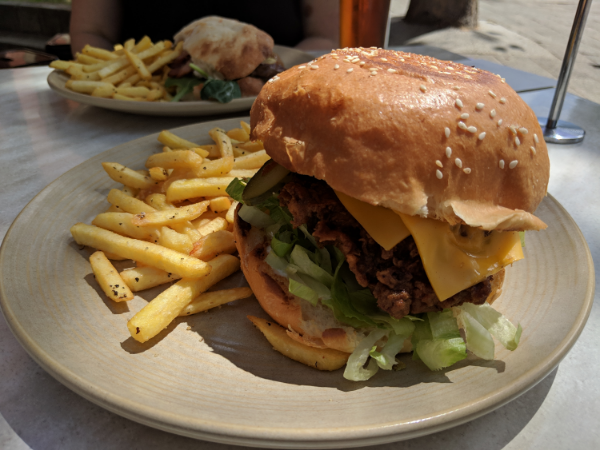 The steak sandwich – a staple on any pub menu worth its weight. A good one can bring people in from far and wide and Picabar have nailed it. Served with shoe string fries sprinkled with pepper, they made a nice change to the usual beer battered chips. Tender scotch fillet with bacon, sweet onion jam, bacon, cheddar and aioli is sandwiched in soft Turkish bread. The "soft" bread is key. There's nothing worse than taking a bite into hard bread and having the roof of your mouth ripped open. No need to worry about that here. This beauty is an easy eat.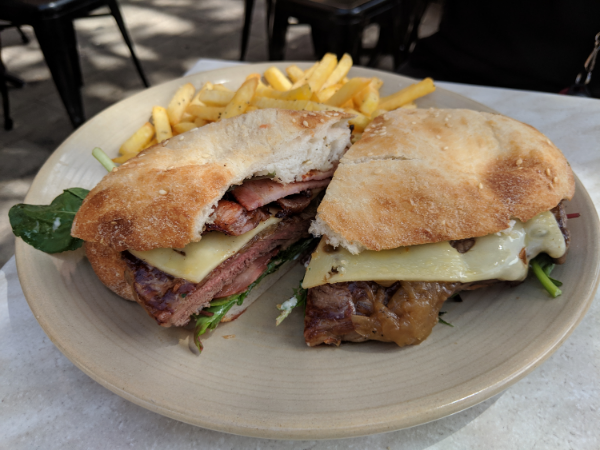 The wine-list at Picabar isn't miles long, but it's got plenty of WA and Australian options with a solid range of cheap and cheerfuls as well as some to dwell on slightly longer available per bottle. Being an inner-city somewhat trendy bar, the craft beer available on tap and by the bottle is plentiful, and a rotating roster of 'guest' beers will keep the regulars happy.
Earlier visitors aren't forgotten about, with dependable baristas behind the bar for a pick-me-up alongside a short but sweet breakfast menu. I'm happy to report this lends itself perfectly to the Espresso martini which features on similarly short, but satisfying cocktail list. The service at Picabar is quick, friendly and know you're there for – to whet your whistle with some bloody good pub food and maybe watch the world go by under a tree in the sunshine.
PICABAR– 51 James Street, Northbridge
Score – 16.5/20
Alby – a smooth, refreshing and easy drinking West Australian lager by Gage Roads
Download this podcast here