Health Minister's wife to defy advice on protest
Health Minister Roger Cook revealed today his wife Carly Lane would be attending the Perth Black Lives Matter protest.
This is despite Premier Mark McGowan, WA's Aboriginal Affairs Minister Ben Wyatt and Federal Minister for Indigenous Australians Ken Wyatt urging people not to attend this weekend due to COVID-19 health concerns.
Infectious Disease Specialist at Hollywood Private Hospital Dr Clay Golledge joined Perth LIVE where he told Oliver Peterson it's hard to "justify this double standard."
"People shouldn't be protesting on mass," said Dr Golledge
"It's not the right time, it's not the right place for tens of thousand so people to protest and not practice normal social distancing."
However Dr Golledge concedes due to Australia being in a "fantastic position with coronavirus", a protest probably wouldn't undo the state's hard work when it comes to the spread of the virus.
"That however does not condone people getting together and not being able to practice normal social distancing."
Minister Cook's wife Carly Lane issued the following statement today:
As an Aboriginal person, I want to attend the Black Lives Matter rally this Saturday in solidarity with all those who stand against racism and Aboriginal Deaths in Custody.
Systemic racism, whether it happens here or in America, is an abuse of our human right to live free of fear, and of our right to enjoy a full life.
I support a peaceful rally and we should all be mindful of the health and safety of those around us.
Minister Cook also released the following statement today: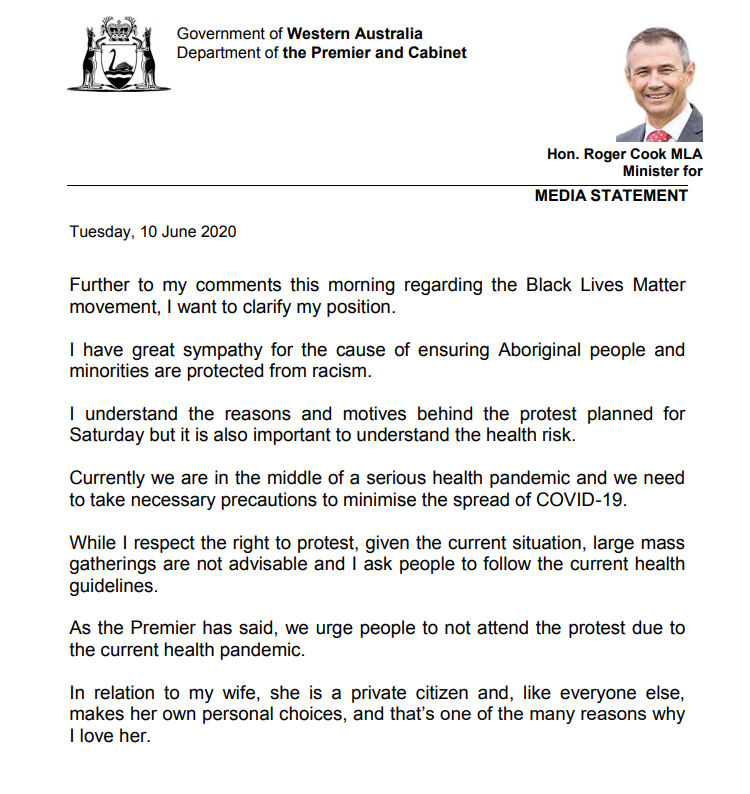 Featured Photo credit: Marta Pascual Juanola
Download this podcast here