Activists plan to raid farms across the country
A radical animal activist group is preparing to invade multiple Australian farms on Monday prompting warnings from agriculture groups.
Promotional material distributed by "Aussie Farms" is urging participants to keep quiet to "protect the plans from sabotage".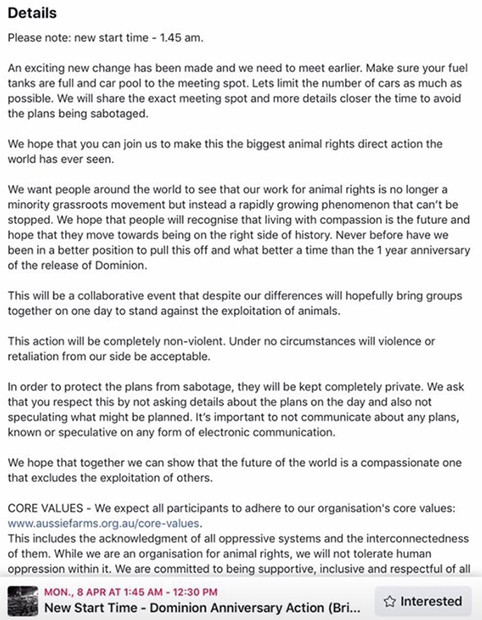 Aussie Farms will be brought under the Privacy Act, exposing it to $400 000 fines if it breaks the law.
The activist group has been publishing a map listing the names and addresses of farmers around the country
They have been repeatedly asked to shut down their site before someone gets hurt, but have ignored the Federal Government's requests
Aussie Farms was not covered by the Privacy Act because its annual turnover is less than $3 million, until an intervention from Attorney-General Christian Porter.
The activist group will be prescribed as an organisation under the law from Saturday, which requires them to comply regardless of turnover.
AgForce Cattle President Will Wilson joined Oliver Peterson today to express his concern for farmers after hearing the news of proposed vigilante action.
"I cant believe these people are going through with what they do.

"He [Aussie Farms] can't give a treasure map to people that want to destroy people's lifestyles. That's not on."
Following on from this Oliver spoke to WA Nationals spokesperson Colin de Grussa about their call to establish a Parliamentary committee to create laws to combat militant animal activists.
"We are incredibly frustrated the Government says one thing [about trespass laws] and hasn't done anything about it."
Download this podcast here