Compulsory hygiene training for WA hospitality workers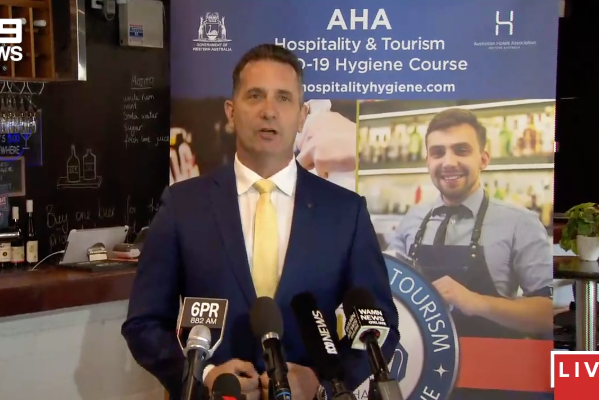 Mandatory COVID-19 hygiene training and assessment was launched today by the State Government and Australian Hotels Association to prepare the WA hospitality industry for a future return to business.
The free course is two-tiered, with all staff required to successfully complete the first component, and managers and supervisors required to complete the second, more advanced aspect. Staff will receive a certificate of completion, a badge and wallet card which contains prompters of the key learning outcomes from the course.
Every venue must have a staff member with the more advanced accreditation on shift at all times, as the venue's dedicated hygiene officer.
Businesses will also have to display signage that the venue is compliant with all conditions.
Venues will only be able to reopen when restrictions are lifted and every employee has successfully passed assessment.
"This will provide confidence to venues and customers when the time comes to reopen," Premier Mark McGowan McGowan said.
Tourism Minister Paul Papalia added this new course would "provide reason for hope and optimism for 70,000 hospitality workers and the promise of the highest possible hygiene standards to the Western Australian community when our hospitality venues do open again."
The AHA Hospitality & Tourism COVID-19 Hygiene Course covers the following:
Understanding COVID-19 and venue restrictions
Reporting personal health issues
Maintaining personal and work environment hygiene practices, specific to COVID-19
Reducing cross contamination through procedures, specific to COVID-19
Effective cleaning and sanitising practices, specific to COVID-19
Hospitality workers are encouraged to study the Tier 1 course material and complete the assessment now at http://www.hospitalityhygiene.com/
The more advanced Tier 2 module, for venue hygiene officers, will launch on the website on Wednesday, May 6, 2020.