Josh Kennedy kicks #600 in a big day for the Eagles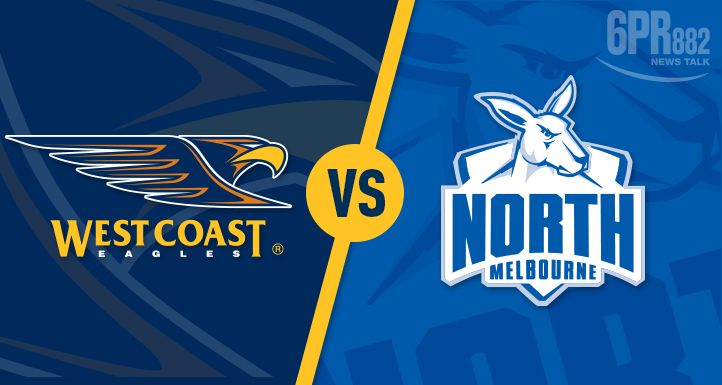 West Coast can jump into the top two today if results go their way, but they must first get over an enthusiastic North Melbourne, who are sitting 11th but have been re-invigorated by Rhyce Shaw as their interim coach. They make one of the toughest road trips in football as they come to face the Eagles at Optus Stadium, with last year's premiers having won 4 of their last 5.
Jimmy Williams spoke to North Melbourne assistant coach Darren Crocker before this afternoon's match, about the leadership of Rhyce Shaw, and what the Kangaroos are expecting today
Our Bouncing Around team spoke to Eagles assistant coach Daniel Pratt ahead of today's game
After a win in Launceston today to the Brisbane Lions, Eagles are wanting to win to try and maintain their touch on the Top 2. North Melbourne are mathematically a chance to still play finals, and have been more than a nuisance for some of the top sides in the competition and can match any side on their good days.
Peter Vlahos, Karl Langdon, Kim Hagdorn and Glen Jakovich are our call team for the day, with Jimmy Williams reporting down on the boundary. Bouncedown is at 2.35pm AWST.
"Tom Hickey beat an All-Australian ruckman last week, and has to do it again this weekend", and he is Glen Jakovich's Player to Watch for Coates Hire today.
A fast start for both sides at Optus Stadium on a beautiful day for football, it's North Melbourne who strike first inside the first 30 seconds with a brilliant snap from Tarryn Thomas, and it has been a high-scoring affair since. With 8 minutes to go in the first, we have already seen 8 goals, Nick Larkey and Mason Wood have also scored for the Kangaroos but Jack Darling, Willie Rioli, Liam Ryan, and Josh Kennedy (2) have all kicked goals for the Eagles as they lead 5.4.34 to 3.0.18.
Josh Kennedy has done exactly what the doctor ordered, with three in the first quarter to give the Eagles a 22-point lead at the break. After a lean month from Kennedy and an injury cloud around the All-Australian forward, he lead from the front during a 9-goal opening term, Eagles lead 6.5.41 to 3.1.19
Eagles have maintained a steady lead for most of the second term, and Kangaroos are fighting hard to keep in touch. They've had to fight and scrap hard for their goals, and at the half time break they trail by 18 points after getting the edge that quarter. Kennedy has added two more, kicking both goals for the Eagles that term to have 5 for the game.
The Eagles put their foot down in the third quarter, and they had a chance to celebrate – with his 6th goal today, Josh Kennedy makes it 600 for his career. He received a standing ovation from the crowd, as well as plenty of hugs from fellow Eagles. The home side have really increased their intensity, and the tackling pressure has been one of the big factors as they kick 6 goals to 1 in the term to see them really start to flex their muscles. They have a 46-point advantage going into the last quarter and look like they will finish with a big win today.
Shawn Atley, who has been the leading possession winner for the Kangaroos today, will play no further part in the game. A clash of knees during a contest with Jack Darling, he was left laying on the ground and in the hands of the trainers with a dislocated kneecap. He had the kneecap put back into place and was able to walk assisted from the ground, but will not play again this afternoon.
It was very close to a four-quarter effort from the Eagles today, reminding the rest of the competition that they are the reigning premiers and they are inside the Top 2 on percentage. They defeat North Melbourne by 49-points, 18.13.121 to 10.12.72.
Dom Sheed spoke to our commentary team after the big win tonight and a very strong performance in the midfield
Glen Jakovich gave out our Player of the Year votes today, thanks to Tony Barlow Fine Tailoring, and has given Josh Kennedy 5 votes for his 7-goal return to form. Dom Sheed with 4 votes after 31 touches and 5 tackles, while he gave Elliot Yeo three, Jack Darling two and Lewis Jetta one vote.
The Eagles travel to Marvel Stadium next week to face an in-form Carlton who have now won three in a row, and North Melbourne will face Hawthorn for Friday Night Footy.