WA's record breaking budget surplus – here's where the money is going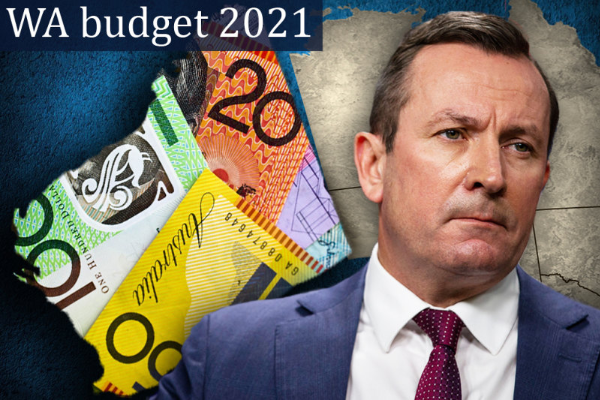 The Treasurer has handed down the state's biggest budget surplus in history. Fuelled by high iron ore prices and GST revenue, WA has recorded a $5.6 billion budget surplus.
Delivering his first Budget as Treasurer, Premier Mark McGowan said it "sets Western Australia up for the future."
"Our financial capacity has been bolstered by higher revenues across a range of sources as a result of our strong economy, including increased royalties from a higher iron ore price," he said.
"However, as we know, the iron ore price is extremely unpredictable."
This financial year, 2021-22,  the State Government is predicting a $2.8 billion surplus and net debt is expected to fall for a third consecutive year in 2021-22 to $32.1 billion.
Other than a new desalination plant, no big ticket items were announced. Households can expect a hit to their finances, with a basket of fees to increase in-line with inflation. That means an extra $99 a year for the average household. Motor vehicle related expenses will rise by 3 per cent.
Mr McGowan has refused to set a date for the border reopening.
The Budget allocates spending to the following initiatives:
Health and mental health across the State – $1.9 billion
– Funding more beds, doctors and nurses and easing pressure on EDs
Funding the construction of a new Women and Babies Hospital – $1.8 billion
– Works on the new hospital at the QEII medical precinct are expected to begin in 2023, creating more than 1,400 local construction jobs
Additional support to respond to COVID-19 – $1 billion
– Taking the State's total investment to $9 billion, including equipping our frontline services, supporting businesses and households
The new Social Housing Investment Fund – $750 million
– Combined with other initiatives in the Budget, this will deliver more than 1,900 additional homes to vulnerable Western Australians. This takes the total number of social housing dwellings to be delivered over the next four years to 3,300
The establishment of a Climate Action Fund – $750 million
– $350 million delivered for the expansion of the softwood plantation estate, $256 million for various renewable energy initiatives and $144 million of other climate-related initiatives
The creation of a Digital Capability Fund – $500 million
– Funds to ensure key agency service delivery keeps pace with public expectations and to protect against cyber security
The new Westport Project – $400 million
– Funding to be spent over four years for strategic land purchases required for the development of a new port in the Kwinana industrial area and the road corridor connecting to the future port
Keeping household fees and charges low – $397 million
– Delivering on the election commitment to keep household electricity and water charges tied to the rate of inflation and provide support to people in need.
In addition, $1.4 billion in 2021-22 revenue has been quarantined to help deliver WA's next major water source. The funding will be used as a significant down payment for a new desalination plant, subject to a business case in a future Budget, with construction potentially beginning by 2024-25.
The 2021-22 Budget delivers record infrastructure investment of $30.7 billion, including investments in road and rail, hospitals and schools and community based infrastructure. This includes a record $9.1 billion investment in regional projects.
Premier and Treasurer Mark McGowan joined Perth LIVE's Jo McManus. 
Shadow Treasurer Steve Thomas welcomes the budget but believes the State Government is mopping up the mess. 
6PR Reporter Jake Battrick explains more about the State Government's announcement.
(Photo: WA Today)