WA's Luke Jackson set to be a top pick for the AFL Draft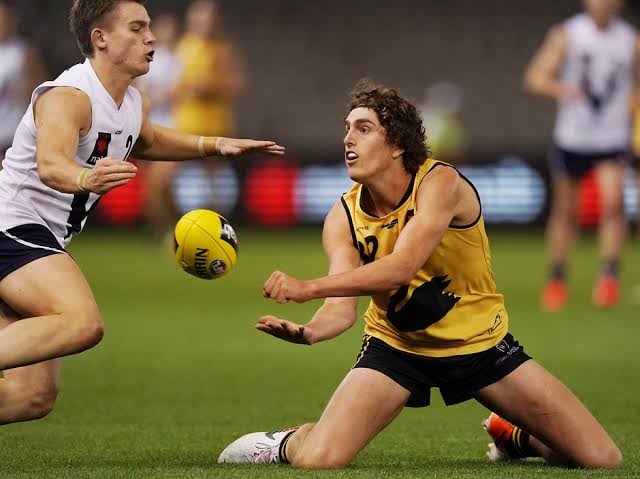 The AFL Draft is only a few weeks away and there's plenty of WA talent who are rumoured to be top picks.
AFL Draft Specialist Callum Twomey joined Brad Hardie and Kim Hagdorn to chat about who is likely to get picked up.
Twomey says Jason Taylor, Melbourne Recruiting Manager, confirmed they are looking at former Basketballer and current East Fremantle ruckman, Luke Jackson.
"The WA boy, Luke Jackson is definitely in contention."
"He (Taylor) confirmed that Luke Jackson is well and truly in the mix for that selection.
"It'll be a big call, a brave call. We don't see too many ruckman picked in the top 10," Twomey told 6PR's Front & Centre
"But I think clubs as well, look at Luke Jackson and think that he can play forward, so that's where I think he will go in the top 10," he said.
Perth Demons player and Under 18s State captain Deven Robertson is also likely to be an early pick and Twomey says, he can see the youngster being a future AFL captain after he played in the State game with a dislocated shoulder.
Click PLAY to hear the full interview. 
Brad and Haggers followed up the draft chat by speaking with Luke Jackson himself about how he's feeling in the lead up to the draft.
Jackson says although he plays in the ruck, he can see himself pushing forward.
"I think one of the players I want to be is a ruckman that can play forward as well. That's the player I'm trying to strive to be in the future. It was good to play a bit of forward at the back end of this year," he told 6PR.
The 18-year-old admitted that he will be heading to Melbourne when the AFL draft takes place.
"A couple of days ago mum got an email saying we'll be flying over," Jackson told 6PR.
Click PLAY to hear the full interview.