Video: Port's hypnotism hilarity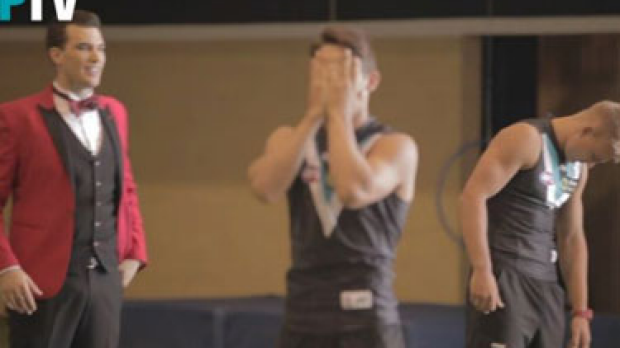 Port Adelaide players have been hypnotised in a video described by the club as 'hilarious'.
Players Chad Wingard, Ollie Wines and Daniel Flynn were put under the spell of hypnotist Isaac Lomman.
The video shows several scenarios including the players struggling to pick up footballs after 'losing their strength'.
**SEE THE VIDEO BELOW**
Neil Mitchell described the incident as "potentially dangerous".
'Hypnosis can trigger depression, anxiety, supressed loss and unconscious fears,' he said.
Psychologist Dr Michael Carr-Gregg agreed.
'The risks are there … amateur hypnosis is about as responsible as amateur brain surgery,' he said.
'There are horrendous stories where people's lives have been blighted for a long time by essentially people who didn't know what they were doing.'
LISTEN: Click here for the full interview with psychologist Dr Michael Carr-Gregg
He added hypnosis has no legal governing body in Australia.
'It's what happens when you're under hypnosis that is so (dangerous) because it's an altered state of consciousness in which your mind accepts suggestions very, very quickly,' he said.
'Under no circumstances (should an AFL club be playing with hypnotism). And I would want the AFL to step in and make some sort of edict.'
WATCH: The video that appeared on the Port Adelaide website
But Port Adelaide assistant coach Matthew Nicks assured it was all above board.
'I'm sure (the club) looked into every possible thing that could come out of it,' he said.
'I think the guys got a really good break away from training, they work really hard up to this point.'
Meanwhile AFL operations manager Mark Evans has since told Neil Mitchell he had not seen the footage but had spoken with Port Adelaide.
Mr Evans said it would be 'worthwhile' to have a discussion about it.
'I don't know whether it's fun police or a health issue, I'm not sure what position we should be taking here.
'At least I was comforted by the fact that their club medical officer was present.'
Following the hypnotism, Wingard told Port TV he couldn't explain what had just happened.
"I knew everything that I was doing, but I couldn't stop myself from doing it," he said said.
"I didn't really believe you could be hypnotised, but the more I tried to fight it, the deeper I fell into hypnosis.
"I knew all the boys were laughing, but I just couldn't help it, I'd do anything Isaac said.
"I came out of the hypnosis and felt awesome, it was like I'd just had the best sleep of my life."
LISTEN: Port Adelaide assistant coach Matthew Nicks speaks with Neil Mitchell