UK parents of Perth man in ICU secure flight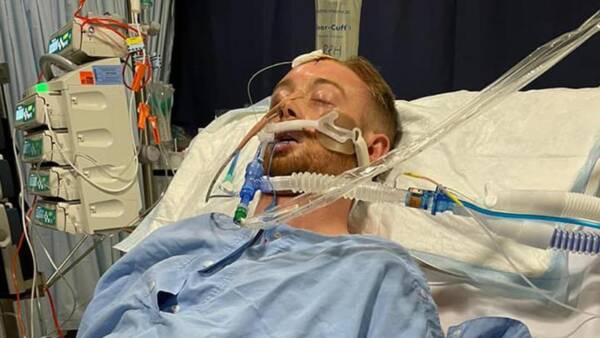 The UK parents of a man fighting for life in Royal Perth Hospital have secured a flight to Australia.
Danny Hodgson was walking near Perth Train Station on Sunday morning, when police say a 15-year-old boy punched him in the head without warning.
The child has been charged with grievous bodily harm and will front court later this month.
After a public plea for help, Mr Hodgson's parents have managed to get a plane ticket and will depart for Perth today. Nicola and Peter Hodgson are expected to arrive tomorrow afternoon.
Close friend Steve Burton started a GoFundMe page for Mr Hodgson and it's already raised over $80,000 with Manchester United goalkeeper Dean Henderson and Everton player Dominic Calvert-Lewin each donating.
Speaking on Breakfast with Mark Gibson, Mr Burton said he hopes Mr Hodgson's parents won't have to quarantine when they arrive.
"They've been double vaxxed and they've gone through the hoops that need to be done," he said.
However, WA Health have advised 6PR Breakfast they have not received an application for a quarantine exemption. WA Police will work with Health and the family on an application, which will ultimately be decided on by the Chief Health Officer.
Mr Burton is calling the GoFundMe page a "call to arms" for the football community in WA and the UK.
"With these sorts of injuries, waking up is the first step and then the process if a very long one.
"Any financial aid is going to be massive for helping his family."
A ECU Joondalup Soocer Club spokesperson said Mr Hodgson's condition has improved overnight and he's expected to have a scan this morning to determine the next steps regarding his sedation.
Press PLAY to hear more about Mr Hodgson's plight:
Photo credit – Facebook