Two Irish Girls Living Their AFL Dream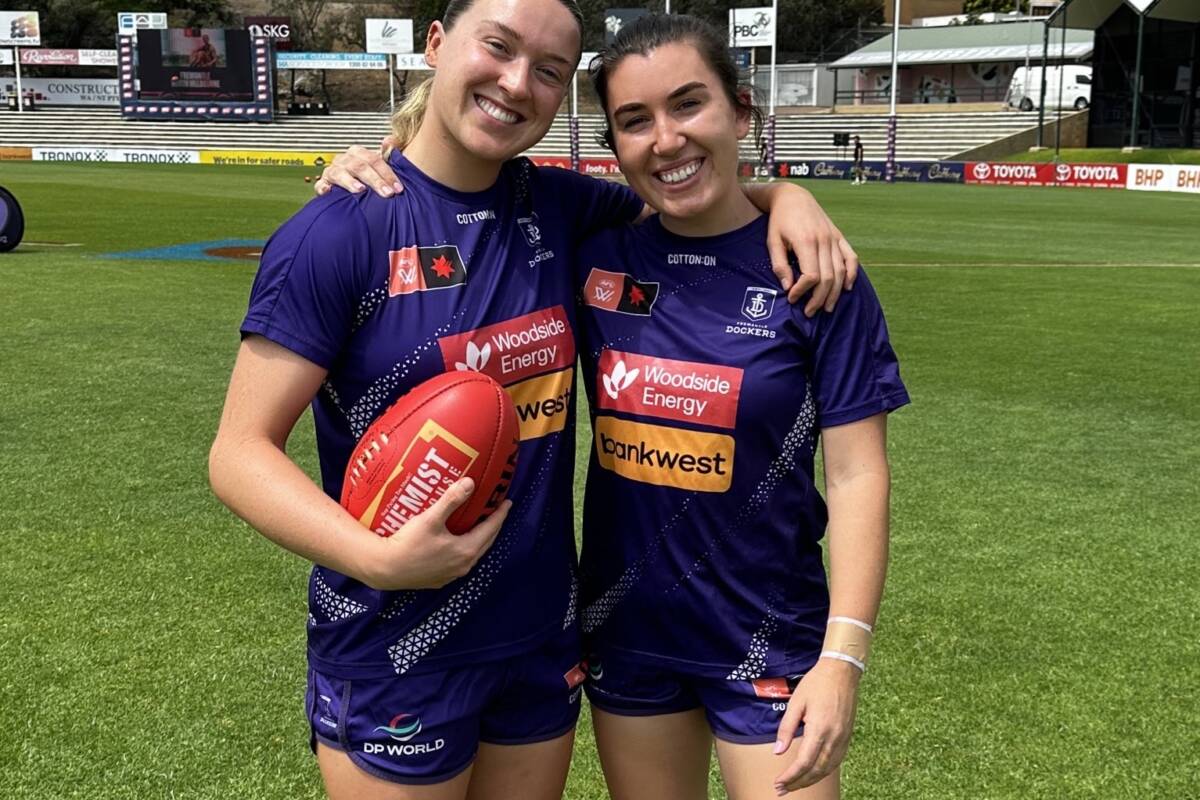 A world apart in more ways than one; Orlagh Lally and Jo Cregg are living a life they could only have dreamt of.
15 000 kilometres separates Perth and the northern regions of Ireland, but there is no shortage of Irish representation in Perth and the Fremantle AFLW team.
Press PLAY to hear the full chat
"I landed and felt like there was more Irish than Australians" Lally joked.
A talented Gaelic footballer, Lally was recruited from Meath County by AFLW Ireland recruiters who keep a close eye on a competition growing in popularity.
"For Perth, it was easy to be sold with the beaches, the weather and the club is like another family, so it was hard to say no."
So how is she going with the relentless Aussie sun?
"You can probably see a bit of red on me, I was out in the sun yesterday! Hopefully I adapt soon!"
For Jo Cregg, it's a much different pathway she has walked to find herself at Fremantle.
"I moved over here with a plan to pursue my career as a doctor" Cregg said, which she is now doing at the Perth Children's Hospital.
The options certainly weren't limited for Cregg who dabbled in Science and teaching, before giving the medical exam a go whcih struck a chord.
The Roscommon local is one of many talented Gaelic footballers who have been plucked from the sport to ply their trade in Australia. Unfortunately for Cregg, the demands of work became too much as she juggled a busy lifestyle back home.
"I had retired from Gaelic Football before coming over here with a plan to pursue my career more and just have sport as a hobby, but that didn't last too long!" Cregg laughed.
Cregg spent half a season playing local footy for Wembley, before being snapped up in the WAFL and within 18 months, she found herself at Fremantle.
The energy and enthusiasm was infectious from both girls, and with the universally-loved Irish accent, it is hard not to smile at their journey and influence on those around them.
"I was at work, and a young girl and her Mother were telling me how excited they were to be at the Freo game a week before and I was like, guys listen, me too! And she was so excited to learn more about women's sport" Cregg explained.
Despite the opportunities both ladies are enjoying, it is never easy moving across the world and Lally credited new coach Lisa Webb with creating the supportive environment and culture to help her thrive.
"She's been like another Mum to me since I moved over. She looks at you as a person and not just a player, and brings in every aspect of your life" Lally said.
As Lally and Cregg forge their own paths in Perth, perhaps the most heart-warming part of their story came at the end of our chat as they answered some of the quick-fire questions thrown their way.
"What has been your favourite age? Your favourite year of life?"
Lally responded promptly, "22, which is now. I think I'm living in it."
Cregg echoed those sentiments; "We're in an incredible position where we are right now. Life doesn't seem like it can get any better, but it still will."