Three Biloela family members granted visa extension while fourth left in limbo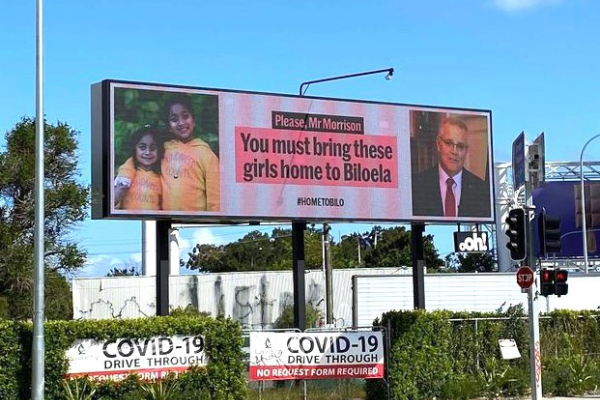 An asylum seeking family, who lived in Biloela, will be allowed to stay in Australia for another 12 months.
The federal government has granted three members of the Muruguppan family new bridging visas.
However, the visa status of their youngest daughter, Tharnicaa is subject to legal action. Because of this they'll have to remain in community detention in Perth, rather than return to Biloela.
In a statement released today the Tamil family's supporters say they are "surprised" by the Minister's decision to now grant 12-month visas to three of the four family members, while continuing to withhold a bridging visa for Tharnicaa, which would allow the family to return to Biloela.
"Australian law gives Minister Hawke the power to bring this sorry saga to a close with the stroke of a pen, by issuing the same visa to four-year-old Tharni that he has granted to her mum, dad and sister," said Biloela resident and family friend, Angela Fredericks.
"Just like her sister Kopika, Tharnicaa was born in Queensland, and that's where she and her family belong.
"Experienced migration lawyers tell us they have never heard of a child being denied the same visa granted to other family members in this way," Ms Fredericks said.
"There is simply no reason to deny Tharni a bridging visa other than to stop her family coming home to Biloela, where they are welcome, wanted and needed."
Today's unexpected news comes after supporters of the family took out full-page newspaper and billboard advertisements, calling on the Morrison Government to let the family come home to Biloela. The public advertising was paid for via a crowdfunding campaign.
(Photo: Facebook/Supplied)