QUIZ: Which quote is Bob's?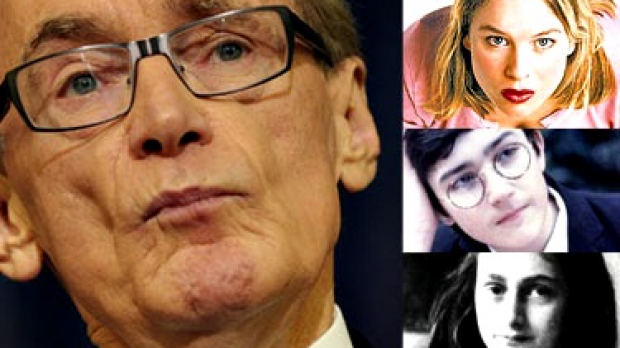 Former politician Bob Carr has published his memoir, Diary of a Foreign Minister.
The candid account has caused much mirth and mocking, although Mr Carr insists he was parodying himself in a bid to boost sales for his charity.
But we don't want to spoil it too much, because we want you to guess what went through Bob Carr's mond when he was in the Gillard government.
QUIZ: Each question features a quote from Bob Carr and another famous diarist, but which is which?
1. Bob Carr and Adrian Mole
A)     'I dance, I sing, I fly through the air, I am the master entertainer'
B)     'My skin is dead good'
2. Bob Carr and Adrian Mole
A)     'I wore odd socks yesterday without knowing it. One was red and one was green. I must pull myself together. I could end up in a lunatic asylum'
B)     'No edible food. No airline pyjamas … I lie in my tailored suit'
3. Bob Carr and Bridget Jones
A)     'Frankly, I'd rather have a job wiping Saddam Hussein's arse'
B)     'Actually, I'm the best chairman I know'
4. Bob Carr and Anne Frank 
A)     'How wonderful it is that nobody need wait a single moment before starting to improve the world'
B)     'I do nearly two hours of Pilates this morning, have lunch at home and come in for a hard legs workout'
5. Bob Carr and Anne Frank
A)     'My ambition… [is] to have a concave abdomen defined by deep-cut obliques'
B)     'How wonderful it is that nobody need wait a single moment before starting to improve the world'
6. Bob Carr and Anne Frank 
A)     'It's really a wonder that I haven't dropped all my ideals, because they seem so absurd and impossible to carry out. Yet I keep them, because in spite of everything, I still believe that people are really good at heart'
B)     'I want turkey, I want grass-fed beef … This is the new Fuhrer-directive'
7. Bob Carr and Adrian Mole
A)     'I am Foreign Minister… I soar above the mundane and serve my country'
B)     'I used to be the sort of boy who had sand kicked in his face, now I'm the sort of boy who watches somebody else have it kicked in their face'
8. Bob Carr and Bridget Jones
A)     'Starting the journey home, I notice everybody is obese. Everybody else, that is'
B)     'Valentine's Day's purely a commercial, cynical enterprise, anyway. Matter of supreme indifference to me'
Answers below
ANSWERS
Bob Carr's quotes: A, B, B, B, A, B, A, A