WA's Favourite Local – Varsity Bar Joondalup
I appreciate pubs that don't take themselves too seriously and have a strong idea of what they want to offer up to their punters. I also like places that know they can't please everyone, so really lean into what they want to offer doing it well. And Varsity Bar in Joondalup is a place that does exactly that.
Let's get this out of the way early, this isn't your traditional pub. It firmly presents itself as an American-themed sports and burger bar. If you're looking for a quiet, traditional pub setting, you are not going to get it. If you're looking for a vibrant, fun place to watch the footy or enjoy a great pub quiz with a sinful-style meal, you're in the right place!
On a diet? Look away! Varsity is for lovers of that sinful feeling of knowing you're tucking into something delicious and devilish! The menu is chock-a-block full of burgers, pizzas, chicken wings, subs and everything you'd expect on the menu of a bar in the US. It's also very loud. Now I say this because people who know me well know that I have a tendency to be the fun police. But Varsity isn't set up for grumps like me, its set up for people who like a good time, their music loud and their dinners delicious!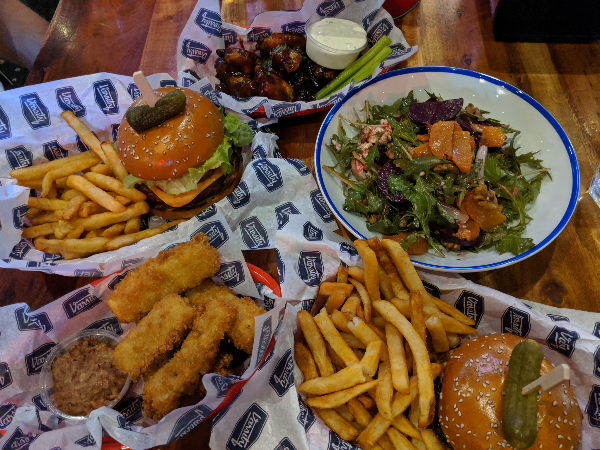 Now I'm not a complete fun-hater because I did deliberately time our visit to Varsity Joondalup so we could enjoy the Monday night quiz, and it was packed! No surprises though really. The quiz is fun and the service is quick. It's order at the bar, but there were plenty of staff running food to tables and making sure everyone was comfortable. All the staff were smiling and helpful, which makes a difference.
We'd skipped our lunches so we ordered…. A lot. The good news is the prices are right at Varsity so you're not going to feel a whopping great hole in your wallet after your order. We started off with the BBQ Wings in smokey BBQ sauce and the Fried Mac n Cheese served with bacon jam. The BBQ Wings were fantastic: the tangy sauce was bloody brilliant and we picked ranch dipping sauce to go with it which was a great addition.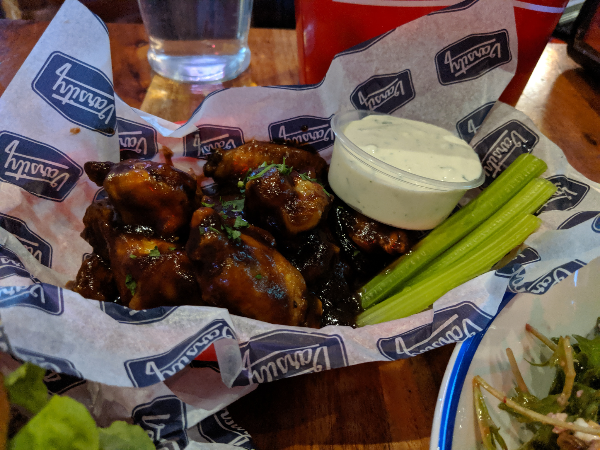 The less said about the Mac N Cheese the better unfortunately. Too oily, no flavour and I'm still not entirely sure what bacon jam is and that's a worry.
Burgers are really where the Varsity menu soars. They're regularly featured on Perth's best burger lists and I think, for good reason. Full disclosure, my cheeseburger was missing its pickles but I'll forgive it because the patty was cooked to perfection. Flavours were there, the American-style cheese has enough bite and the buns hold everything together well.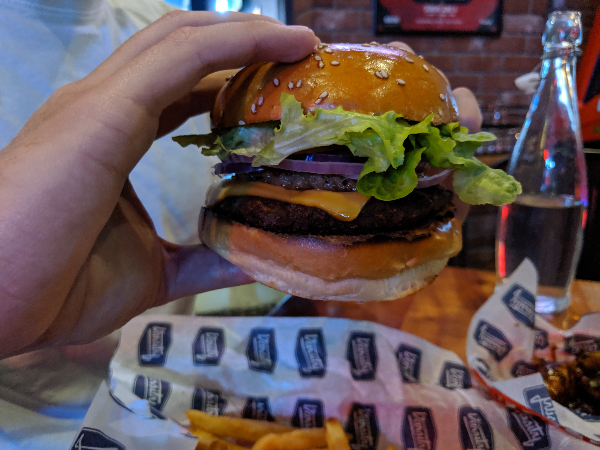 The vege burger… not so much sadly. Not even the zing of pineapple couldn't rescue the blandness of it but the chips in both cases were a delight. If you're after a salad at Varsity Joondalup, the good news is there are a few on the menu. The bad news is I'm not sure salads are the strong point. We had the Roasted Beets and Goats Cheese salad which was over-dressed and felt a little limp. I do give it props for being decently sized and they have thought about the flavours… maybe just hold off on that second dollop of dressing in the kitchen!
If you're starting to get the vibe of Varsity Joondalup then it will come as no surprise that the desserts and milkshakes are decidedly decadent and impressively Instagram-worthy.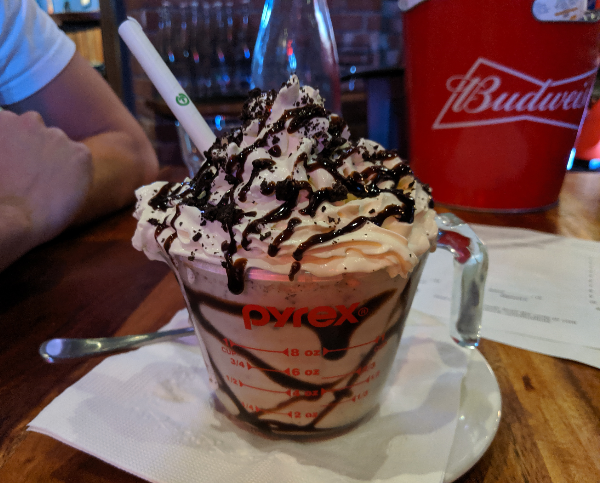 Drinks-wise… well again they're serving their target market. The wine-list isn't miles long, but you can buy by the bottle or the glass. There are plenty of beers on tap including an in-house larger, local craft beers like Feral and Gage Roads plus some American names like Coors and Budweiser. If you like your American beers, there are plenty more available by the bottle as well. There's a massive slushy machine behind the bar as well, so if you're ready to party you can get a jacks and coke slushy or frozen watermelon margarita. It doesn't end there though, the usual party cocktail suspects are there too plus a $40 peach sangria jug if you're really feel fancy. I had a peek as well at the fridges and you can get a number of American soft drinks too, so if you want to try something you're unlikely to grab at your local servo, you know where to go.
If you're looking for a joint that does things a little differently than your usual pub, I'd recommend a visit to Varsity Joondalup. Grab a slushy, have a spin on the arcade games or pool table, tuck into a burger and from this fun police officer, enjoy a place that is heavy on the fun!
(For those playing at home, we placed high enough in the quiz to get a voucher to return to Varsity Joondalup and we'll probably be making use of it soon!)
Varsity Joondalup – 20 Reid Promenade Joondalup.
Score – 15.5/20
Alby – a smooth, refreshing and easy drinking West Australian lager by Gage Roads
Download this podcast here