WA's Favourite Local – The Peach Pit
The redeveloped Scarborough Beach strip has so much going for it these days and one place that's worth a visit is a bright little beach bar called The Peach Pit.
While you aren't going to see Brandon, Brenda, Donna, Kelly, David, Steve and Dylan hanging out here (this is a 90210 reference for anyone confused!), diners can expect fun cocktails, great beers and a burgers that'll impress.
Along with booths and long tables in front of the big screen, there's more intimate seating away from the sports action. Clever. Of course there is plenty of outside seating on the strip making it a perfect place to perch and people watch or check out the surf.
The menu is all about the burgers. Beef, chicken and vego – no one is left out. Gluten free eaters will be pleased to know GF buns are also available.
Not stopping in for a filling burger? No problem-o – the snacks on offer are pretty damn good. Think jalapeno poppers, curly fries, fried pickles and hot wings. There's also a handful of salads for those who want to add something lighter. Kids are well looked after with a great little menu where they can choose between meals like burgers, grilled chicken or mac n cheese.
It's hard to imagine a chicken burger made with anything else other than fried chicken. These guys have nailed it with a difference. The "Henny Penny" comes with cornflake crumbed chicken, slaw, cheese and ranch dressing on a potato bun. The crumb crunchy with a hint of sweetness offset by the tangy ranch dressing. It was a pretty good flavour combo!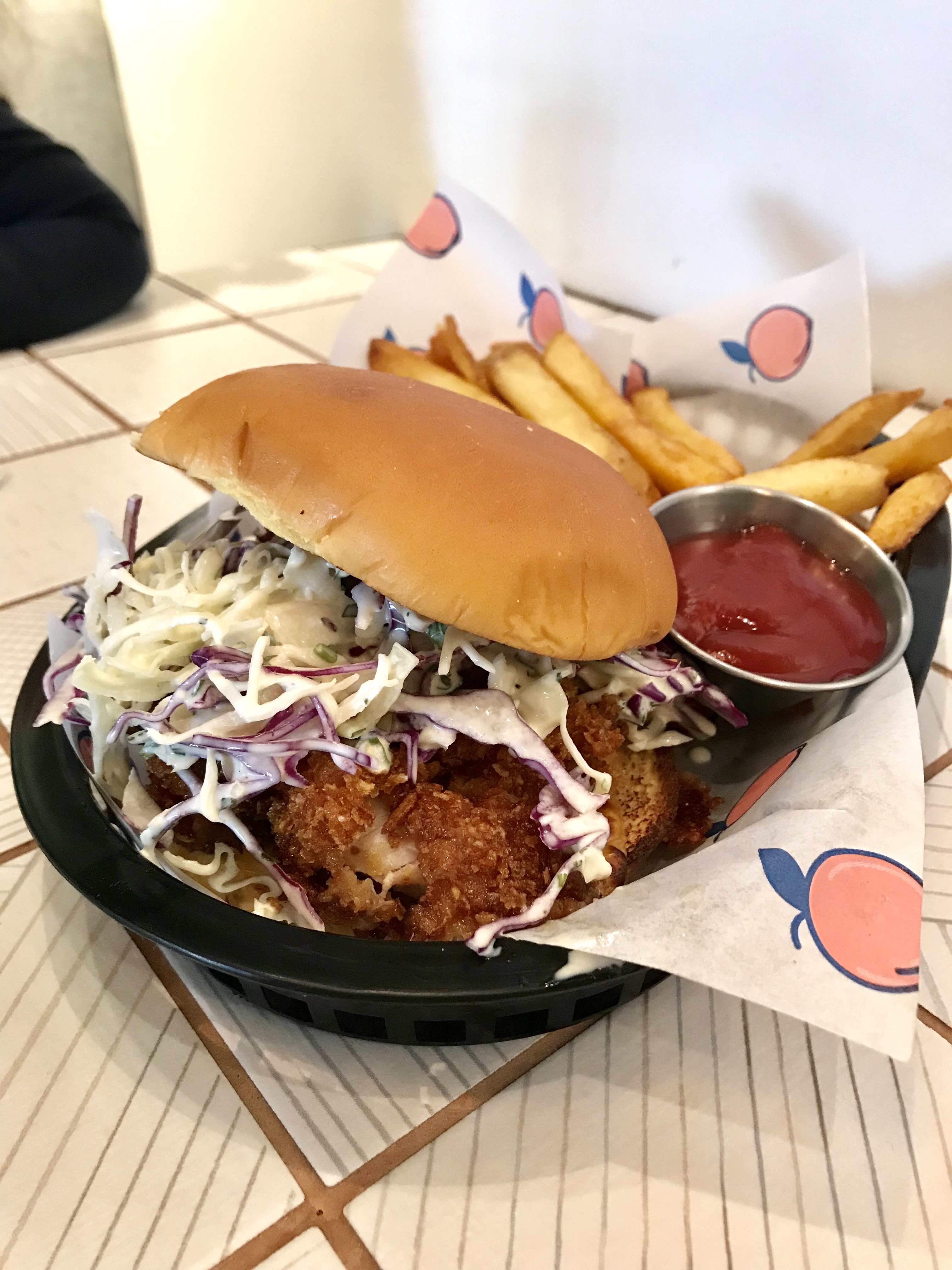 Smashed patties are becoming the "in thing" with burgers and for good reason. They make these by literally squishing the pattie so the edges split, leaving them to be caramelised while cooking. The crispy edges just give the burger a little something something. The "Hail Mary" comes with a smashed pattie, bacon, onion rings, pickles, cheese, tomato, Franks hot sauce (from the US) on a potato bun. Onion rings plus the kick from the hot sauce on this beefed up cheeseburger makes for a lip-smackingly good burg.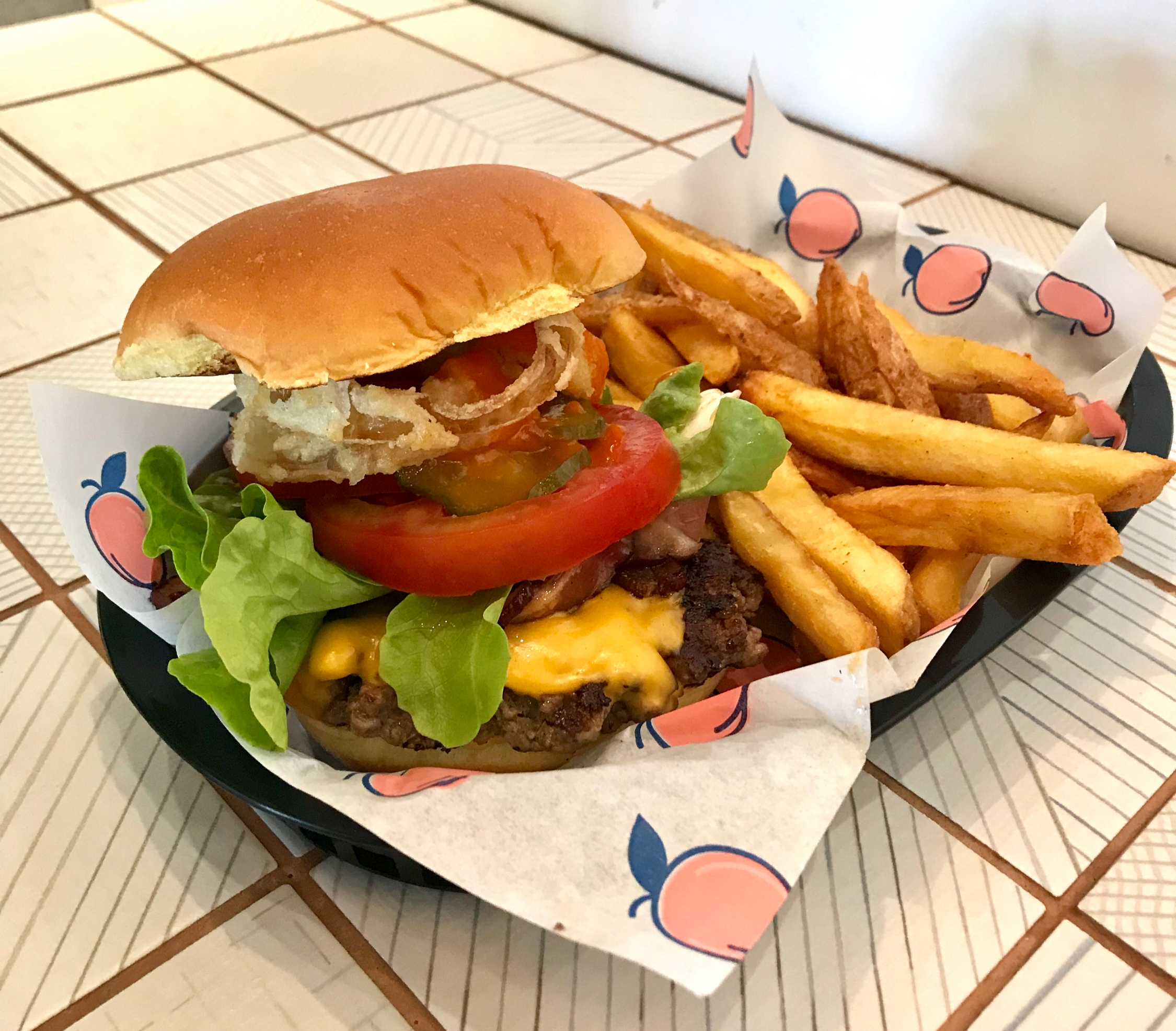 Of course the Peach Pit has to serve peach pie! Now this isn't going to come out like a traditional slice of pie. This is more of a southern style, where it's a deep fried pillow of peachy goodness. Crumbled on top is shortbread biscuits with a big scoop of custard ice-cream on the side. It's a hefty serve so this is a good one to share.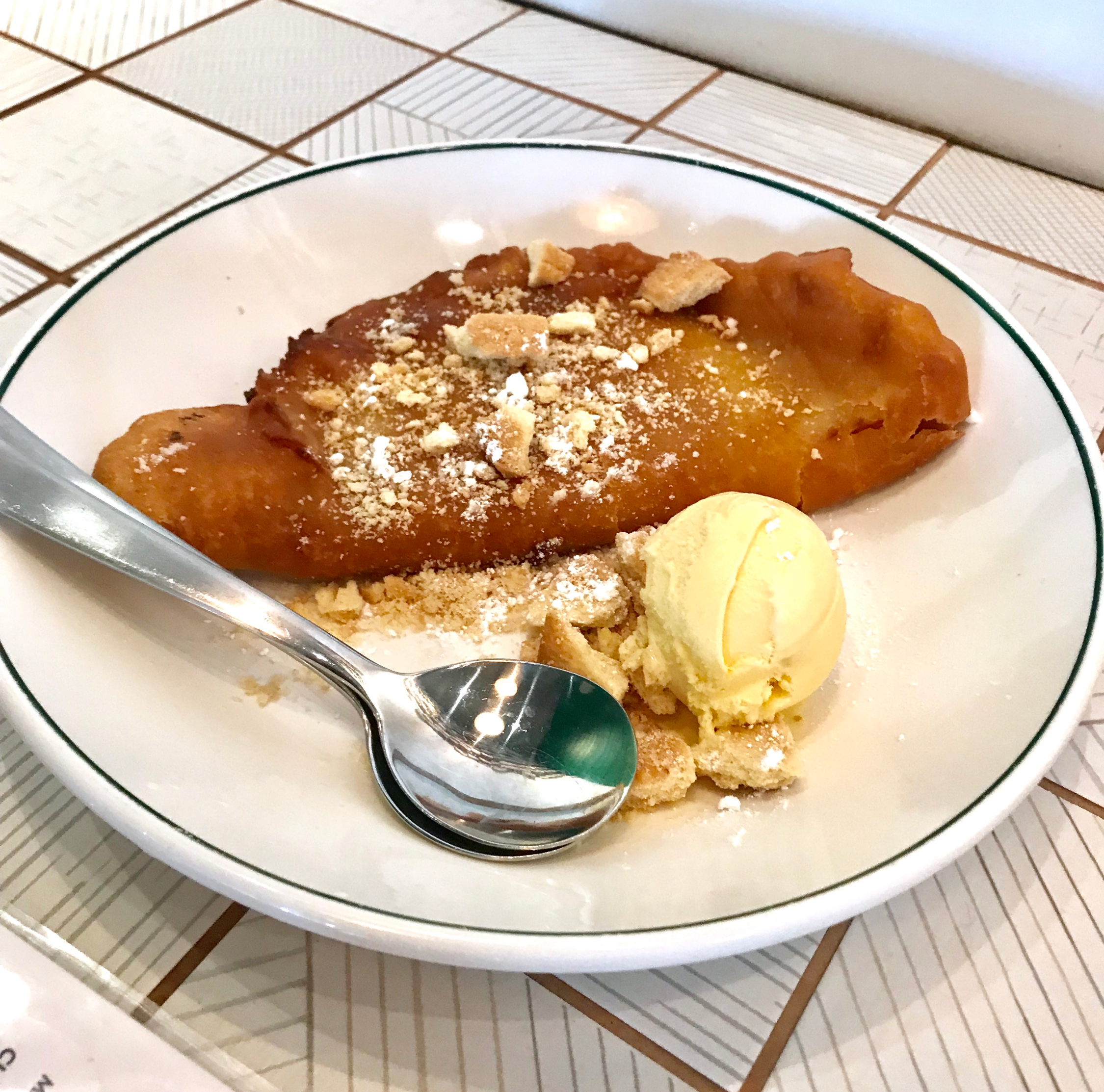 There's a good mix of wines from around Australia and across the ditch on offer, peppered with a couple of international titles. By the glass options come in small or large size, which is fantastic for those who want a bit more than a standard drink but not the commitment of a full bottle.
The beer selection is where these guys shine. They have the confidence to offer craft beers, some of which are quite niche like the "The Rocky Ridge Peach Invasion" along side the mainstream brews like Swannie D. There's also a heap on offer in tins such as Feral, Moon Dog and Gage Roads.
Service was a little bristly at times but efficient none the less.
Game day sees this place fill to the brim with footy fans watching the match on the big screen. Just about every table has a prime viewing position and with jug specials on offer, why wouldn't you set up camp for the afternoon!
The Peach Pit – 148 The Esplanade, Scarborough
Score 16/20
Download this podcast here