WA's Favourite Local – The Kingsway Bar & Bistro
The Kingsway Bar and Bistro is one of those places that tries to be something for everyone. Opulence oozes from the bistro area making it a great spot for a date or special family dinner. Those that prefer something a bit more causal with the footy on in the background can opt for the sports bar or beer garden.
The menu here is extensive… to a fault. They have over 70 options including specials. While this may sound great, it actually feels overwhelming trying to choose. For example, there's four different types of chips to choose from! Pricing wise, customers can expect to pay around $30-40 for a main with the lunch menu offering the best value at $20-25.
They've got all the pub classics covered along with steaks, pasta, pizza, seafood and then there's the meals that sit more at the top end of the dining spectrum such as twice cooked pork belly and scallops and duck breast with duck fat potatoes. Kids are also well looked after with options such as pizza, fish and chips and spag bol.
Now… back to the chips. Hand-cut triple cooked chips are a must-try. Get rid of the other options that come frozen in a plastic bag and make these the star. Golden with a crunchy crust and soft fluffy middle – chip perfection!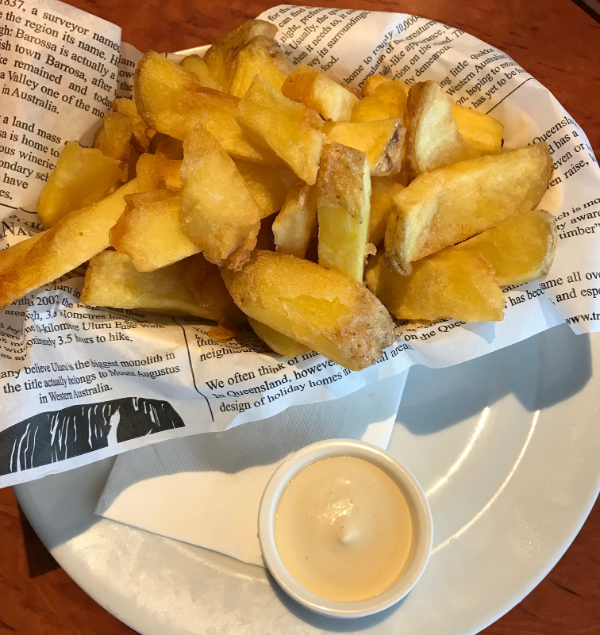 Sticky, sweet and oh-so-tender – Coca Cola pork ribs are lip smackingly good. A knife isn't even needed as the ribs come away from the rack with ease. Served as a whole rack on top of a bed of smoked paprika chips this is a challenge to eat making it a good meal to share. Staff provide a finger bowl for the mess but it'll be struggle not to lick all that delicious sauce off first.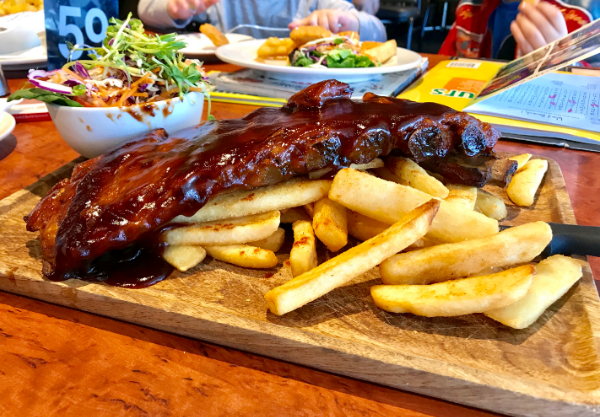 Diners that relish a good burger should look no further than the buttermilk fried chicken burg. Tenderloins of crunchy Southern style fried chook sit on a bed of cheese and fresh, saucy slaw in between a lightly toasted bun. It's slightly messy to eat but definitely worth the trouble.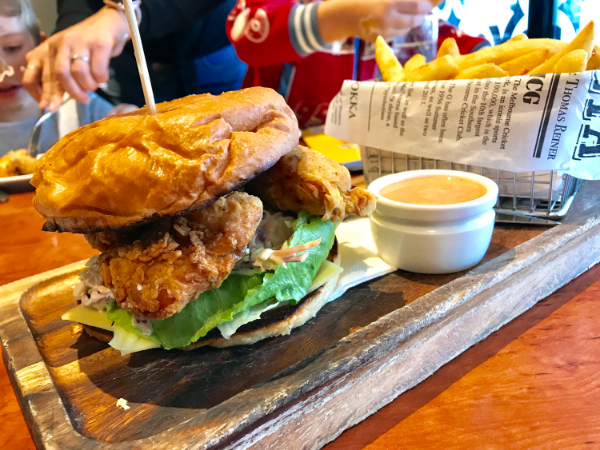 When it comes to the drinks, they've got the usual suspects on tap including good ol Swannie D, as well as craft and premium options such Pirate Life and Furphy. Local wines feature along with drops from South Australia and across the ditch with plenty of options by the glass.
Service here is faultless. While orders are taken at the counter, the staff are attentive and meals come out quickly, especially for the kids. It seemed they are smart about seating diner – those with kids in tow were sat one end of the bistro with plenty of room. This means everyone else can enjoy their child-free meal at the other end!
The Kingsway is a great option for families and punters alike. Maybe just try and choose what to eat before you get there to avoid a dose of choice overload.
The Kingsway Bar & Bistro – 211 Kingsway, Darch
Score – 16/20
Alby – a smooth, refreshing and easy drinking West Australian lager by Gage Roads
Download this podcast here