RSL stunned by ANZAC flyer 'ad'
A Perth property agent is defending his decision to advertise his business on ANZAC Day flyers, saying he will do it again.
The flyers were distributed at West Leederville's ANZAC Day ceremony last week, and displayed photos of two WWI diggers who hailed from the area.
Under their picture was an ad for Matt Johnstone-Summers from Liquid Property with the words;
"Just like these local lads were at your service over 100 years ago, I'm at your service today."
As the flyer appeared in The Post, after being sent in by a reader.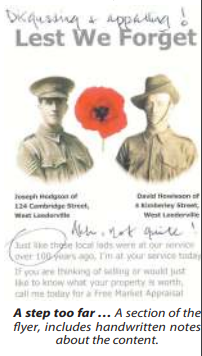 Mr Johnstone-Summers joined Mornings with Gareth Parker to explain the ad.
RSL WA CEO John McCourt then told Mornings, he's gobsmacked that a property agent would link his work to the sacrifice of our diggers.
Download this podcast here