Builder cancelled contract with Perth man living with quadriplegia at the last minute
A Perth man living with quadriplegia working with a builder to build a wheelchair accessible home says he feels stressed and worried after the company pulled out on building his home after months of negotiations at the last minute.
Jason McLean has been working with Ben Trager homes for almost 18 months in total to build a wheelchair accessible home. After putting the project on hold for a number of months to get his NDIS funding sorted, Mr McLean re-engaged with the builder and was coming to the final stages of the process before the build started.
"For the last nine months we've been working with the builder on the design, working with occupational therapists to make sure everything is accessible and so there's no mistakes along the way," he told Gareth Parker on Mornings.
"We've now progressed that I've got the contract, we were going to be signing it on Monday, I've got a pre-start meeting scheduled for July and then I received a phone call on Wednesday evening after 5pm to say that they're pulling out of the build, they no longer want to build with us, the contract's no longer valid and that we need to go elsewhere."
"They did state that we could take their design and go to any other builder, but as yet I haven't received that in writing do I don't know where to go from here."
Mr McLean said the reason the builder gave him for cancelling his contract was that demand has gone up and they were now picking and choosing which projects to proceed with.
"You would think they would honour their previous customers, as these new customers might not even sign up in three months time because their prices have increased," he said.
"Our standard design has increased $23,000 in one week, from last week so it looks like they've put all their prices up."
Ben Trager Homes says they are not taking on any more jobs because of a rapidly rising market and that they are focusing on existing clients.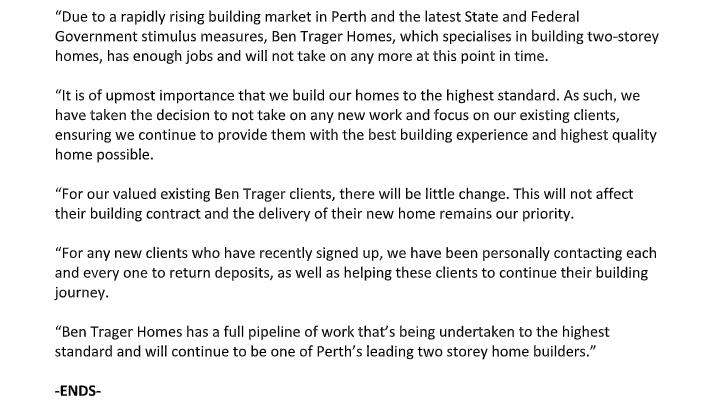 Download this podcast here