Liam Bartlett responds to Police Minister's 'talkback radio whingers' jibe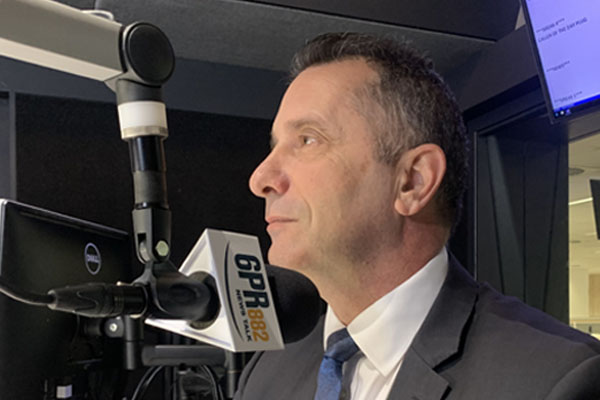 6PR Mornings presenter Liam Bartlett has responded to criticism of the show's talkback callers by Police Minister Paul Papalia.
The Minister lashed out in parliament on Tuesday after a question from the opposition which suggested New South Wales resident Emma Potter had only been granted a G2G pass because of media pressure.
Ms Potter had seen her application to enter the state to see her terminally ill mother rejected four times before it was raised on 6PR Mornings.
The pass was granted later that day.
Mr Papalia was outraged by the suggestion from the opposition.
"I just cannot believe that you're questioning the integrity of the West Australian Police Commissioner in his role as the emergency coordinator," he said in parliament.
"He's got better things to worry about than you running around on the coattails of talkback radio whingers."
Liam Bartlett responded to the outburst by addressing the listeners.
"Your opinions, your words on this program or any other on the station for that matter, your publicly expressed compassion amounts to nothing.
"In the most disparaging of ways you are lumped together and dismissed in a basket that police minister Paul Papalia describes as nothing but 'talkback radio whingers'.
"Of course six months ago when they still needed your vote it may have been a very different description, but not now."
Press PLAY to hear the full editorial below