'Insane' response to coward punch victim's fundraiser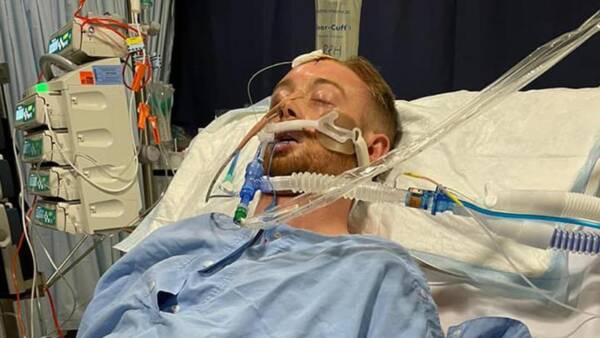 A GoFundMe for a one-punch attack victim has raised over $95,000 in less than a day. Along with local supporters, Manchester United goalkeeper Dean Henderson and Everton player Dominic Calvert-Lewin have also donated.
Danny Hodgson was bashed when walking towards Perth underground on Sunday morning. A 15-year-old boy has been charged over the incident.
Close friend Ellis Healing told Liam Bartlett Mr Hodgson had improved slightly overnight but he's still in a critical condition.
"Myself and a lot of other friend have been sending voice notes to his girlfriend and they've been playing them to him while he's in the ICU
"They've been having a positive impact, he's actually being moving his fingers while listening to the voice notes."
The victim's parents in the UK have managed to secure flights to Perth and should arrive in the country tomorrow.
A WA Health spokesperson has issued a statement:
WA Chief Health Officer Dr Andrew Robertson has approved for the Hodgson family to travel to Western Australia above the international flight cap.
The family is travelling to see their son, Danny, who is fighting for his life in hospital after being assaulted at the Perth City train station early on Sunday morning.
They will be required to complete 14 days in hotel quarantine. When circumstances warrant, visits to an immediate family member in a hospital can be arranged under stringent protocols, including testing negative immediately before the visit and the wearing of full PPE. Dr Robertson will consider the circumstances at the time.
Press PLAY to hear more:
(Photo: Facebook)