Freo bounce back over struggling Saints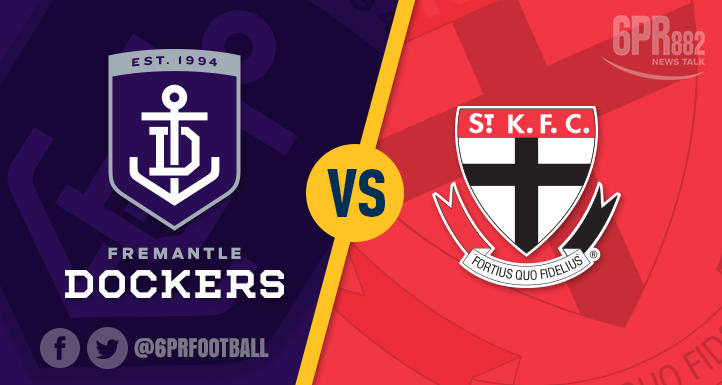 The Dockers have bounced back from a minor St Kilda surge to claim a 30-point victory over the struggling Saints.
The Saints scored only one goal on the first half but the visitors got within 17-points in the third quarter before Fremantle got back in control to claim the 13.11 (89) to 8.11 (59) victory.
Adam Cerra and Brandon Matera were the only multiple goal kickers for Fremantle, while Nat Fyfe clocked up 36 disposals and Connor Blakely, 35 disposals.
"Two forwards for St Kilda… Two Forwards!… I'm dumfounded" Jako #AFLFreoSaints ⚓55 😇24

— 6PR Football (@6prfootball) May 12, 2018
Hayden Ballantyne finished the game on the bench with a corked thigh and St Kilda's Jake Carlisle copped a knee to the head in the second quarter.
Tony Barlow Menswear player of the year Votes.
5️⃣ Ed Langdon
4️⃣ Connor Blakely
3️⃣ Nat Fyfe
2️⃣ Luke Ryan
1️⃣ Aaron Sandilands#AFLFreoSaints ⚓ 😇

— 6PR Football (@6prfootball) May 12, 2018
Both teams were desperate for a win after Freo suffered a massive loss last week to Richmond and St Kilda has been without a win since Round 1 when they faced the Lions.
Hear how the game played out with our commentary team…

"All they tell me is run, run. Do what you do best. There's great positive reinforcement, Ross loves it." Freo speedster Ed Langdon spoke with 6PR after the game.

"We had a lot of skill errors, but we thought our effort and our pressure was there and that's what we base our game on and obviously we've got to clean up the skill execution," St Kilda's Blake Acres told 6PR after the game.

"We should've been further in front but our polish and connection at times should've been going a way we just sort of stuffed that up a little bit," Fremantle coach Ross Lyon said after the game.

"Hopefully I'm back next week," injured Fremantle Docker star forward Michael Walters tells us he has been running in training for over a week and his knee is feeling good.

"There's not too many easy games in this competition, it's an incredibly even competition." St Kilda coach Alan Richardson said after the game.

"We brought in Brendan Cox last week to back up Aaron [Sandilands] in the ruck as a key forward and it's important for Brendan's development that he starts to really step up that contested element of his game," Simon Eastaugh told 6PR before the game.

"We've put a program in place that we know is going to take three or four years," St Kilda assistant coach Rohan Welsh told 6PR.

"We're dealing with young men, I've  got an 18-year-old boy as well, so I get it and I understand it," Chris Bond says after facing questions about Bradley Hill and his incident with police.