Event: Clap for Mark McGowan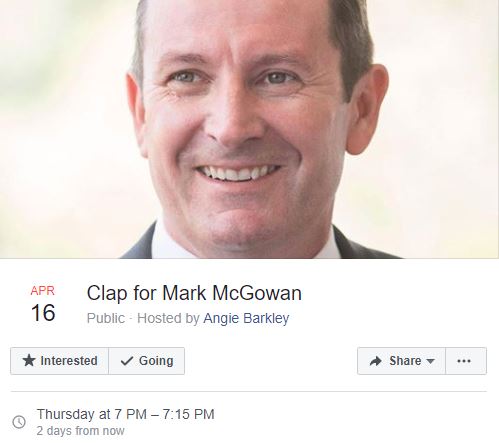 A Facebook event has popped up encouraging Perth people to unite by standing outside their houses on Thursday night to give our Premier a round of applause.
The event was put together by a local beautician who says:
"This man deserves the biggest round of applause from us all. Let's show him his hard work is appreciated."
Over 2,000 people have said they will either participate or interested in participating.
Premier Mark McGowan found the planned event very amusing, laughing his way through his interview with Steve and Baz, but did he says it's all the people working hard to keeping everyone safe and doing the right thing that deserve a round of applause.
Click PLAY to hear the full interview. 

On a serious note, Premier McGowan, says the State Government will look at the restrictions and possible changes next month.
"I would've thought around the first of May if we're to do anything," he told 6PR Breakfast.