Why I'm hard on Buswell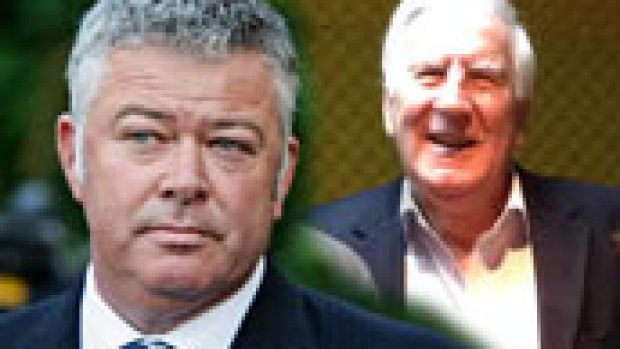 On Sunday Rob Johnson former Minster for Police, Emergency Services and Road Safety was interviewed by Bob Maumill and Jo McManus.
During the interview Mr Johnson was asked why he continually attacked Troy Buswell so harshly.
With his permission, Mr Johnson has allowed 6PR to publish his story written three years ago and which has never been published in full.
Stay up to date on breaking news with 6PR on Twitter  
Not just a statistic – the true story of road trauma
Some people accuse me of being too tough with unlicensed drivers and hoons.
I would like to share a true story with you that will perhaps give you an understanding on why I have this approach.At 8.30am on a Friday morning, someone I know very well, received the phone call that every parent dreads. It was the police, who informed him that his daughter and 12 year old grandson had been involved in a traffic crash and could he come to the scene as soon as possible.
Dazed and shaken, he dropped everything to go to the scene, where his badly injured daughter was being cut free from the wreckage. She had been travelling at 60km/hr in a 70km/hr zone, only to be virtually T-Boned by a vehicle being driven by an 18 year old. Her car had been pushed about 30 metres up the road.
When emergency service workers finally cut her free from the wreckage, she and her son were taken to hospital, followed by her devastated father and his wife. While their daughter was undergoing various tests, they spent time with their grandson (who thankfully wasn't critically injured, but did have some minor facial injuries and was suffering from shock.) The curtains were then pulled back around their daughter's bed and they could hear the doctors trying without luck to get a response from her. They were then invited into the hospital family room. The doctor then appeared and told them that it was unlikely their daughter would survive. On hearing this, the father broke down and it took him some time before he could compose himself and face his daughter. The image of her laying there, limp and motionless in the hospital bed, broke his heart.
The doctors decided to transfer her to a larger hospital where there was a greater chance that they could try and save her life. Although she hadn't regained consciousness, she was put into an induced coma and the doctors operated on her to clear some clots that had formed, only to find that as they dissolved, more formed. She was kept in the Intensive Care Unit for a week and then moved to the High Dependency Unit. She would survive, but she had serious and permanent brain damage.
After some weeks, she was moved to Shenton Park Rehabilitation Hospital. Overall, she spent about six months in hospital. Her father and his wife would visit her every day, while also taking care of their grandchildren, aged twelve, ten and eight. Despite their already busy lives, they had to take the children to school, pack their lunch boxes, help with homework, and ferry them to and from their sporting activities and other outings. They wanted to make their grandchildren's lives as normal as possible to make up for the hurt they were feeling at losing their mother, who would no longer live at home with them anymore but instead, live at a special care facility. The extent of her brain damage meant that she would require 24 hour a day care for the rest of her life. She had gone from being a wonderful mother who lived for her children, to one that was now unable to care for them and enjoy watching them grow up and be able to play an important role in their lives. She was someone that would now need enormous care and assistance herself.
The person who crashed into her was convicted of Dangerous Driving Causing Grievous Bodily Harm. He was fined $1500 and his license was suspended for two years. I ask you to compare that inconvenience with the price everyone else has had to pay.
I couldn't help but think that through someone's irresponsible driving, there were multiple victims – not just the daughter, not just her children, who in effect, lost their mother, but also her parents, siblings, extended family and friends. They lost a young, vivacious and lovely person, who had her hopes and dreams for the future cut short by a stranger in the space of a few seconds.
I know her father very well, I see the hurt in his eyes, still there nine years after the accident. In fact, I see his face in the mirror every morning when I have my shave. Yes, it was me who had my daughter brain damaged in that traffic crash all those years ago, but not a day goes by that I don't think of her. I bear no malice towards the young driver but I question whether he ever gives a thought to his victims and how his moment of recklessness has changed so many lives and caused so much suffering.
It took me a long time to be able to write this account of my experience and while doing so, the odd tear rolled down my cheeks. While I managed to write about this tragedy, I am still unable to talk about it for obvious reasons. It's just still too raw, the pain never goes away, even nine years on.
I truly hope that sharing my story with others about the emotional cost of road trauma and the devastating effect one single crash can have on so many lives, you will do everything in your power to persuade people to drive responsibly.
Stay up to date on breaking news with 6PR on Twitter