'We're ready for a massive day': Preparing to keep the punters fed and watered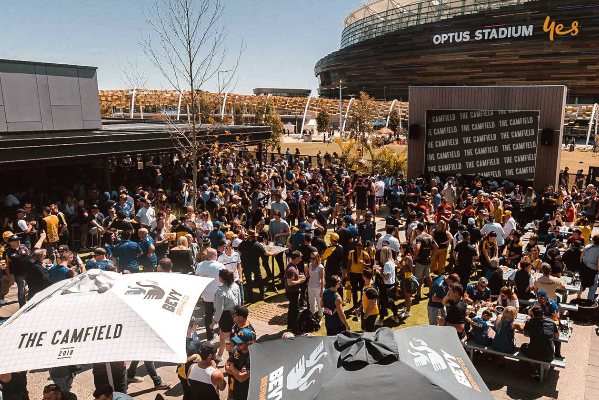 Perth's biggest pub is preparing for its biggest day.
The Camfield, which neighbours Optus Stadium, is preparing to host up to three and a half thousand people for tomorrow's AFL Grand Final.
Owner Tim McLernon told Gary Adshead they haven't taken function bookings to allow for a flow of people through the doors.
"We have upped our capacity to 3,500.
"We wanted the whole pub to be opened up to people walking in and having beers throughout the day.
"We're ready for a massive day."
The pub has about 40,000 litres of beer chilled for tomorrow's grand final, which is usually an annual amount for a bar.
"That's about 800 kegs.
"A reasonably busy bar over the whole year would do about 40,0000-50,000 [litres] a year."
The Camfield opens from 10am.
Press PLAY to hear more about what's happening at the Camfield:


Meanwhile, inside the stadium, head chef Tim Hartstonge said while he's under pressure it's "what he lives for."
For those wondering what will be on the menu, Mr Hartstonge said the food outlets won't be locked into certain categories like only selling chicken or seafood. But the fresh crayfish rolls are set to be a popular item.
"They [crayfish] were cooked fresh in Cervantes and came in fresh this morning," said Mr Hartstonge.
Mr Hartstonge is confident they won't run out food.
"Every nook and cranny is full of food."
Press PLAY to hear more about the preparation at the Stadium: