WA won't be immune to barbaric practices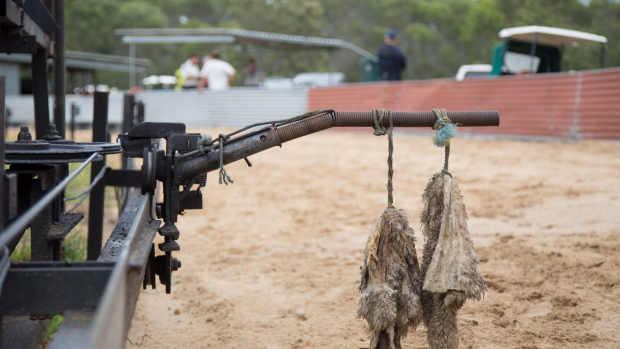 Racing and Wagering WA has moved quickly to assure the public that the practice of 'live blooding' of greyhounds doesn't happen at trackis here in WA.
General Manager of Racing and Integrity at R&A WA Denis Borovica says the state has taken a hard line against the practice which involves greayhounds being trained to chase live and bleeding animals to give an advantage to the dogs during racing.
'We've drawn a line in the sand well ahead of using live animals' Mr Borovica told 6PR.
'We have harsh penalties for anyone caught using this practice in WA.' he said.
Animals Australia claims the brutality revealed in secret footage of some of the nation's top Greyhound trainers is a widespread problem.
Four Corners aired vision last night – showing trainers tying live piglets – rabbits and possums to mechanical lures – to train their dogs.
Animals Australia's Lyn White believes many more people will be implicated
A group of men surround a possum and its baby on the track ahead of the mother being used for live baiting.Photo: ABC
Greyhound racers are secretly blooding their dogs with live bait as part of systemic and widespread cheating within the country's multimillion-dollar industry, according to explosive evidence uncovered by ABC's Four Corners program.
Animal welfare groups have called for the dismantling of the greyhound industry following the revelations of widespread cheating, illegal live baiting and archaic training methods.
A screenshot of the Four Corners program on greyhound racing industry, allegedly filmed at trainer Tom Noble's property in Queensland. Photo: ABC
ABC's Four Corners played snippets from hundreds of hours of secret surveillance footage showing live piglets, rabbits and possums being mauled and used as live bait to turn greyhounds into blood-thirsty winners with an illegal and unfair edge.
Some of the industry's most well-known trainers and owners including Reg Kay, Stuart Mills and Deborah Arnold, spoke on camera, saying live baiting was eliminated many years ago and the sport was 100 per cent clean.
However, secret cameras captured them participating in illegal live baiting.