WA's rich football history could yet be a no-show at new Perth Stadium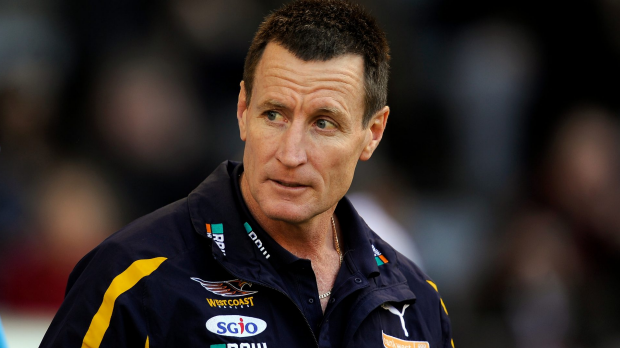 It is looking increasingly unlikely WA's rich football heritage will be permanently marked at the new Perth Stadium in Burswood.
Currently at Domain Stadium there are a number of permanent displays honouring the state's football heritage, including rooms named for the likes of Polly Farmer, Barry Cable, Bill Walker and John Worsfold and entrances bearing the names of John Todd, Steve Marsh and Merv McIntosh, among others. West Coast has a Chris Mainwaring wing during home games and there are also sidewalk plaques celebrating Sandover medallists.
But according to Brownlow Medallist and WAtoday football columnist Brad Hardie, there could be nothing set in stone at the new stadium paying homage to the greats of WA football.
Instead, it seems likely there will be digital displays which will become interchangeable depending on whether the Eagles or Dockers are playing at the venue – and will switch to other sports or themes during non-football related event.
Pending final contracts, both West Coast and Fremantle are set to call the new stadium home from 2018.
'Now we have a rich history in Western Australian football – The Bill Walker Room and the John Worsfold Room and the John Todd gate and those types of things down at Subi,' Hardie told Radio 6PR's Sport Today program on Tuesday night.
'And mountains and mountains of memorabilia on the walls and plaques honouring the greats that have been before you [co-host Karl Langdon] and I and the ones since.
'There is a chance…there is a chance there will be nothing to recognise football down at the new all-sports stadium.
'It will be done digitally apparently so when the game comes up on a particular weekend they might screen a few things on the walls, but nothing permanent down at the new stadium.'
Hardie estimated 27 of the first 29 events at the stadium, due for completion in the second half of 2017, would be football matches.
Department of Sport and Recreation director general Ron Alexander rang Radio 6PR on Tuesday night to say the new stadium would 'maximise the use of modern technology'. But stopped far short of an assurance room names would transfer to Burswood or that a Chris Mainwaring wing would even remain in place for Eagles games.
'There won't just be digital displays – we will bring a lot of stories together so anytime football is being played there, there will be some static displays there and there will also be digital ones,' he said
'We are still working with what those opportunities.
'There will be far more opportunities than at Subi ? there are longer corridors, there is modern technology and why would anyone not have the history there?'
The Eagles inaugural coach said he didn't think it was important to have 'static gates' named after a past football great.
'There are only a couple of major gates anyway [at Burswood], so that's not such a fantastic opportunity,' Alexander said.
'But when football is not there, why would football supporters care what was there if you're not going to be there? If cricket is playing there, why do you want a whole pile of football stuff?'
Both the WA Football Commission and Sports Minister Mia Davies have been contacted for comment.
A spokesman for the WAFC previously told WAtoday recognising the heritage of WA football at the new stadium was 'very important' for the commission.
'The WAFC's Heritage Committee, comprising of commissioners and football historians, wants the legends to live on and be commemorated in the names of function rooms, gates and stands,' he said.
'It is a tradition taken up at other major stadiums around the country.'