WA company in world first for wave energy production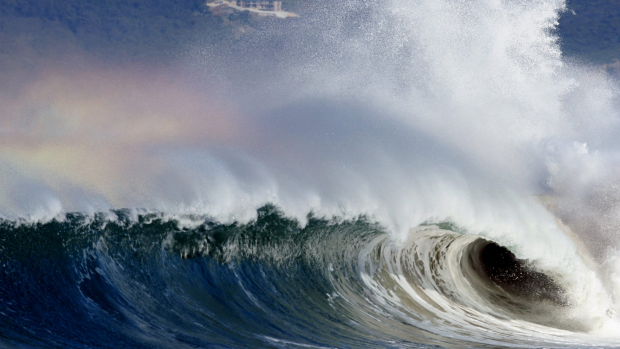 The CETO 5 unit off the coast of Perth (left) and it's installation into the sea floor. Photo: Carnegie Wave Energy
Carnegie Wave Energy has successfully installed its electricity-generating underwater buoy technology off the coast of Perth, creating the first operational wave energy project in the world.
The so-called CETO technology – that converts ocean swell into renewable power and freshwater – has been operating successfully for the past week, according to the company.
The successful installation, a year later than originally anticipated, represents a crucial step for Carnegie to meet its goal of becoming cash-flow positive within five years.
Its main generators of cash last financial year were, in order, government grants ($14 million), research and development tax rebates ($2.3 million) and gold mining royalties ($1.3 million) it received as a leftover of its former incarnation as a mineral exploration company.
In contrast, it spent $21.6 million developing its technology and a further $7 million paying its suppliers and employees in 2013-14.
Carnegie's first major client, the Department of Defence's Perth naval base, HMAS ?Stirling, will receive power when the underwater buoy technology is connected to the grid in the next few weeks. It will also eventually produce freshwater for the naval base.
Carnegie shares opened on Tuesday at 5.9?, which is near its 12-month high.
Jonathan Barrett is the Perth bureau chief at The Australian Financial Review.