Video: Car accident traps 95 yr old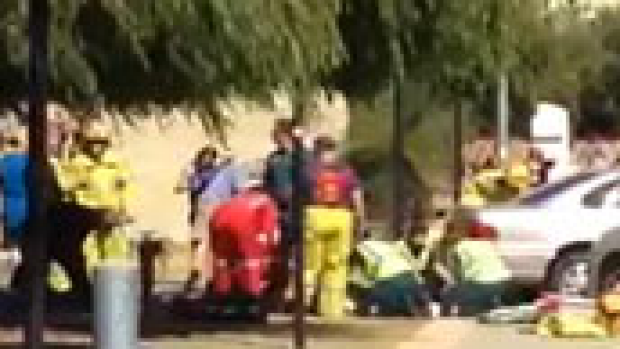 Rescuers have work frantically to free a man trapped following a car crash in Rockingham this morning. The man, 94, was pinned underneath his car after a second car, driven by his granddaughter, collided with his vehicle.
Police say it's understood the accident occurred when the man was helping direct his granddaughter into a parking bay at a library on Dixon Road, near the intersection of Patterson Road, when she mistakenly hit the accelerator and pinning his arm underneath his car.
Career firefighters and Rescue Services were to free him from the wreckage.
Career fire fighters and emergency personal work to free a man trapped beneath a car. Video supplied by Mark Stoner
The man was flown to Royal Perth Hospital with serious injuries by the RAC Rescue Helicopter, while the other driver was trapped inside their vehicle.
The injured man has been admitted to the Emergency Department where he is being assessed. The extent of the person's injuries are not known.
The RAC helicopter landing in Rockingham to transport one of the men seriously injured in a car accident. Video supplied by Mar