Veritys' Recipes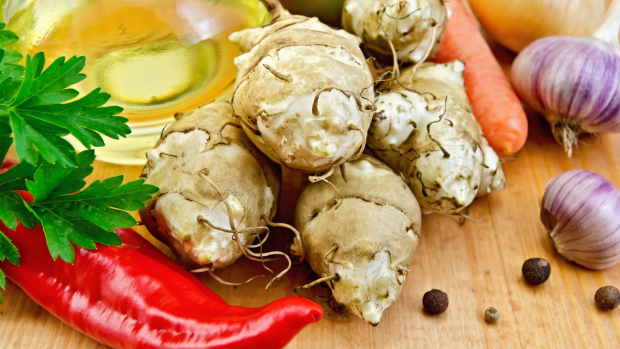 6PR Eggplant, Pomegranate and Lamb ? with Verity's new favourite dressing!
Eggplants are plentiful at the moment as we come to the end of summer and pomegranates are just
coming into season ? what a perfect combination! Add pomegranate molasses and tahini to the
equation and you have a marriage made in heaven! You don't have to add lamb, you could make this
into a salad with leaves and quinoa and cucumber ? the dressing though will bring it all together.
Take 6 long thin eggplants and slice in half lengthwise.
Brush them with a mix of 2 tab olive oil and 2 tab pomegranate molasses and 4 pinches of Ras El
Hanout ?or Zaatar, which ever spice mix you like. Add a good pinch of salt. Then Barbeque or grill
them until nice and charry. If you are worried that they are blackening before cooking, spoon a little
liquid from a cup of green tea on them. They will absorb this and cook more evenly. Set aside when
done ? and this can be done a couple of days ahead.
Roast or bake a couple of lamb rumps until done to your liking.
Take a whole pomegranate and gently remove seeds making sure you don't get a lot of the pith as
well.
Make the dressing: 3 tabs Greek yoghurt, 2 tabs Pomegranate molasses and 2 tabs tahini. Blend all
together and add as much hot water as you need to make it runny.
Slice lamb and place alternate slices of the lamb with each long shaft of eggplant and then drizzle the
sauce over the lot. Scatter pomegranate seeds over the top and add ? handful of lovely fresh mint
leaves. This dressing would be great just over lamb or over lettuce leaves, fresh or charred.
Delicious!
6PR Chocolate Valentine's Day Cake.
225g GOOD dark chocolate I used Lindt 'orange intense' for extra flavour.
225g unsalted butter.
Melt these 2 together in a bowl over simmering water making certain the water does NOT touch the
base of the bowl with the chocolate and butter. Then set aside to cool a little.
Mix 60g plain flour (you could easily use gluten free) and 50 g hazelnut meal.
Separate 6 eggs
Beat the yolks with 50g brown sugar until pale and thick, then mix in the slightly cooled choc mix and
the flour and nut meal. Grate in the zest of 1 orange.
Beat the egg whites until almost soft peak, then gradually add 175 g sugar SLOWLY! Little by little
until you have a fairly firm but not stiff peak. Blend 1/3 into the choc mic to lighten then gently fold
in the rest.
Pour into a heart shaped tin which you have buttered very well and then shaken a little flour around
to create a dry surface for the batter. You could use a 23cm springform pan instead.
Cook in 180 degree oven for 40- 50 minutes, until a skewer inserted in the middle comes out mostly
clean. Undercooked is better than over cooked.
*the variation in time is because heart shaped tins come in a variety of sizes so if yours is smaller
your cake will cook faster ? plus you'll need to have a spare tin ready ? not necessarily heart shaped
? this one is for you as a sneaky late night treat!
The cake will rise and become quite puffy BUT it WILL sink ? don't worry it is meant to do that! The
inside should be moist and a little brownie like. Serve with cream and raspberries or orange
segments ? or just a partner and 2 forks!
6PR Pickled Watermelon Rind
This is a win win! I hate the amount of watermelon you throw away after you have cut the pink part to eat and while my compost bin loves it, I just think we could do something more with it.
As it is Chinese New Year in a week and a red is considered very lucky and very prosperous, this is an ideal accompaniment to roast pork or duck and is SO delicious! I first had this 18 years ago at a restaurant in Adelaide called Red Ochre run by Andrew Fielke who specialised in native foods and he flavoured it with lemon myrtle (from memory); it was divine! You can use whatever you like to flavour once you've got the basics down. Best to make a few days before you need it, so the flavours can develop. Kong Hei Fat Choy!
4-6 jars depending on size that you have washed in soapy water and then either boiled for 20 minutes or placed in the oven on 180 for 20 minutes to sterilize.
Take around ? large watermelon and cut into slices then remove the pink flesh and pop in the fridge.
Peel the green off the watermelon and slice into 2cm x .5 cm strips ? you are looking at filling 10- 12 cups worth.
In a large sauce pan dissolve 3 cups sugar with 3 cups apple cider vinegar.
Add 3 cinnamon quills, 1.5 tspns whole cloves, 1 scan tspn chilli flakes, 2 fresh bay leaves, 1 knob of ginger about 2.5 cm long cut in half.
In a new clean piece of chux wipe, tie up, 2 tabs whole mustard seeds, 1 tspn coriander seeds and few whole allspice.
Bring all of the above to a boil and then chuck in the watermelon rind and then simmer for about 35-40 mins. You want some texture but you also want it to be cooked, so when a knife can easily pierce the pieces. Let this cool a little so you don't burn yourself and then fish out the chux package. At this point you can add some bright red food colouring and mix it around a bit. Then VERY carefully fill your jars, screw the lids on and place upside down on a tea towel until cool.
Leave at least 2-3 days ? even better if you can wait a week.
Delicious!
6PR Australia Day Damper.
The easiest 'bread' you'll ever make! Now you can flavour it with anything you desire; I decided to incorporate some Indigenous flavours such as Bush tomato and lemon myrtle but you could also use instead some chopped rosemary leaves or thyme leaves would be excellent and then even incorporate some finely grated parmesan and even chopped olives. Just keep in mind if you use anything that has liquid then adjust to a lower amount, the level, of milk you use. You are looking for a very soft dough, a bit sticky when it come out of the owl but just pop it on a floured surface so you can mould it into shape.
250g SR flour
30g butter ? chilled and cubed.
? tspn salt ? I used the 'Outback Spirit' mix which has native herbs such as Pepperberries in it.
2 tablespoons of chopped bush tomatoes (akudjera) which have been reconstituted in about 2 tab water. -opt
1 tspn ground lemon myrtle ? opt
160ml of milk.
Sift flour into a bowl and mix in your salt. Gently crumble with your fingertips the butter until the mix looks like fine bread crumbs. Then add your milk ? but only enough to make it into a soft slightly sticky dough. Turnout onto a floured board and pat into an 18cm round disc. Make a cross on the top and brush the top with milk then scatter your favourite dukkah on top and bake in 190 degree oven for 30 mins.
You could serve this with lemon myrtle flavoured butter or any herbs you love finely chopped and mixed into the softened butter.
6PR Chocolate and cherry self saucing pudding from Sue Stewart

1 tbl spoon butter 1/2 cup milk
1 teaspoon vanilla(opt) 1 cup SR flour
200g approx. of washed, pitted and halved cherries ? macerated overnight in port/muscat/Pedro Ximenex sherry ? what ever you have in the cupboard.
3/4 cup caster sugar , 1 tsn cinnamon 2 tbl spoons Dutch cocoa

SAUCE

3/4 cup brown sugar 2 tbl spoons dutch cocoa
2 cups boiling water

Place cherries on the bottom of a round ovenproof ceramic serving bowl.
Heat butter and milk, add vanilla. Sift dry ingredients into bowl, add butter mixture, stir till smooth.
Pour into over proof dish. Combine sugar and cocoa and lightly sprinkle over mixture. carefully pour
hot water over mixture.
Bake in moderate oven 40-45 minutes or microwave for 7 minutes and let stand for 2 minutes in
microwave before serving. Serve with hot custard or cream. It should rise up and be a bit cakey and have lots of the rich sauce on the bottom.
If it's not cherry season, then use plums, peaches, orange segments, mandarins ? whatever is in season


6PR Honey and Mango Semi Freddo
You could do this with any seasonal fruit but I think mango works well with honey. You could also swirl it through the 'semi frozen' creamy log for a 'rippled' effect, either way it will be delicious!
Start the day before you need it.
Line a loaf tin with cling wrap making sure the sides drape over the edge for easy removal later.
Peel and remove the flesh from 2 mangos. Mix this with a really good squeeze of lime and some lime zest.
Whisk 300ml double cream in a bowl until thick and stiff and keep refrigerated.
Take 1 egg, 4 egg yolks and whisk together with 100ml of good honey in a bowl over gently simmering water until pale and creamy and thick.
Mix the cream and the egg mixture together well and pour half into the loaf pan. Pour over the mango mix and let it get cold in the freezer for 30 mins then pour the rest of the mix on top and let set overnight.
Decorate with mango slices and cherries and serve ? really yum!
e when cooked through and has nice charry bits
6PR Xmas Veggie and Goats Cheese Bake.
This is ridiculously easy and adds such a lovely festive touch to the Xmas spread with its red white and green colours. It's also nice to have something NOT meat based for a change. You can cheat a little with the caramalised onions if you have to put this together quickly but be prepared to pay $15 for a jar whereas you could buy a kg of onions for $3! Hope you enjoy!
1 large eggplant
1 good sized zucchini
1 tray of baby Roma tomatoes on the stem.
1 jar or approx. 1 cup of goats fetta ? preferably marinated in olive oil. ? You could use Danish fetta
1 jar of caramalised onions or 1 kg brown onions, sliced and cooked slowly in some olive oil, at least 1 tab thyme leaves and salt until collapsed, soft, brown and sweet.
Slice the eggplant lengthwise into slices just under 1cm thick and then brown off in some olive oil. While you are frying it, drizzle on some liquid from a cup of green tea which helps it to not absorb too much oil and gives it a lovely slightly smokey flavour. Set aside when cooked through and has nice charry bits
6PR Pickled Walnut and Pork Pasta
So I was at the Margaret River Margaret River farmers markets and amongst all of the wonderful fresh produce and DELICIOUS bread I found jars of pickled walnuts from 'Pickled Walnuts'. You cacn sometimes get European pickled walnuts but I was so happy these were local. Then ? what to do with them? I got one jar using white wine vinegar and one jar using apple cider vinegar and the lovely Bettina Pretsel who owns the company (www.pretselvineyard.com ) claimed how brilliantly this one went with pork (belly, roast shoulder, etc) I looked over and there was Antonia Carluccio demonstrating at another tent and then I thought of my dear Vince Garreffa's pork and fennel sausages and voila! This dish was formed in my head and now as a recipe for you!
6 pork and fennel seed thick sausages .
1 packet of L'Abruzzese dried linguine ? or good quality pasta
1 jar of apple cider cured walnuts
1 handful of Italian parsley chopped roughly.
? cup of cream ? local is best. Olive oil.
1 onion halved, cored and then thinly sliced into half moons.
2 cloves of garlic.
Put a large pan of water, seasoned with 1 big tspn of salt on the heat until it boils. Drop in the pasta Drain and chop the pickled walnuts into small pieces and set aside. Squeeze out all the flesh from 2 sausages and chop into little pieces. Sautee off the onion until wilted and a little golden, then add the crushed garlic cloves and sautee until fragrant. Add the 2 crumbled sausages and brown off a little. Then taking the remaining sausages by the end, squeeze out portions of about 1 inch or 2cm to form 'freeform' meatballs. Brown a little those in the mix. Then stir in the cream, the chopped pickled walnuts and the parsley and warm through. Check for seasoning ? it will definitely need pepper and possibly salt. If you want to really pump up the walnut flavour, add a couple of tablespoons of walnut pesto. You past should take about 11 mins ? which should be enough time for you to cook the sauce. Drain the pasta and add the sauce to the pan, toss well and serve!
Delicious!
Fast, no added sugar or butter scones
My thanks to Jill Hansen for this recipe. Her mother Muriel (Doll) was a great baker and clearly Jill is carrying the baton! If the thought of rubbing the butter into the flour is all a bit dreary and time consuming then these are the scones for you. Sweet or savoury, they'll be on your table in no time!
2 cups of SR flour.
200ml of yoghurt (1 small tub and a bit) either plain or fruit flavoured
1 egg beaten lightly
A little sploosh of milk ? enough to bring it together.
OPTIONAL FOR SAVOURY SCONES
4 tablespoons of grated parmesan for savoury
At least 1 tab of mixed chopped fresh herbs; thyme or rosemary or parsley
Sift your flour, then make a well and add your yoghurt.
If you are making savoury scones add the natural yoghurt, cheese and chopped herbs.
Add the egg and JUST ENOUGH milk to bring it together to make a soft dough.
Press the dough out to about 2cm high and press out rounds with a proper cutter or a champagne flute.
Mix the rest of the dough gently and repeat until you have about 1 doz.
Then place them snugly up against each other (it will help them rise) on a greased flour scone slide or baking tray and whack into a 180 degree oven for about 18 mins or when a skewer inserted comes out cleanly.
If you are using a flavoured yoghurt, that will be the predominant flavour. I used blueberry and it was delicious. Then serve with some low fat cream cheese and if you want some jam.