Two Australians among 150 dead in Germanwings plane crash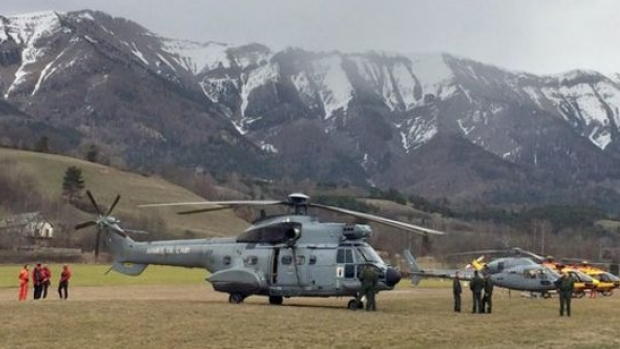 150 people are dead after a plane operated by the budget carrier of Germany's national airline crashed in the French Alps.
Two Australians – a mother and her adult son from Victoria – were aboard the flight to Dusseldorf.
"It would not be appropriate to disclose further details at this stage," Foreign Affairs Minister Julie Bishop said.
The plane was mainly occupied by German and Spanish passengers, with 16 students and two teachers from the small town of Haltern dying in the crash.
Ms Bishop told Neil Mitchell the airline was treating the crash as an accident at this early stage.
"We understand the black box has been found, which when it's analysed hopefully will provide more answers," she said.
#Germanwings flight #4U9525: Australians concerned for welfare of family/friends can call DFAT Consular Emergency Centre 1300 555 135 ? DFAT (@dfat) March 24, 2015
It's understood the Germanwings A320 plunged for eight minutes before crashing, but no distress signal was issued.
International aviation expert Arthur Wolk told 3AW Breakfast that if there was no foul play, the likely cause was the angel of attack sensors being iced over.
"It's easy to blame a dead man … but this is a problem even the best pilots can't handle," he said.
Another aviation expert, Neil Hansford of Strategic Aviation Solutions, told 3AW Breakfast "you can't rule anything in or anything out" because of the timelines of the crash.
But he said answers should be much more forthcoming than recent aviation tragedies.
"This time around we're going to have great transparency, we're going to have very professional regulators," he said.
"There's none more professional than Lufthansa, so I think we're going to get a fairly quick reading of where we're at."
German aviation expert Heinrich Gro?bongardt says a distress call is not the first thing a pilot would do.
"The first thing is to fly the aeroplane to manage the situation to get out of trouble," he said.
"The circumstances of this crash are quite unusual."
Mr Gro?bongardt, who works with a company providing crisis communications to airlines, said he believed the least likely cause of the crash was foul play although nothing could be ruled out yet.
NOW: Aviation expert Arthur Wolk says if there was no foul play this looks like case of angle of attack sensors being iced over #germanwings ? 3AW Breakfast (@RossAndJohn) March 24, 2015