Thousand reasons Adam Voges loves to play Test cricket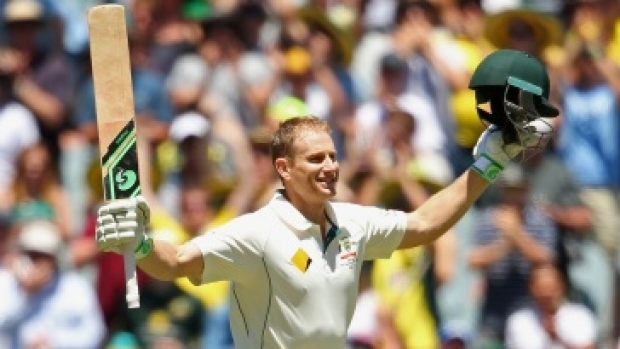 When Adam Voges began his Test career six months ago in the Caribbean, never in his wildest dreams would he imagine the sort of figures he would rack up by the end of the year.
After compiling the fourth century of his 12-Test career against the pop gun West Indies attack at the MCG, Voges became just the third player – and second Australian behind former captain Mark Taylor – to compile 1000 runs in their debut year.
Voges' unbeaten 106 took his tally to 1028, reaching the milestone in 18 innings. That's also the same number it took Taylor to achieve the feat in 1989, when he compiled 1219 runs.
England captain Alistair Cook is the other player to score 1000 runs in his debut year of Test cricket, scoring 1013 in 2006.
The West Australian has taken a particular liking to the West Indies, having scored three of his Test centuries against the Caribbean attack.
Voges shared in an unbeaten fourth wicket stand of 223 with captain Steve Smith (134 not out), a new record for Australia against the West Indies at the MCG.
'It's a great occasion. It's my first Boxing Day Test, the family are here. To get a hundred and have that partnership with Smithy, it's been a great day,' Voges told Macquarie Radio's commentator Tom Moody at the end of play.
Remarkably, in four innings against the West Indies Voges has only been dismissed once and boasts the staggering average of 542.
Overall, the 36-year-old's career average is 85.60. The only player to boast a better average having played a minimum of 10 Tests is the great Sir Donald Bradman (99.94).
That's some rarefied company for the 36-year-old.