Teddy bear 'Pooh's epic outback adventure after dad's travel photo blunder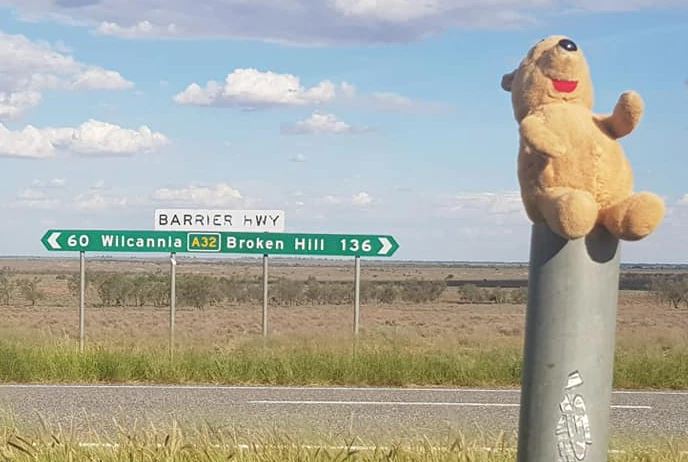 A long-lost teddy has been reunited with his owner in Perth after an epic social media appeal supported by strangers, months after being left on a fence post in outback NSW.
Gordon Wilson told Gareth Parker on 6PR Breakfast he left his son's treasured bear 'Pooh' on a fence along the Barrier Highway near Broken Hill in March while travelling 5000km from Queensland to Western Australia.
"My son, he's 23, moved over to Perth last year and I was getting in his car to bring his stuff back over to him earlier this year," Wilson said on Friday.
"Pooh was the last thing that was put in the car and he rode in the front up with me, and I thought we'd play a weird 'Where's Wally' kind of game along the way and got him out and took some photos at different spots."
But in one instance, Wilson drove off, leaving Pooh behind and only realising the grave lapse 150km from the desertion.
Rather than go back, he took to social media for help tracking the bear, with one onlooker – grazier Mitch Rodgers – driving out to the spot to retrieve Pooh, eventually joining Wilson to find people online willing to travel with the teddy across the west coast to be reunited with Wilson's son Ben.
Press PLAY below to hear more on Pooh's epic adventure through outback Australia to Perth