Sunil Gavaskar plays knock and stay at fans Applecross home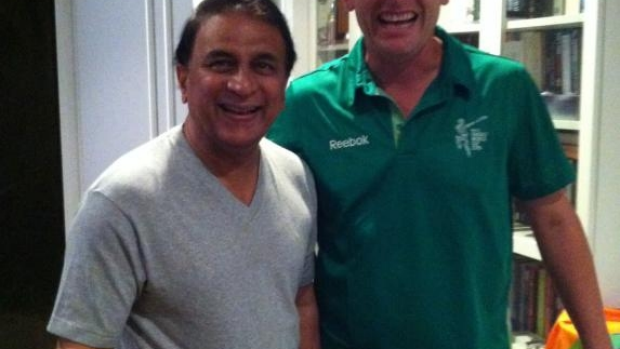 A surprise knock on my door has given a 6PR listener the claim to the 'Grousest of grouses'.
Keith Daddow, a lover of all things cricket, called the Breakfast show during their regular grouse or shouse segment (grouse being something good and shouse being something bad) on Monday
Mr Daddow told Steve and Basil the weekend began well when he and other volunteers received a standing ovation from the capacity crowd at the WACA ground during the West Indies versus India match.
As Keith strolled around the ground soaking up the honest appreciation of the crowd he thought to himself how can this weekend get any better?
The answer came on Saturday night when, deep in to his regular night of poker 'with the boys', there was an unexpected knock at the door.
Swinging the door of his Applecross home open Keith was greeted by the smiling face of Indian batsman Sunil Gavaskar
Gavaskar who had inflicted his fair share of pain on Australia's bowling stocks during his career made the visit to thank Keith on his work and fundraising for prostate cancer and survivors.
Keith, who is a prostate cancer survivor himself, has just recently climbed Mt Kilimanjaro in November and raised $27k for prostate cancer research.
The original Little Master had heard of the work Keith's work through 'a mate of a mate' and this was definitely no knock and run event.
Mr Daddow said that Gavaskar stayed for about an hour, signed a few bats and told some great stories.
It may take some beating but if you can beat this grousest of grouses call the Breakfast program on 92211882, Monday.