Slice of Perth – You won't believe the food this hospital serves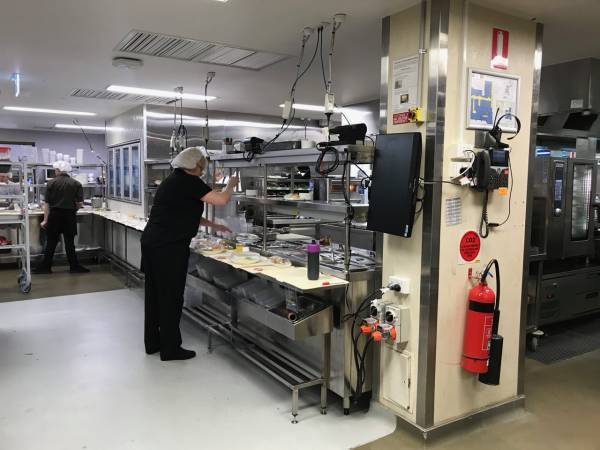 Hospital or hotel? Guests… I mean patients of St John of God Hospital Murdoch are the first in WA to experience a room-service style al-a-carte menu. Yep – that means patients can order what they want between the hours of 6:30am – 8pm and it will be delivered to their room… probably by someone who used to work in a five-star hotel.
After a 12 month trial on the maternity ward, this style of service was rolled out hospital-wide at the beginning of June and there's already been very promising results. While it's still early days, initial reports are showing food wastage and consumption are down but more importantly patient nutrition has increased. Catering Services Manager Justin Stubley revealed to me that patient satisfaction surveys are also coming back with higher scores. Let's face it, when you're in hospital convalescing, the only other thing on your mind is what's to eat.
We all know the reputation hospital food has. Pre-prepared slop in varying shades of brown with a side of vegetables cooked to within an inch of their life. Or how about some cold toast with rubbery eggs that have been sitting on a trolley for who knows how long – yuck. The food arrives at set times, regardless of whether you're hungry or not and you're given what you selected on the order card the day before. But what if you don't feel like that choice anymore? What if you're a new mum learning to breastfeed when the lunch cart arrives and your meal sits there getting cold? Or you could be an oncology patient whose tastes have changed because of chemo and all you can stomach is potato wedges and a vanilla milkshake.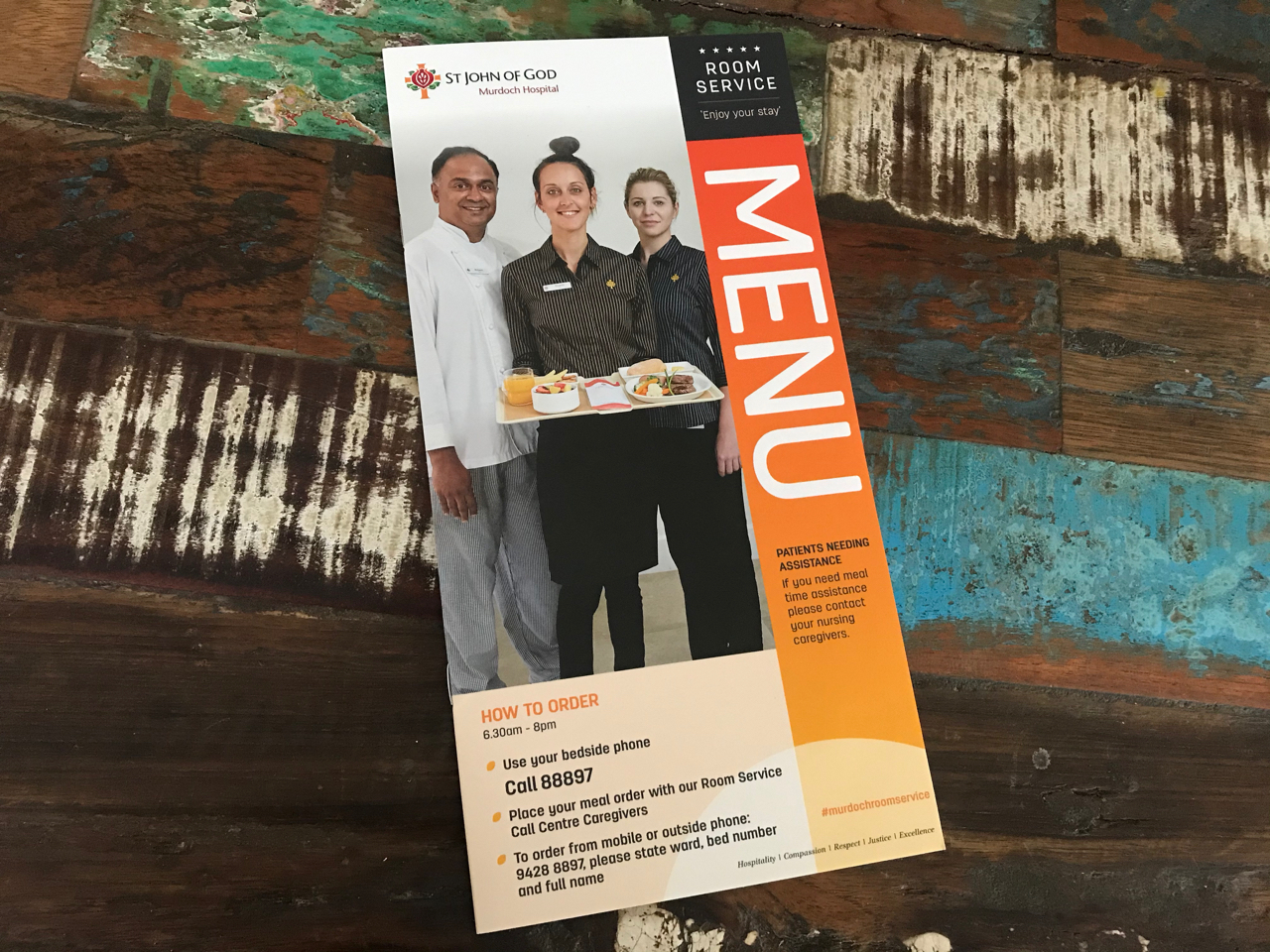 None of this is a concern anymore at SJOG Murdoch. Feel like eggs benedict and danishes at 2pm? No problem. Or maybe lasagne with apple pie for dessert at 11am is more your thing. Peckish in the arvo? Order a cheese plate or vege sticks with hummus. Or maybe you want to go with some international flavours and get a congee or coconut green curry. To drinks there's juices, smoothies, milkshakes and if you're not on a restricted diet – you can even have a can of coke.
Kids also get the royal treatment with their own special menu broken up into suggestions by age group. In my experience kids are often just given a smaller version of the what's on the usual menu. What child wants to eat stew with pumpkin and string beans when they're sick? Here they can have dishes like macaroni cheese, banana bread, pizza, fish and chips and spaghetti bolognese. Of course those little tubs of ice cream and jelly are still on the menu.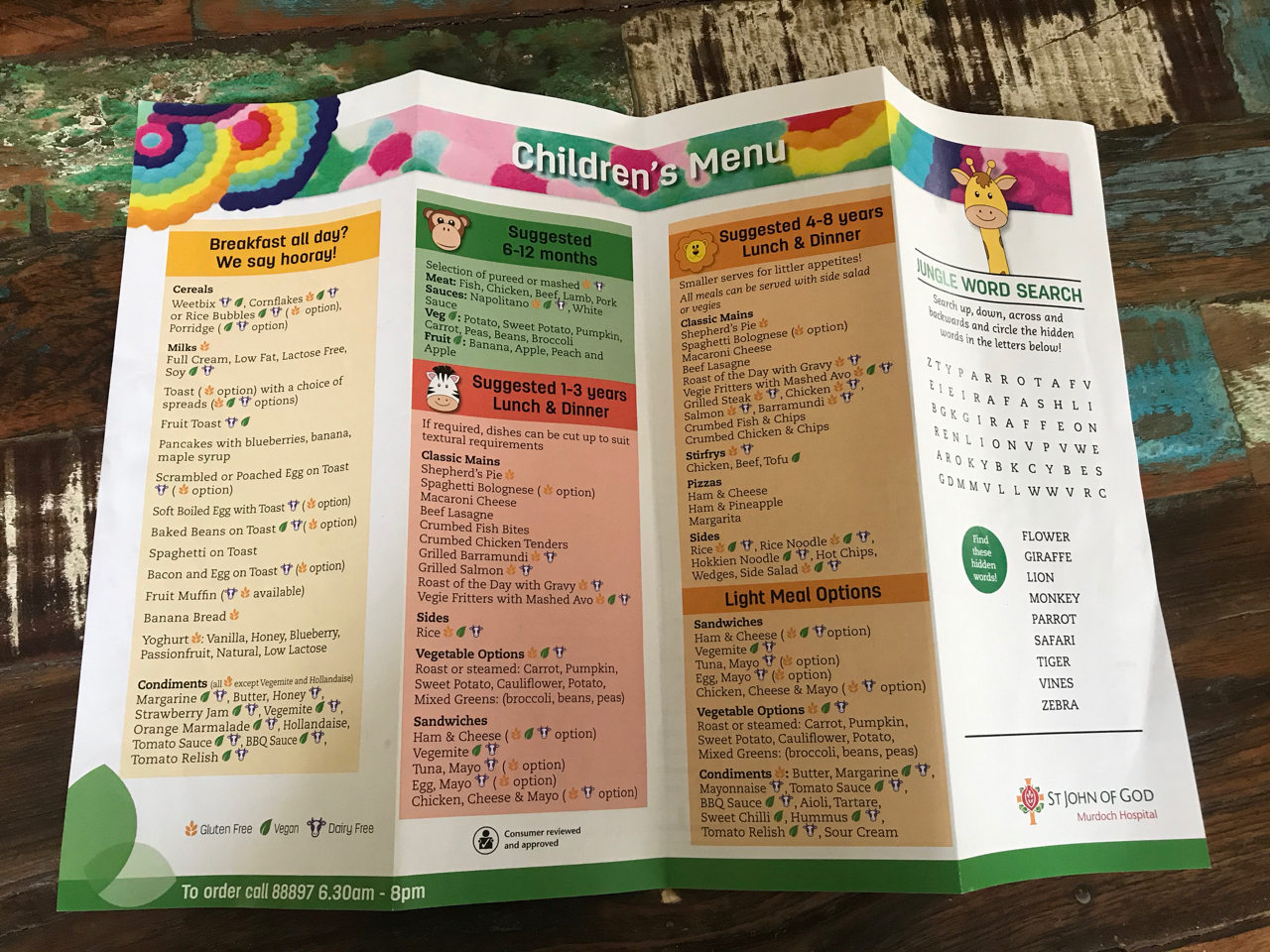 Photos have been surfacing of the burgers on popular Facebook groups like "Perth Burger Hunters" and getting pretty good reviews. Not surprisingly it's mainly blokes ordering them while "twiddling their thumbs" in birth suite. The steak burger is made with a sous vide fillet steak. You won't see a medium-rare piece of meat in a hospital due to the strict food safety rules they're governed by. The sous vide process retains the flavour and tenderness of the fillet – something you wouldn't get if it was cooked to "well-done" on the grill. Lettuce, tomato, red onion and cheddar stacked between a soft bun round out this great little number. Add some sriracha if you like a bit of a kick and a side of wedges and you'd almost think you were eating at some trendy burger shop.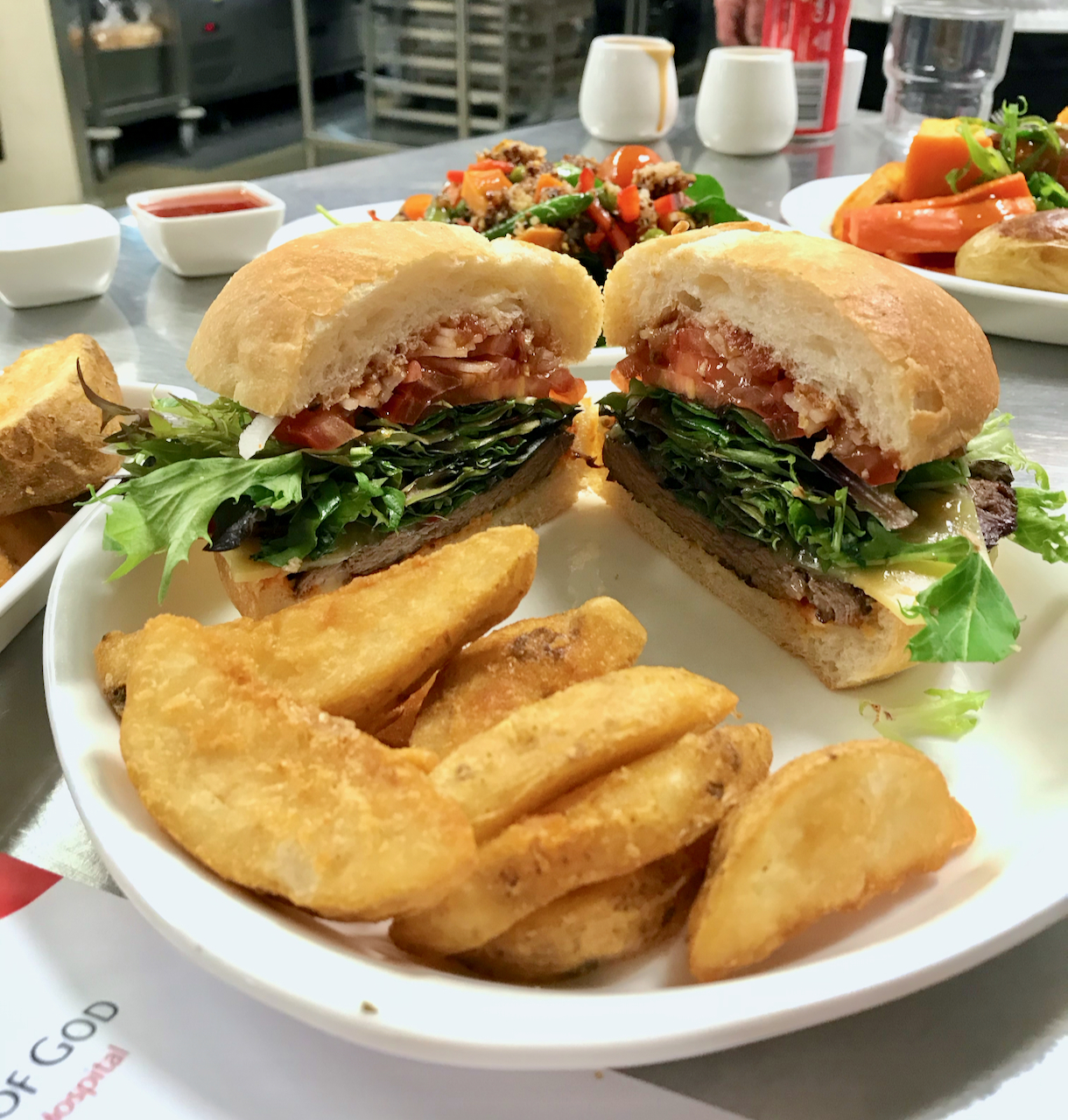 A plate of hokkien noodles and chicken with a soy glaze came fresh out of a hot wok. This stir-fry is peppered with crispy carrot, broccoli, capsicum and asparagus – add a side of cut chilli for a spice. Similarly pumpkin and quinoa salad was lightly dressed and loaded with fresh, bright spinach, cherry tomatoes, string beans and crispy capsicum.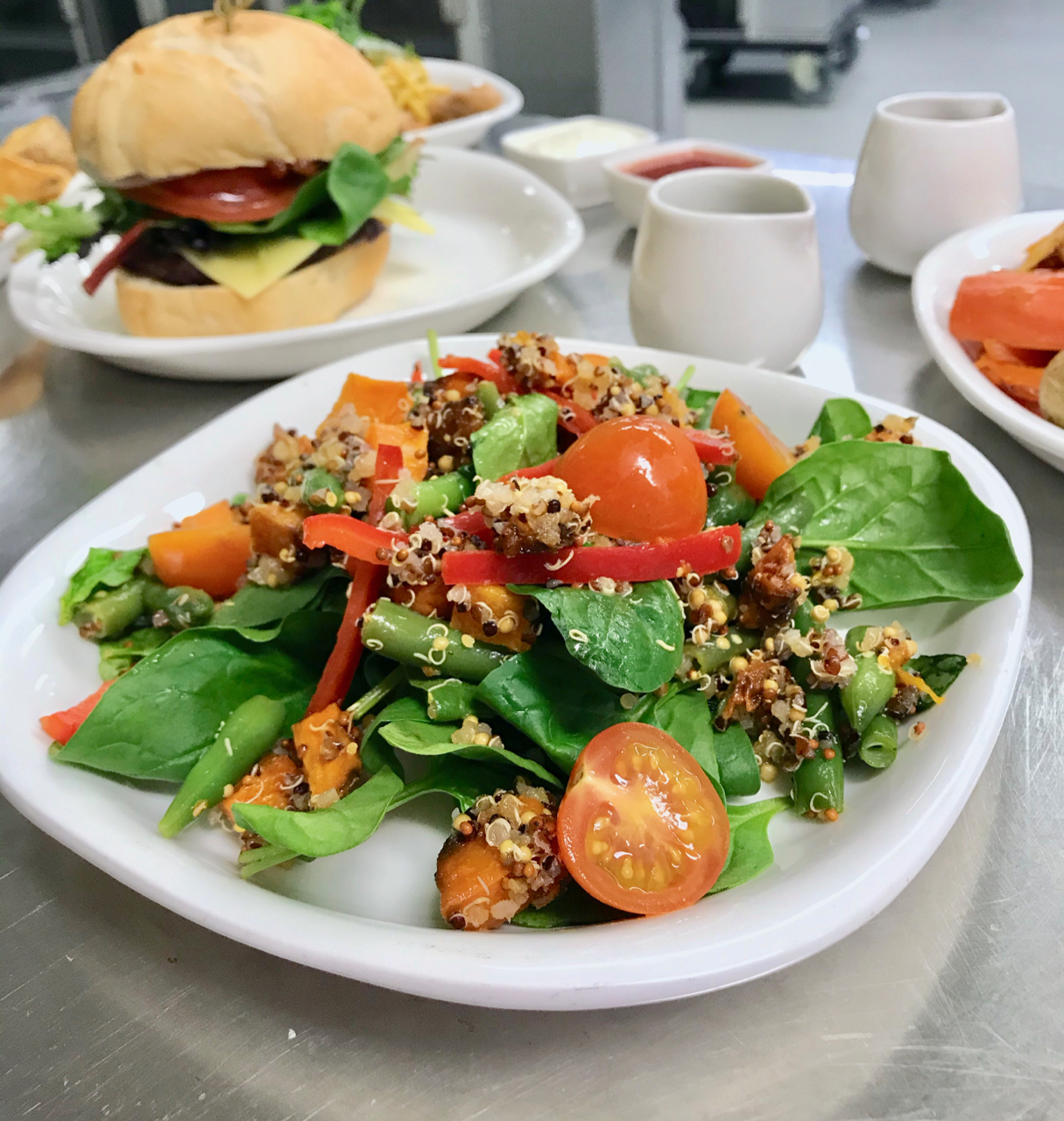 You won't have to wait for Sunday to have roast here. Every day there's a "roast of the day" and you can order it with all the trimmings, including Yorkshire pudding. The turkey was tender and juicy; roast veges are "just like mum's" – lovely caramelised edges and the gravy was full of hearty flavour.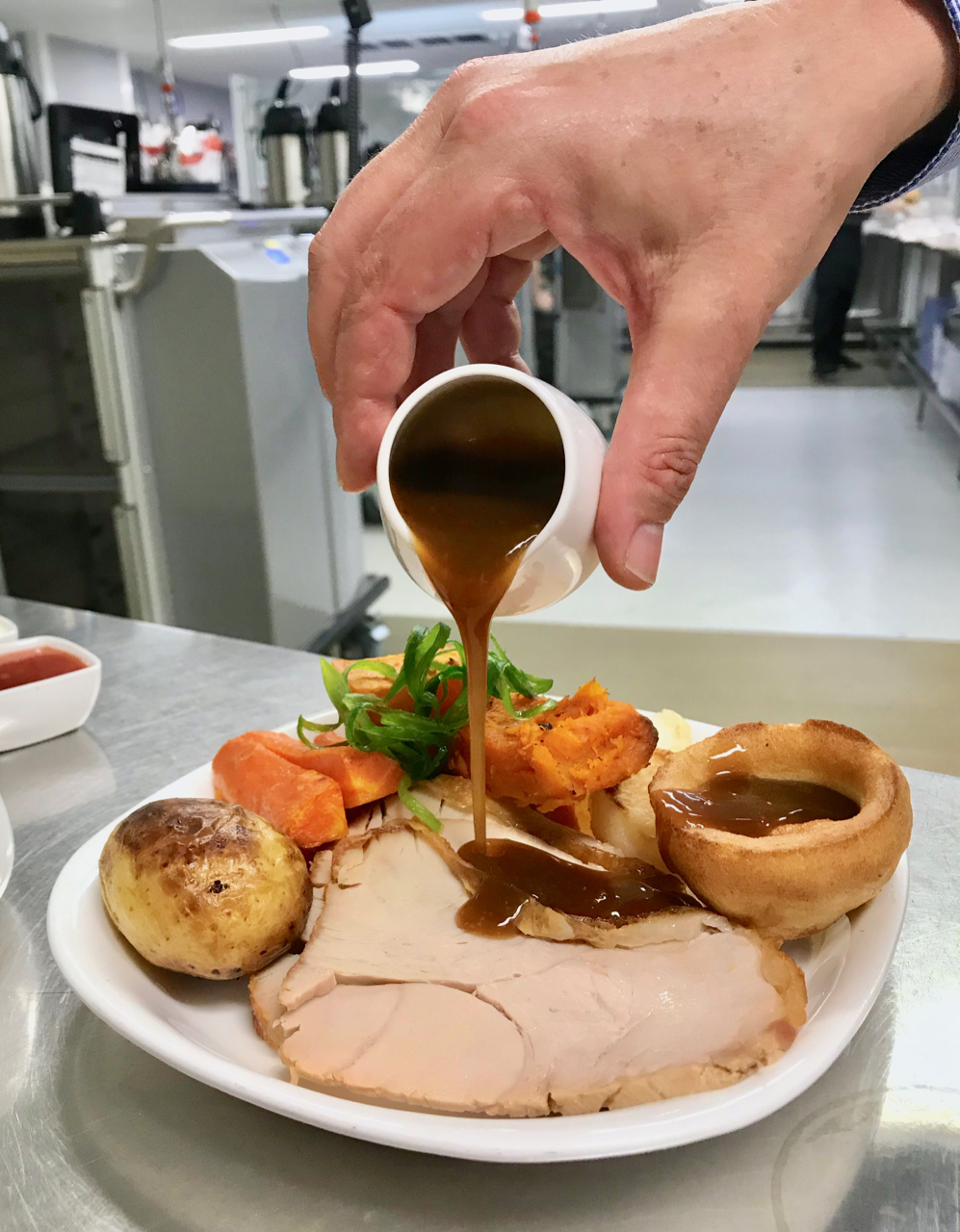 For pud the creme brulee was bang-on. A little "tap-tap" on the glass-like top satisfyingly gave way to the creamy vanilla custard underneath. And yep – they torch the top to order. A pavlova with a passionfruit coulis, fresh fruit and cream comes deconstructed so you can assemble it yourself. I mean no one wants a soggy pav right?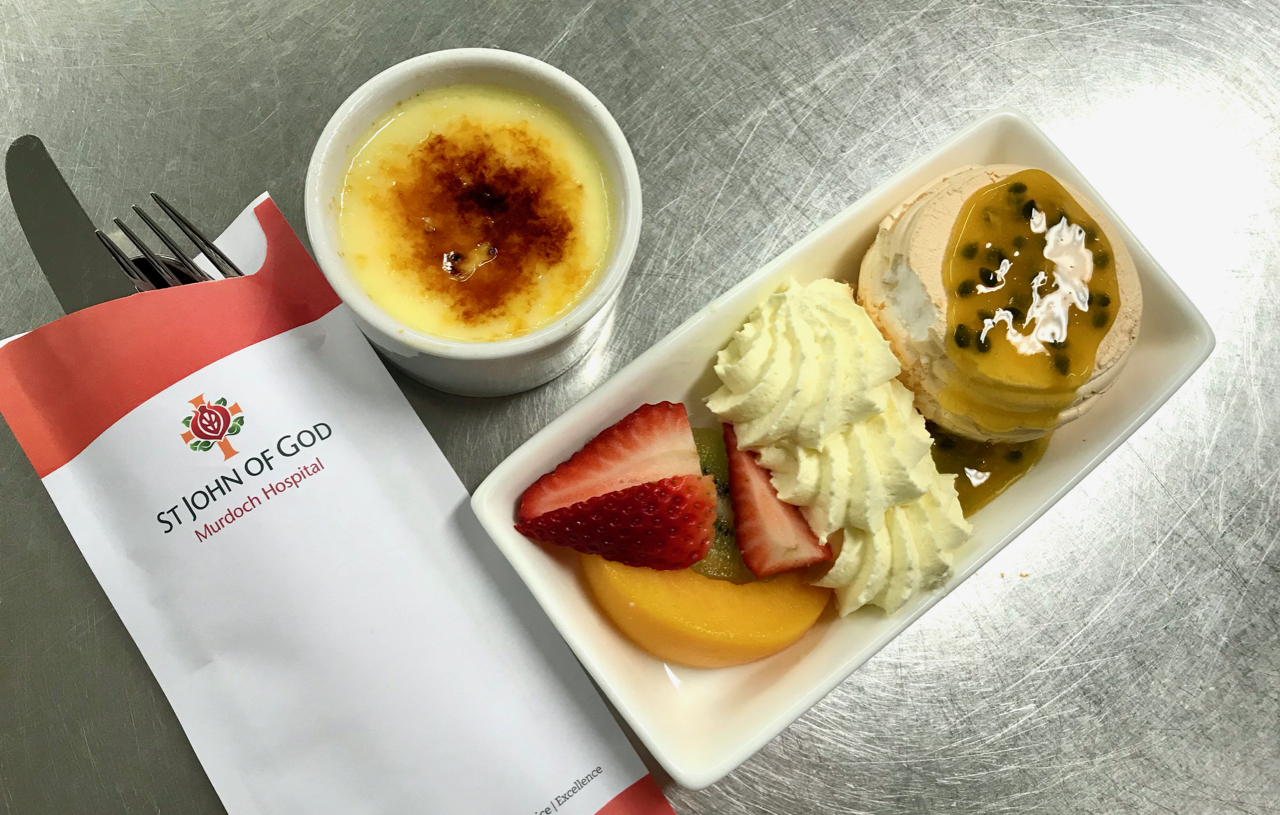 I loved that every tray got a little puzzle on it – just a little thing to help keep people busy while they're confined to hospital.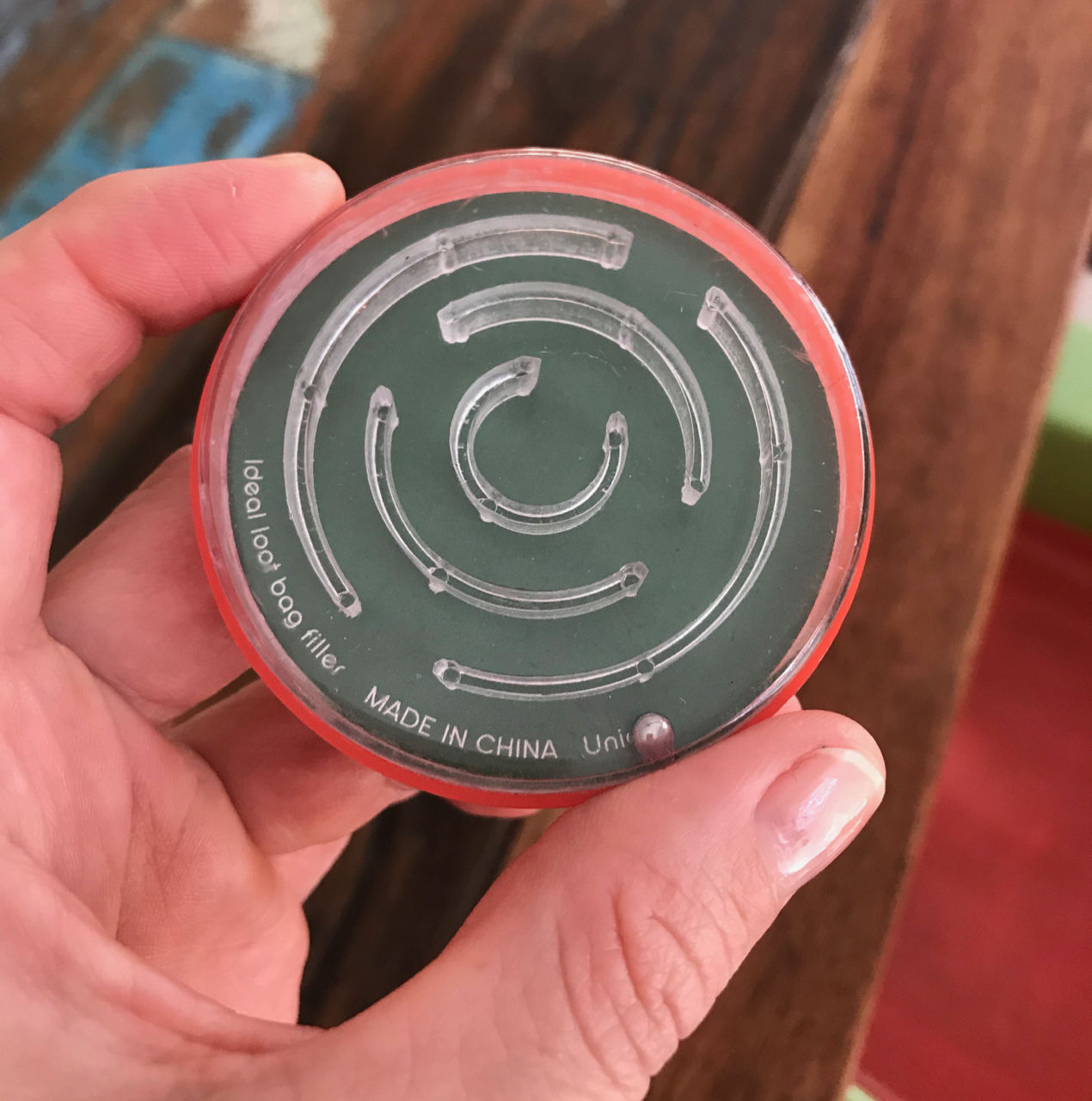 In my opinion, this kind of meal service should rolled out to all hospitals. It's about the holistic health of the patient. If the early results St John of God Murdoch continue, surely this will also be a money saver as well as a health one.
Listen to Liz Sheehan's full review with Oliver Peterson: