Slice of Perth – tiny town with a big food offering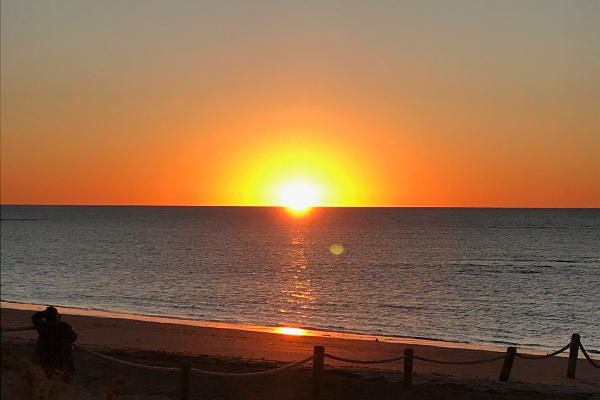 We've been told to "wander out yonder" and discover our own state. The South West has traditionally been the darling but when the mercury dips in Perth, it's the perfect time to head north to sunshine and warmth.
Exmouth has so much to see and do – snorkelling, clear turquoise waters, an abundance of sea life, scenic drives, fishing and being on the North West Cape means visitors can watch the sun set AND rise over the ocean – now that's a rare treat to see in WA!
What a culinary surprise Exmouth is. From craft breweries to loads of local seafood to top notch coffee – this tiny town is punching well above its weight.
Here are our top suggestions for eating out on the North West Cape:
Froth Brewery
5 Kennedy Street, Exmouth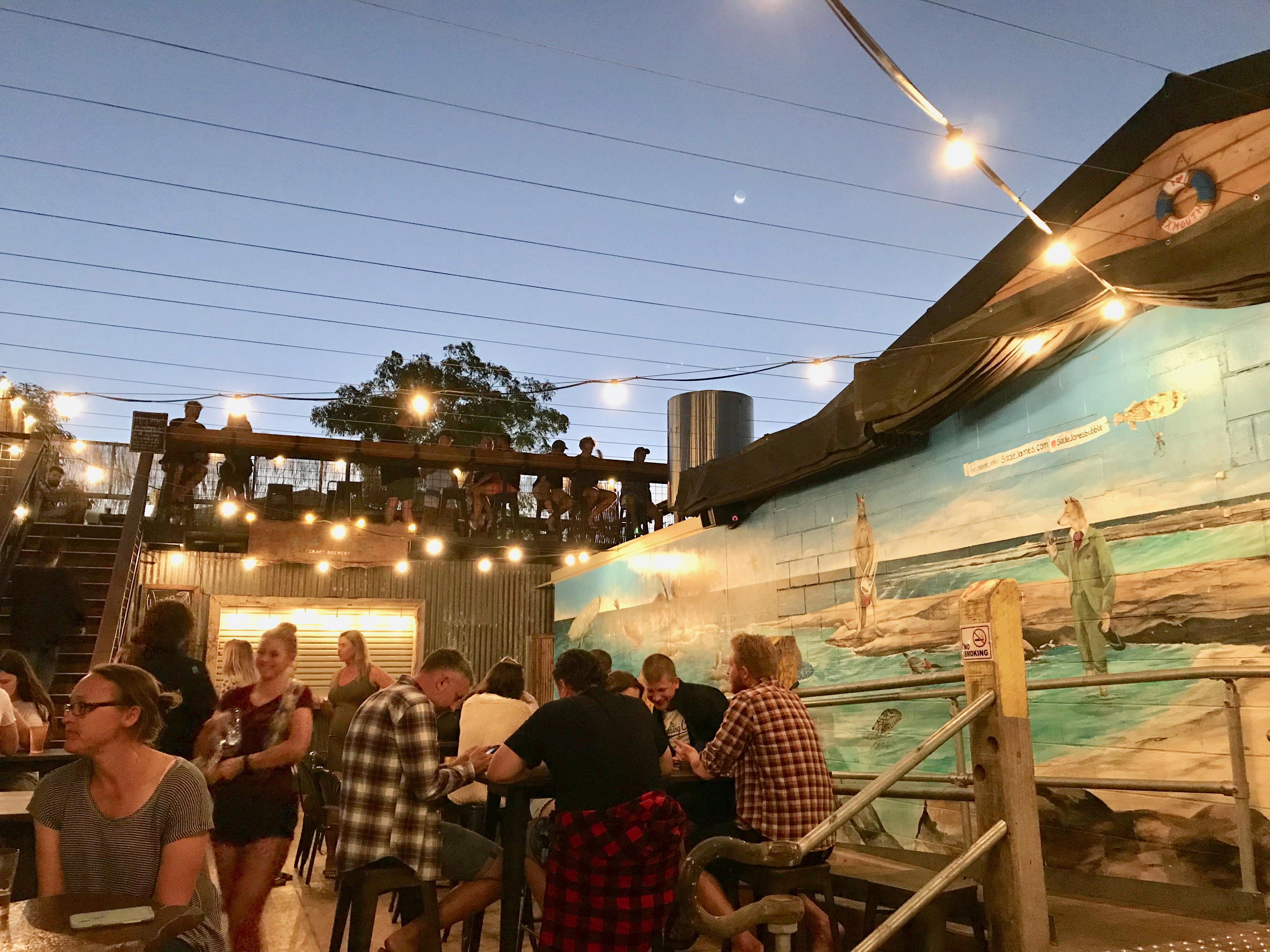 This award-winning craft brewery sits pretty right in the town centre. There's a small beer garden with an elevated balcony for those who want a view. TVs located around the open air pub make this a great option for an arvo of watching sport.
They have a bloody good menu mainly filled with share type food, salads and burgers and a bloody good selection of beers to go with it. From lagers to IPAs to stouts, sours and ales – they've got it all. Happy hour from 5-6pm sees the price of pints drop to $9. But if you can't decide what to have, go the tasting paddle. There's also a handful of interesting beer cocktails – think an espresso martini made with stout or a "beergharita" made with a fruity ale.
When in Exmouth, trying local seafood is a must. A bucket of Exmouth Gulf prawns with a simple cocktail sauce washed down with a pint of IPA really hits the spot on a warm afternoon.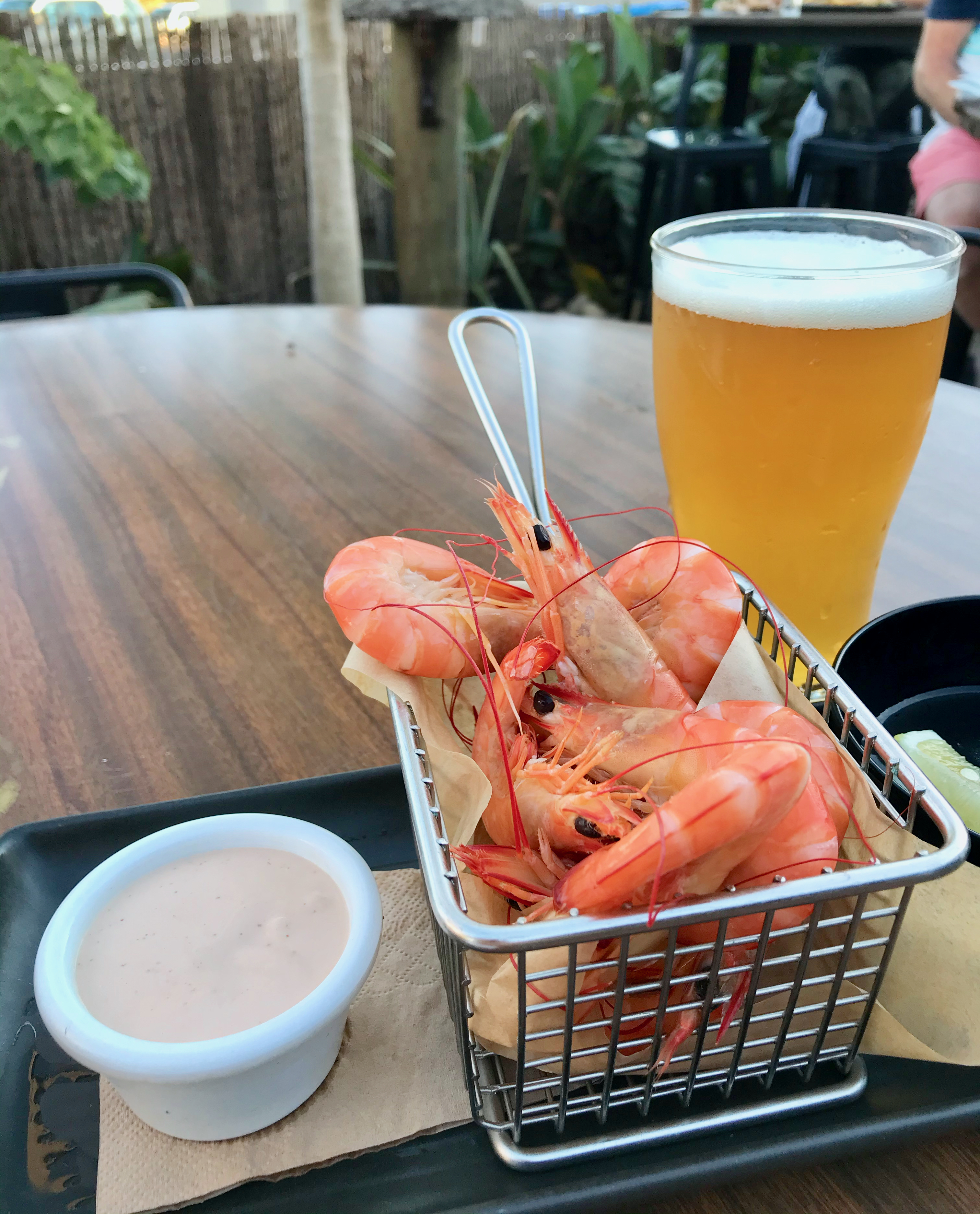 The fish burger features a big meaty slab of Pilbara Spanish mackerel that tastes as if it was caught that morning – so fresh! Beetroot, jalapeños, guacamole and tartare on a bun from the local bakery (literally 10 metres away) round out this superb burger. Yes you read right – beetroot – the perfect addition! It's hint of sweetness really brightens up this burg.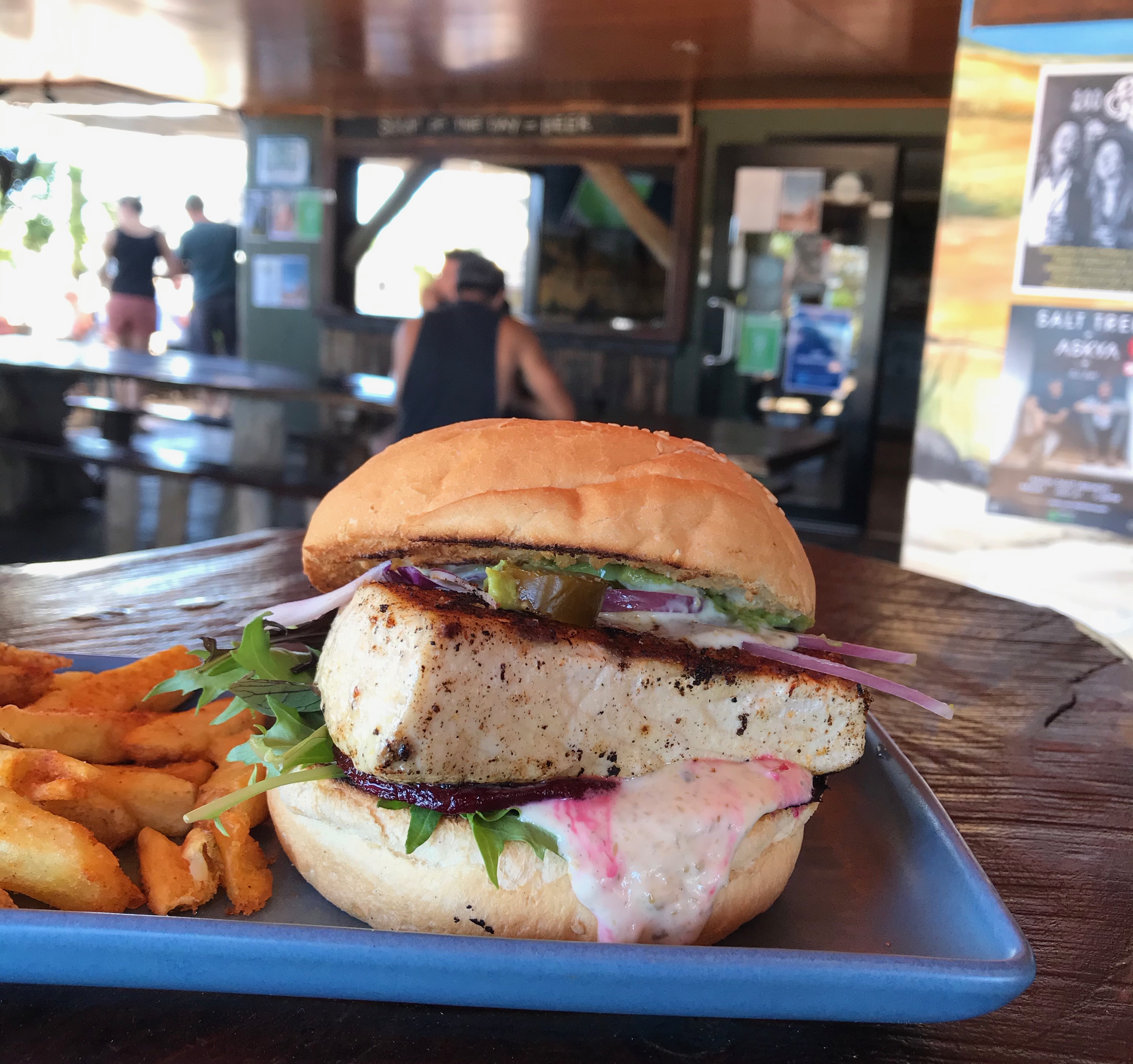 Service is no fuss and the kitchen seems to be able to keep up pretty well during busy times. Walk in wearing your thongs, boardies and covered in sand – it's casual, friendly and relaxed.
Whalebone Brewing Co
27 Patterson Way, Exmouth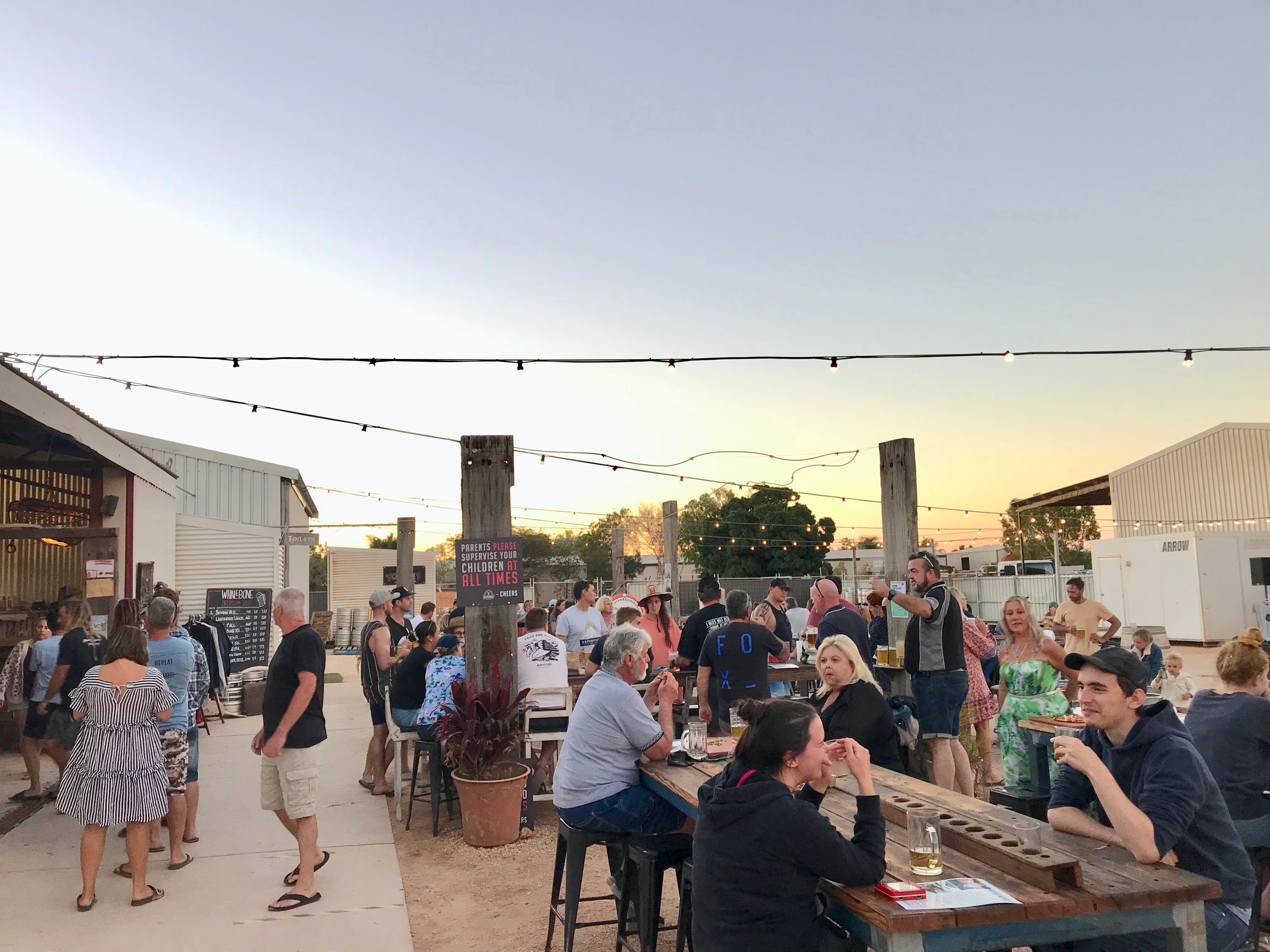 Operating from a tin shed located in an industrial area with long beer hall style seating under strings of lights – this place is stripped back, rustic.. and oh so wonderful. Beer is the main game with their crafted lagers, kölsch, wheat beer, ales, IPAs, NEIPAs and a spicy ginger beer all on tap. It's worth ordering a tasting paddle to experience the full suite of brews. Then buy a six pack of your fave to take home.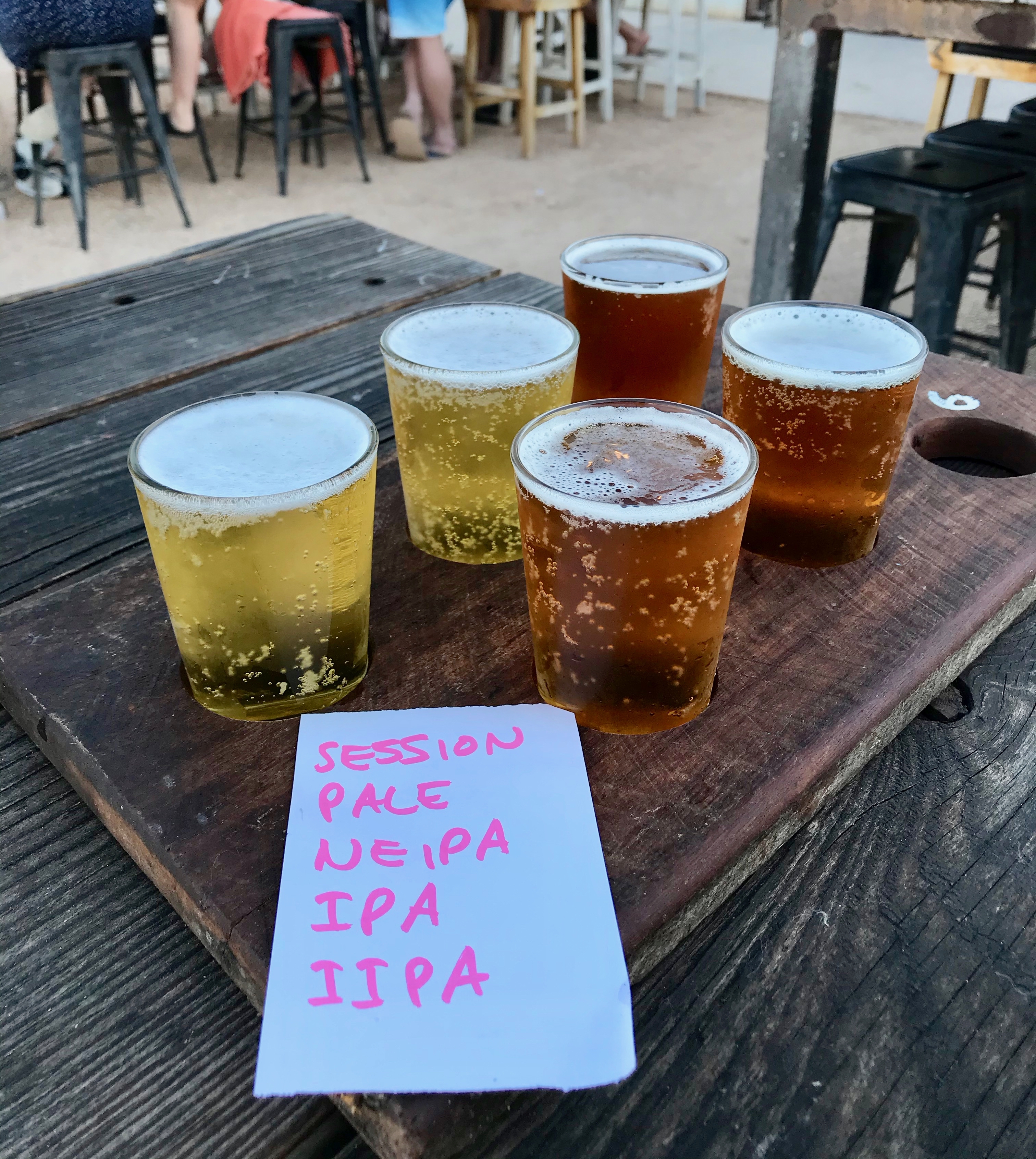 Food wise, they've kept it simple with a pizza menu. Expect to see fully loaded options like the Wishbone"- BBQ bourbon sauce, capsicum, chicken, ham, onion and mozzarella or the "Moby Dick"- mozzarella, spicy Italian sausage, pepperoni, shaved leg ham, red onion and basil. There's also kids sized versions of the more basic options like the Hawaiian and margherita. The idea of seafood on pizza can be room dividing. But when in Exmouth… eat prawns.. even on pizza. The "Beached As" doesn't scrimp on the prawns or pepperoni and when the seafood is this fresh we guarantee you'll love it.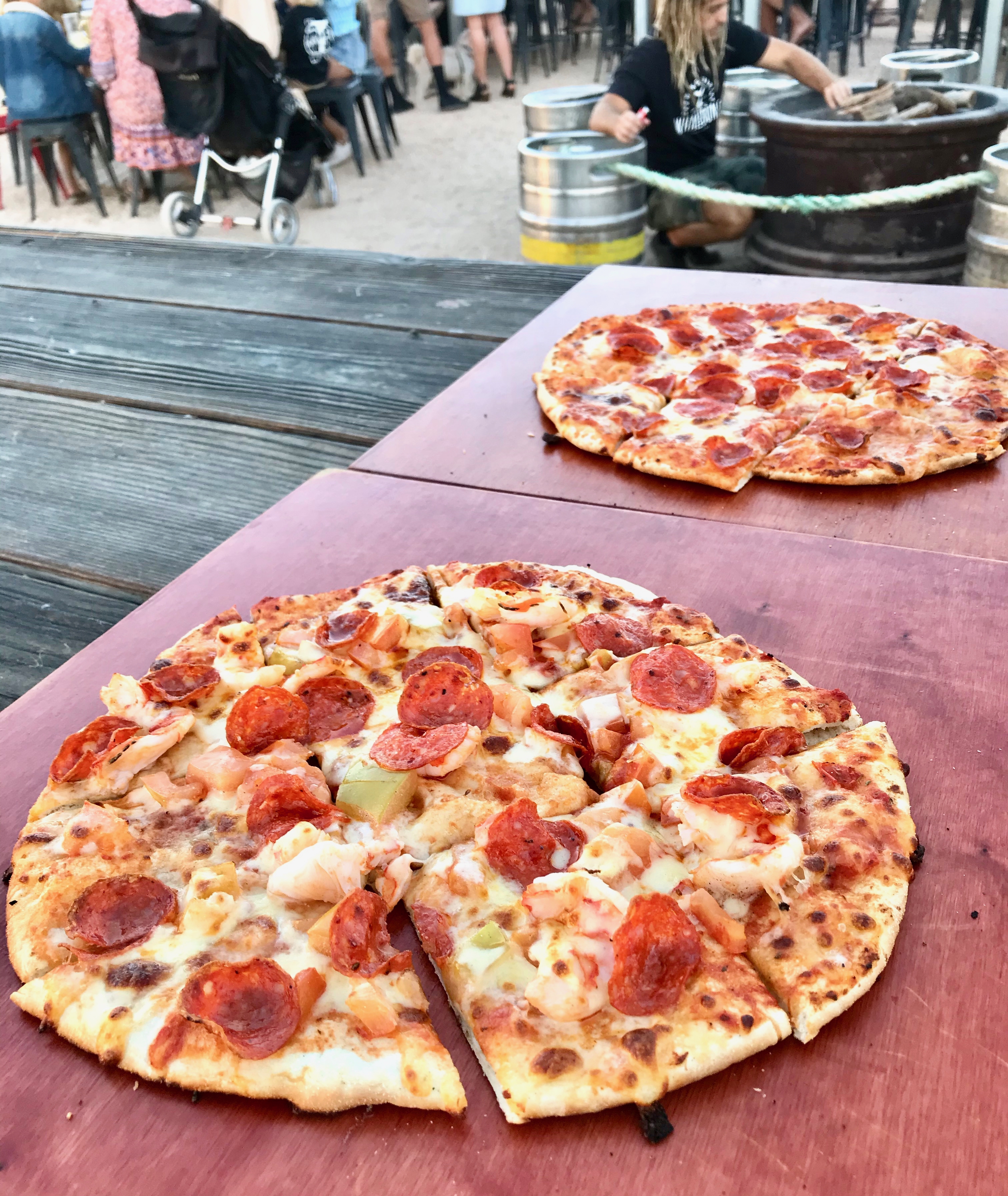 There's a sandy play area for the kidlets with an old jetski being the most popular thing to play on. Having the kids entertained is a big plus!
Local musicians regularly grace the stage making a visit to Whalebone a chilled night out with friends or family.
The Beach Shack
1 Bills Way, North West Cape (Bundegi Beach)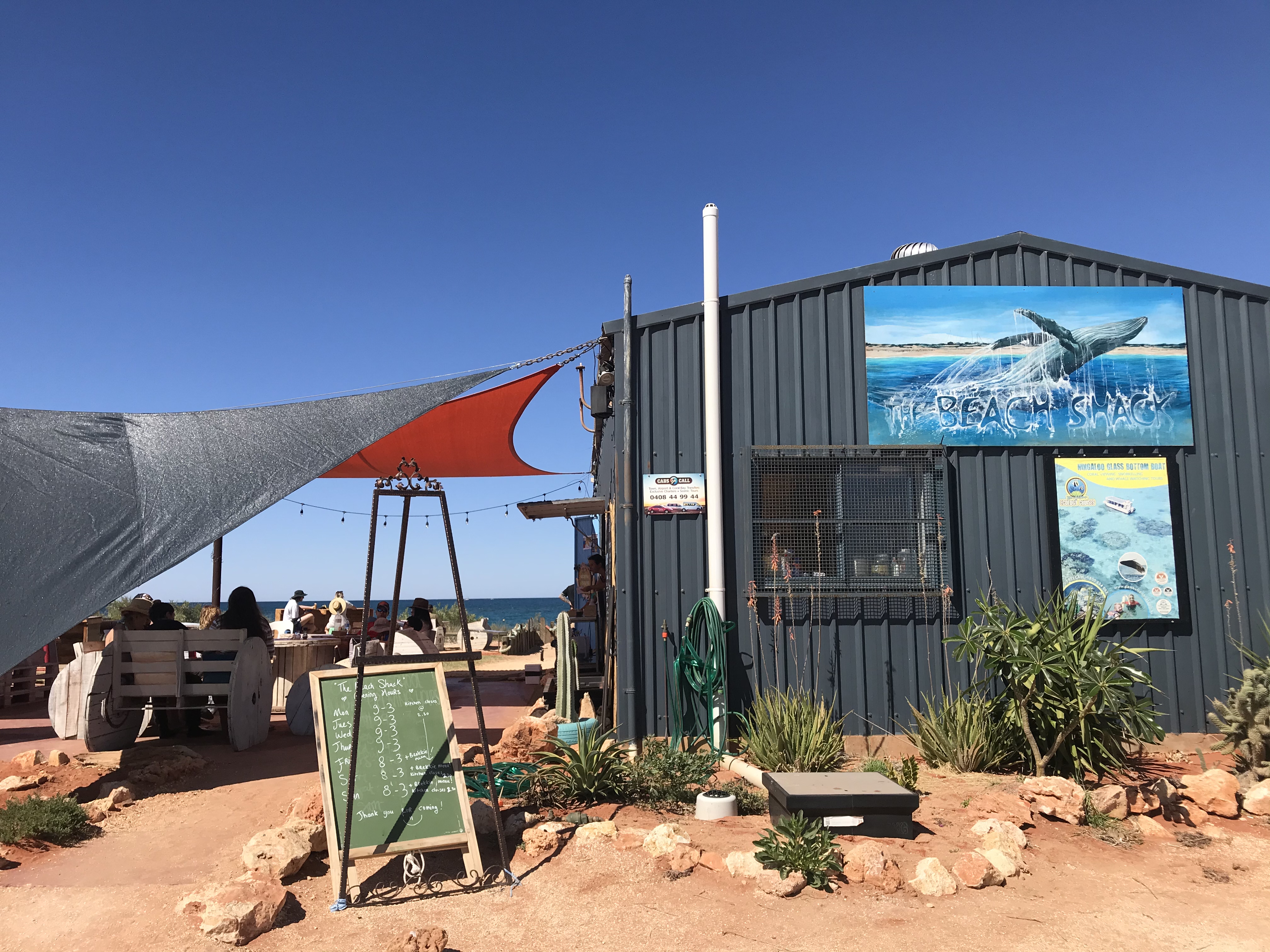 What a view there is at this remote beach cafe! And when the season is right you can watch humpback whales breech just offshore while munching down on some of the best fish tacos you'll ever eat.
They've got a tight menu using plenty of locally caught seafood. Expect to see tacos, burgers, fish and chips and buckets of prawns. As mentioned – their fish tacos with mango salsa are the kind of thing people will travel for. Yep – they're that good.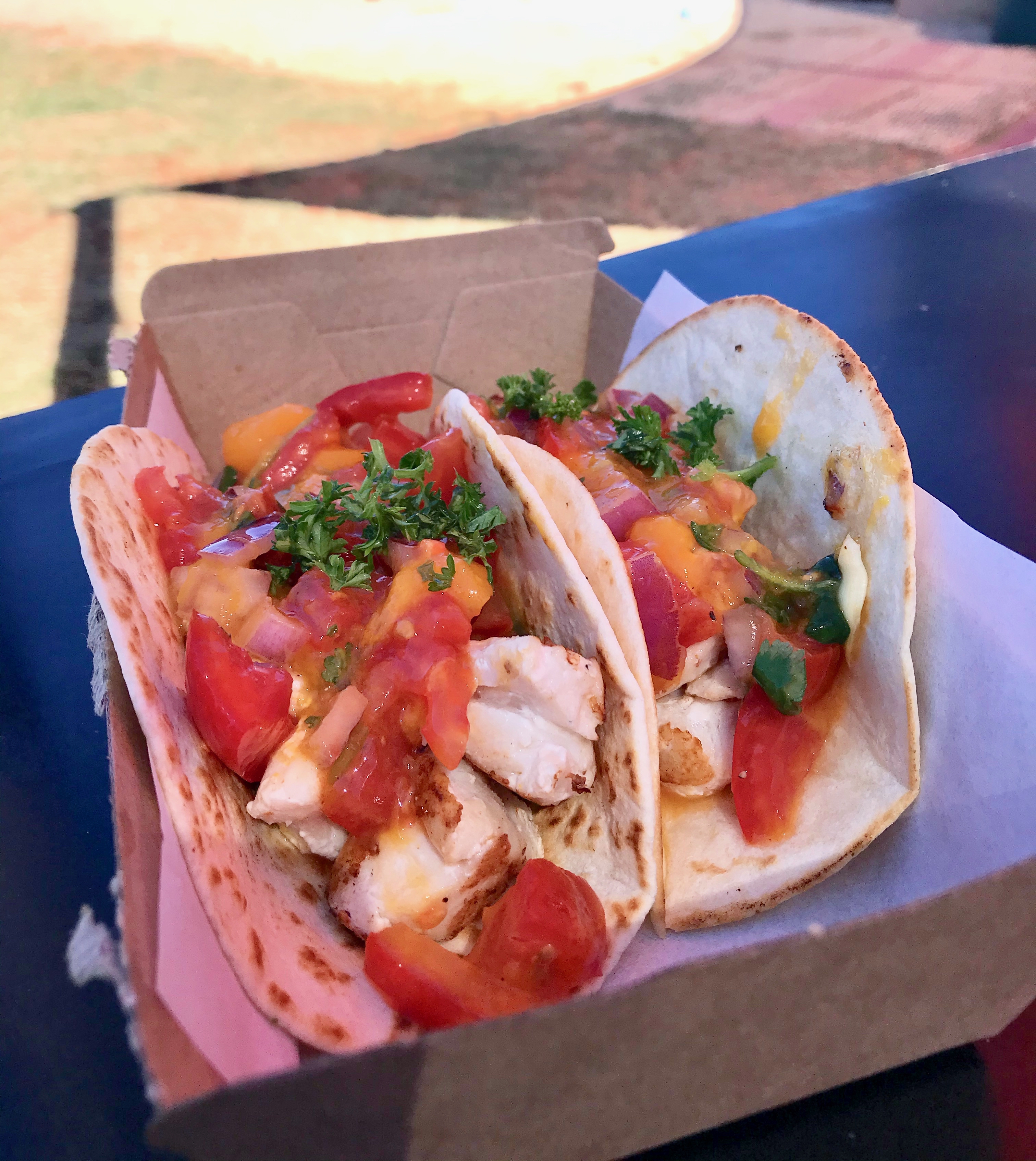 Brekky is bacon and eggs, bagels, eggs benny… that sort of thing. Coffee is by one of Perth's top roasters – Micrology. Hot coffee on a warm day isn't everyone's cup of tea, so try an iced coffee instead.
This is one of those magical places you could sit at all day, just staring out at the ocean while listening to the golden oldies tunes they love to play here. The Beach Shack isn't licensed, so if you fancy an alcoholic beverage make sure to BYO.
The Social Society
5 Thew Street, Exmouth
Boho beach babes, salty surfers and fisherman stroll in barefoot, tanned and happy to this eco-friendly cafe and retail shop. The menu is free of meat, meaning diners can expect a mainly vegan and vegetarian offering. Eggs still appear in a handful of dishes like the Turkish eggs or an omelette. There's a big focus on using local produce and organic and ethically sourced products. Even Exmouth bush honey features in the dishes.
A bowl of granola loaded with seeds, nuts, yogurt and fresh fruit is a filling and healthy choice for brekky that'll give plenty of long lasting energy for a day of adventures.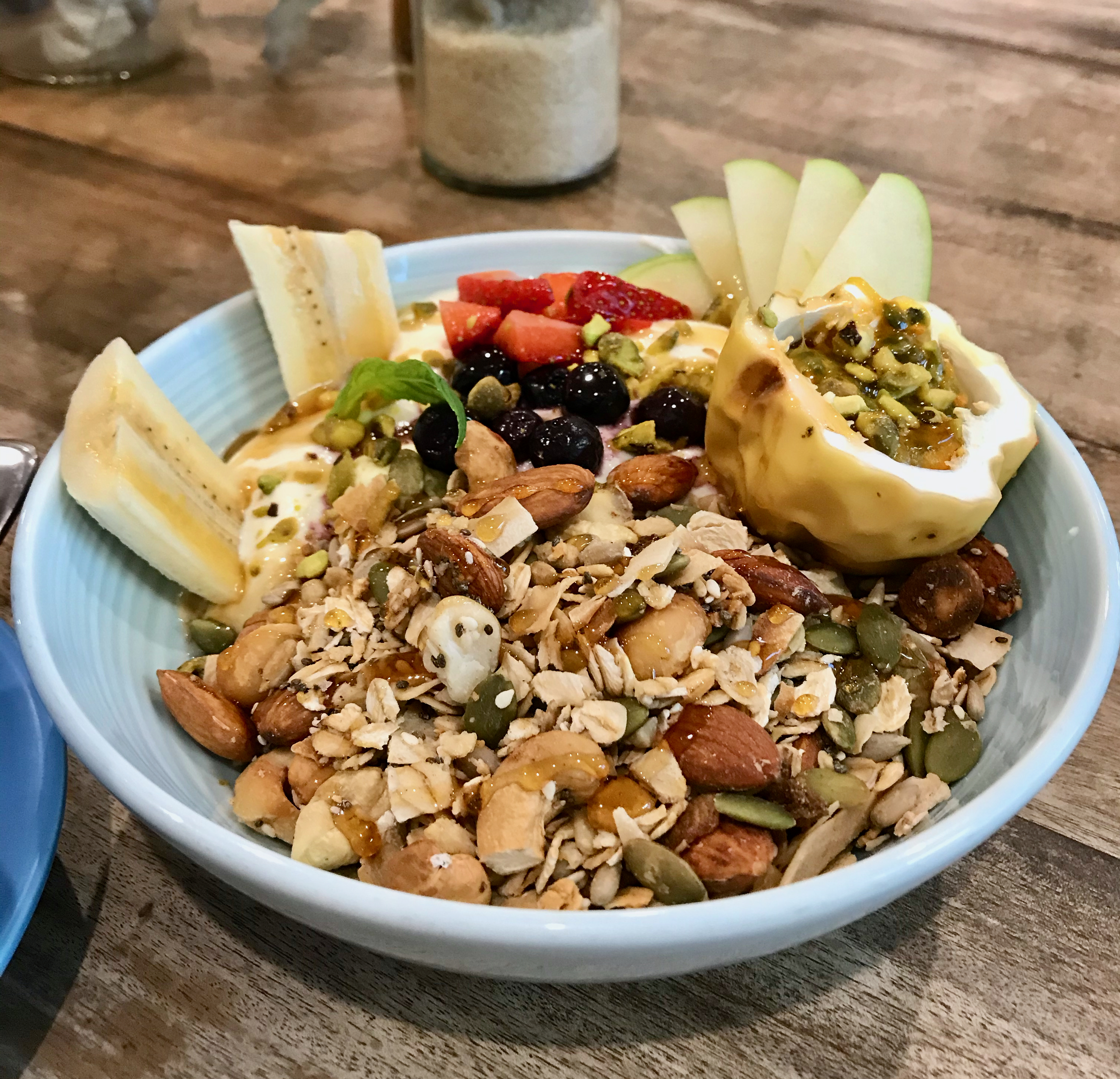 Coffee comes courtesy of Perth roaster Darkstar. Those who are missing their non-cows milk coffees while on holiday will love the full selection of "mylks" (dairy farmers will also love they haven't used the term "milk" here) – they've even got macadamia nut mylk.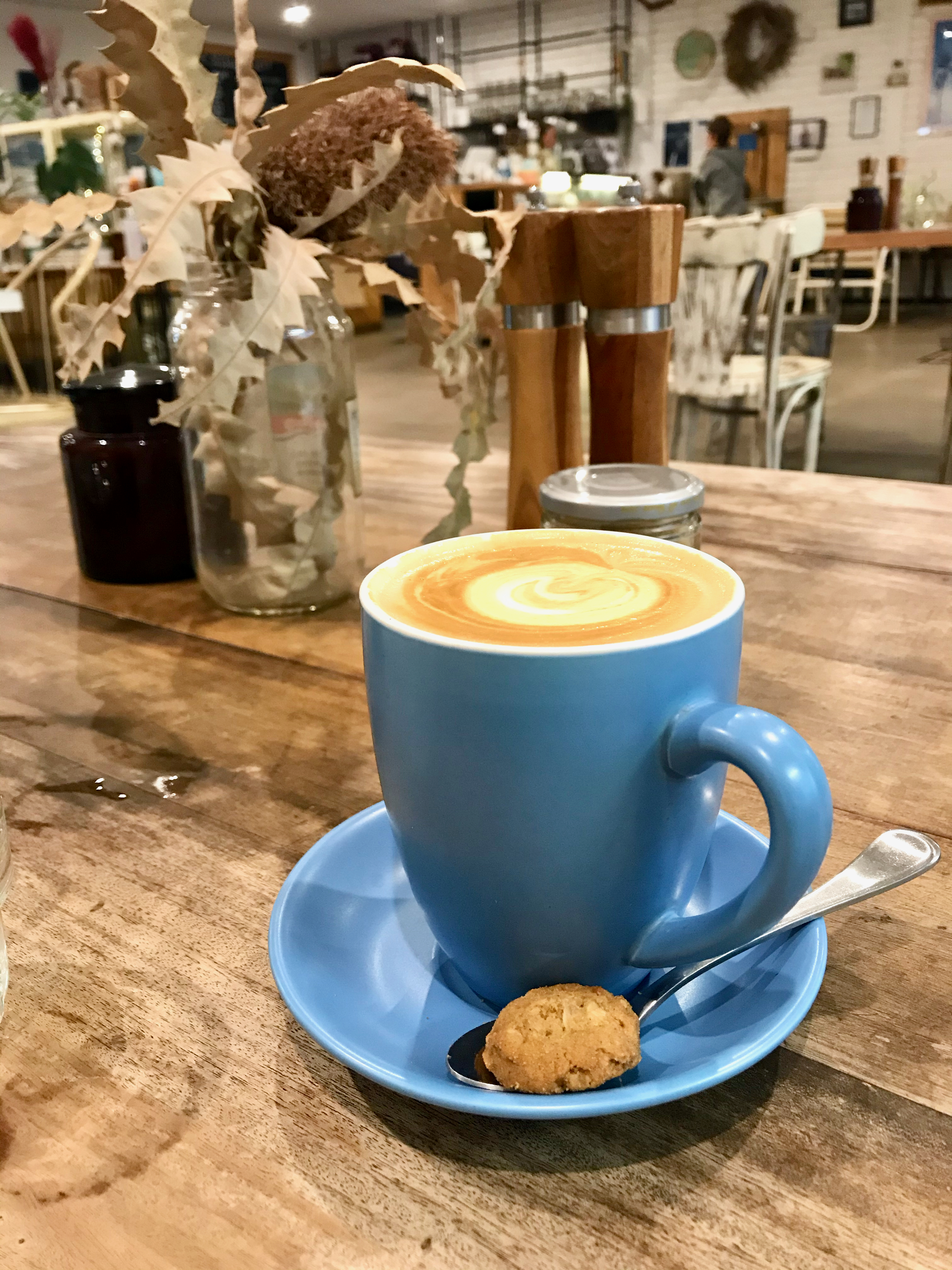 This cafe will be the reason you fall in love with Exmouth and its people. Friendly, happy staff serving fresh delicious food will give you a reason to rise and shine.
Earlybird Cafe
3 Kennedy Street, Exmouth
Earlybird by name, early bird by nature. The opening time of 6:30am makes this joint a great caffeine stop if you're heading out on a day long tour.
An all day menu spans sweet and savoury with choices to suit those who are more health conscious such as a smoothie bowl, porridge and matcha waffles and there's the the brekky brioche burger and smashed avo for those who want something "a bit more".
The benny with perfect yolky poached eggs and buttery hollandaise really hits the spot. As does a spicy shakshuka loaded with chorizo and baked in eggs. Coffee and freshly made juices are on point. A specials board goes up for lunch time – expect to see tacos, salads and soups.
If you've got time to hang around, the recycled pallet furniture under sun umbrellas makes for a great place to watch the world mosey on by in the town centre.
Planet burgers
Payne Street, Exmouth
Burgers, burgers, burgers…. and nachos! This food truck has just about every burger combination you can think of including cheeseburgers, parmi burgers, fish, chicken, steak and fillings include pineapple, chilli, bacon and relishes. Then there's the nachos, souvlaki and hot dogs. It's a big offering all served with equal aplomb.
Vegans and vegetarians are well catered for with options like a vegan schnitzel burger, eggplant parmi burger or vege nachos being just a few of the meat free choices.
There's a handful of tables available but it's a short drive to everywhere in Exmouth so your food will still make it home hot and fresh. And when you see the local constabulary stopping in for their dinner, it's a sure sign the food is going to be good. We loved the Flaming Planet Burger served with chipotle sauce and jalapenos for a decent kick and the Hawaiian burger that comes with pineapple… of course!
It's recommended you phone your order in otherwise you could face a lengthy wait at peak times or here's an even better idea – take a couple of Whalebone brewery tinnies and have a seat. You're on holiday – relax!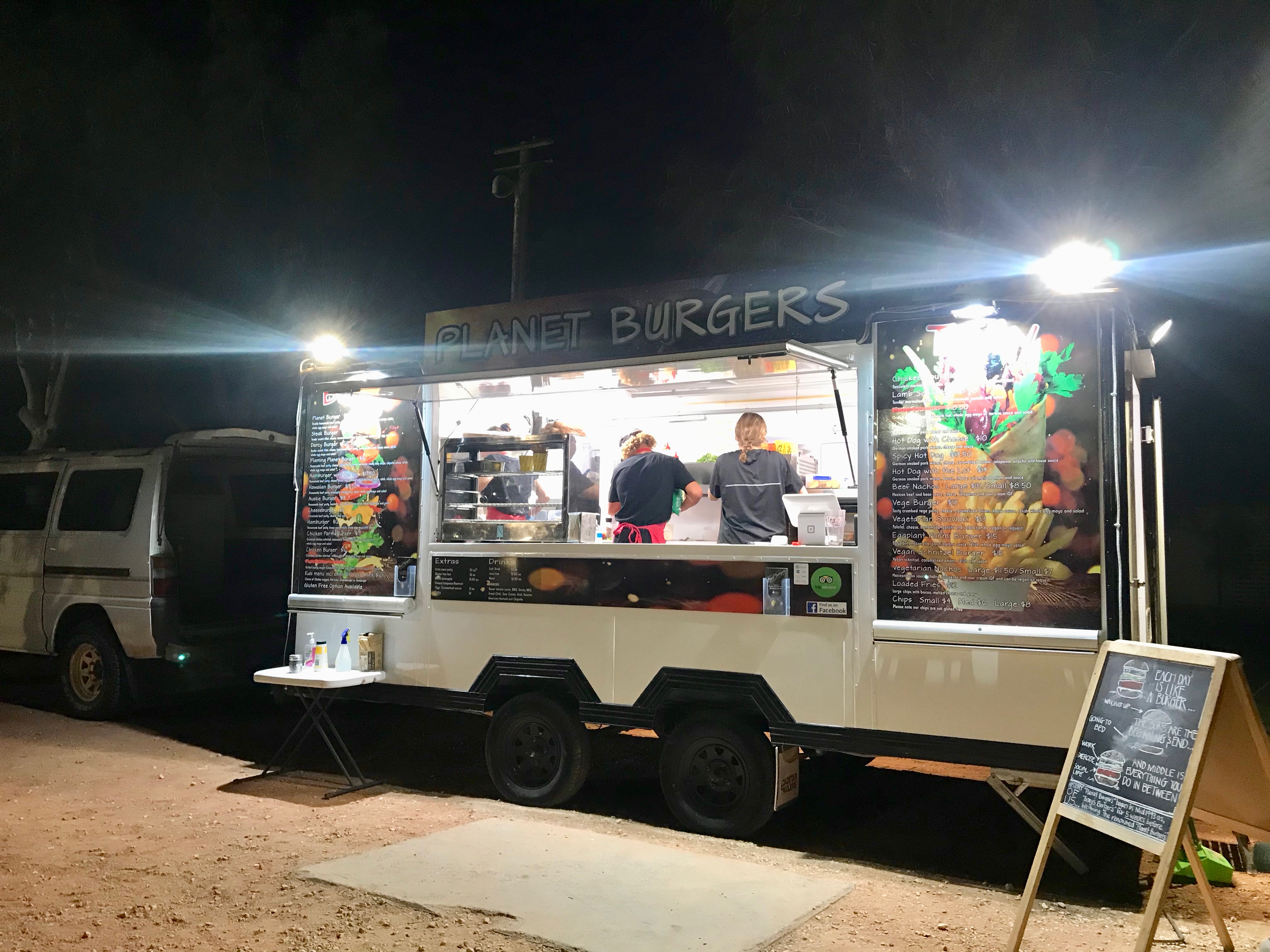 While we didn't visit these places on this trip, we have it on good authority (ie a local recommended) that if you're after a bit more of a "high-end" dinner – Try Whalers at Exmouth Escape or Mantarays.
As the town is busier than usual with people discovering this wonderful state, our advice is check opening times and where possible book ahead or plan for an early dinner.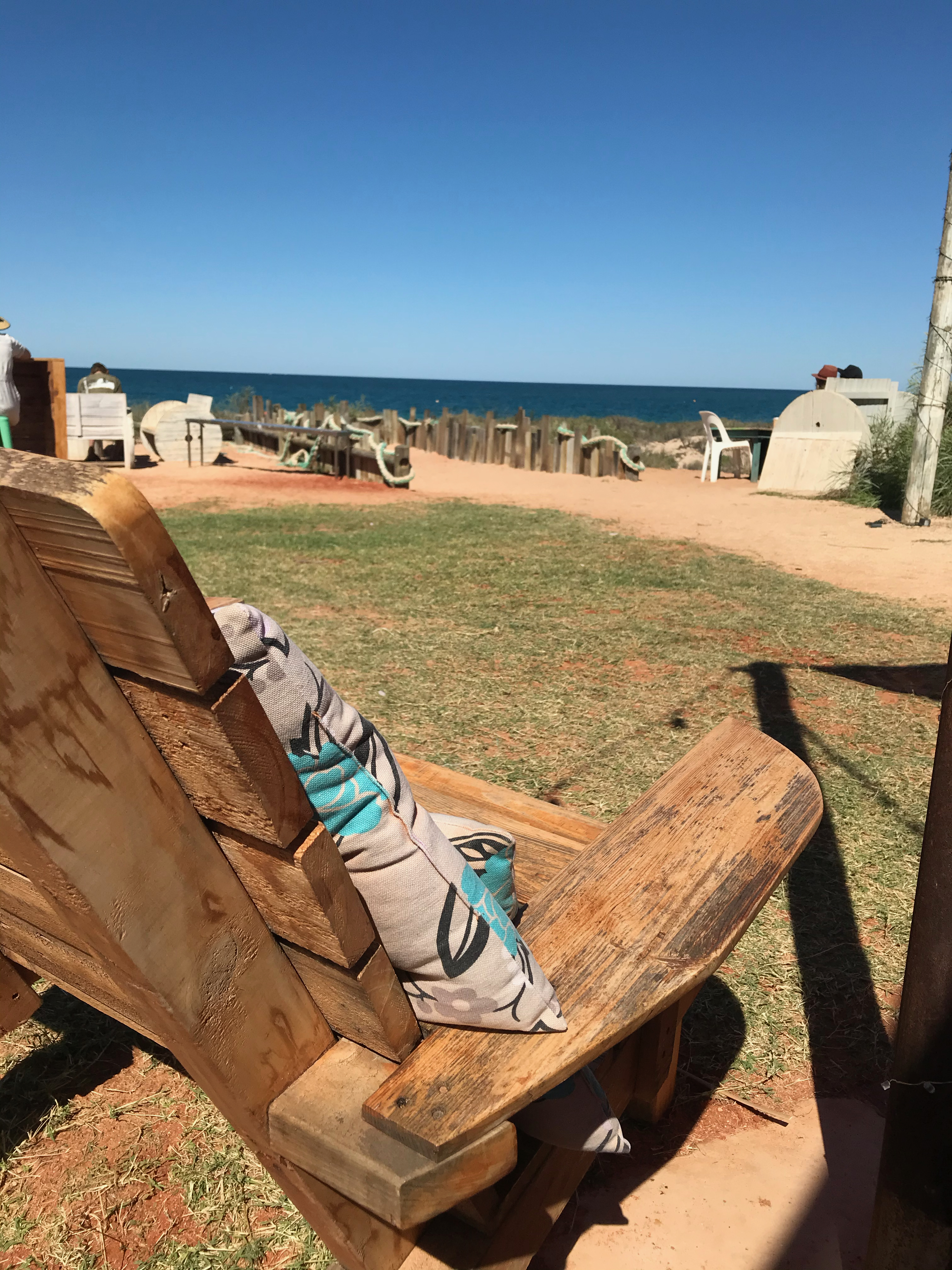 Listen to Liz Sheehan's full review with Oliver Peterson: