Slice of Perth – sensational street food that won't break the budget
Street food vendor in Vietnam? Nope…. Food stall at the Wanneroo Markets. The fragrant smell of lemongrass and coriander will draw you in first, then once you sit down to a steaming bowl of pho at Vietnamese Hot Food you'll soon realise they're serving some of the best soups in town.
These guys are packed from the moment they open. Traditionally pho is eaten for breakfast but we won't find many places slinging soup at that time in Perth… except for this modest stall. Open from 8am – plenty come to slurp their way through a bowl of noodles for brekky. However, Australians have become accustomed to having the soup for lunch or dinner.
Making the broth for this aromatic soup takes hours and hours. Meat bones (chicken or beef) are simmered with a blend of spices like star anise, cardamon and ginger to create broth with serious depth of flavour. Often the combination of spices is a long-held family recipe, which makes their own slightly different flavoured broth.
Then thin slices of chicken or raw beef and beef balls, sliced onion and coriander are added on top of blanched chewy noodles – and there you have it – pho!
The broth in both the chicken and beef versions ($11) is bursting with flavour. The beef soup has just the right amount of oily bubbles floating on top – not so much it's like slurping through an oil slick but just enough to boost the beefy goodness. I love the ritual of eating this. Squeezing in the lemon juice, tearing up leaves of mint, adding in a bunch of bean sprouts and fresh cut chilli and stirring it all into the broth. Delicious! I am far from being an expert in the traditional way to eat this soup, but I love to have a little dish of hoisin on the side to add a little dab of sweetness to a few mouthfuls of noodles.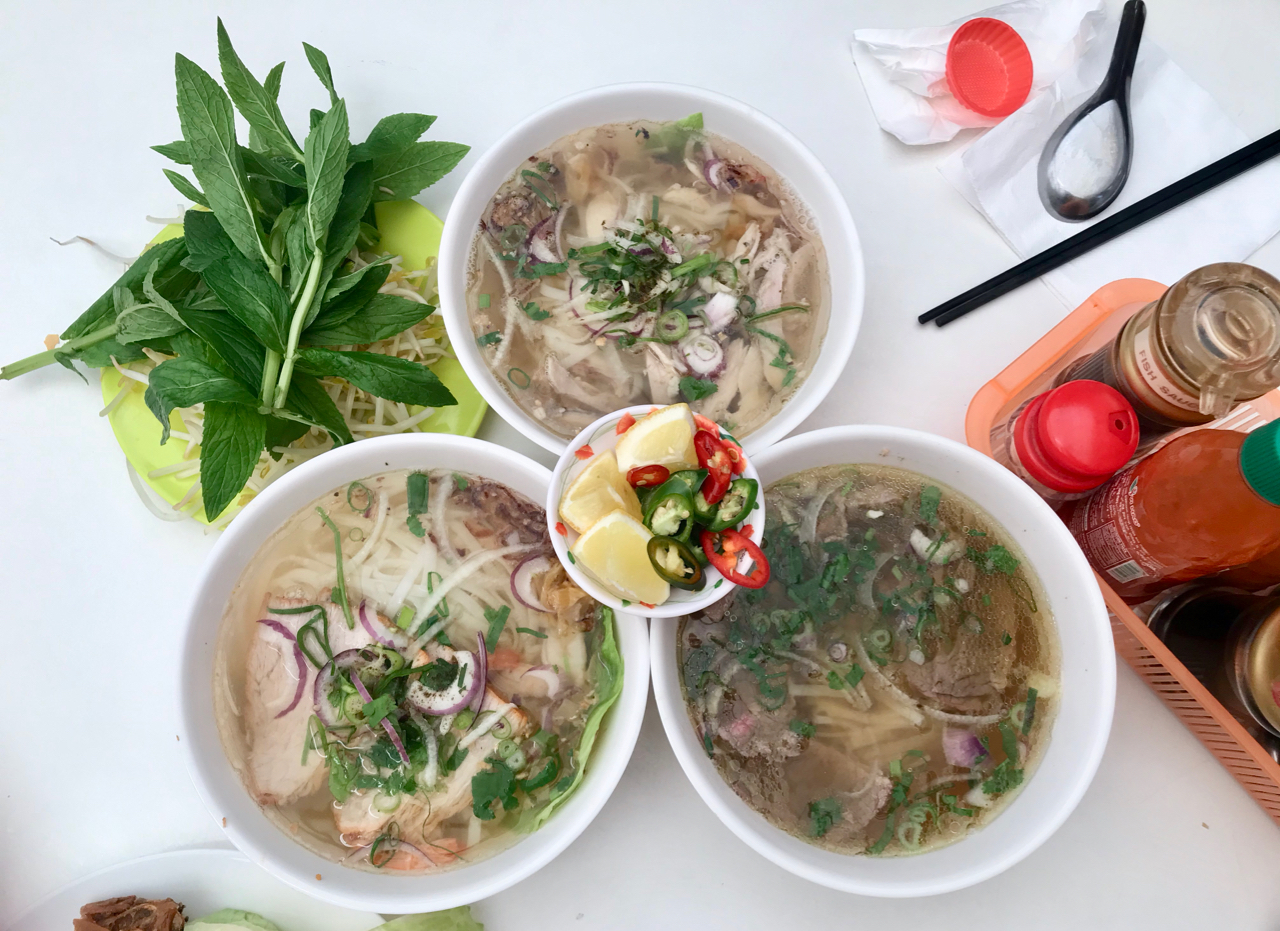 If soup isn't your thing, there are plenty of other options like whole fish with chilli and lemongrass ($13), hot samosas, spring rolls and fish cake. Then there's the chicken rice ($10). A crispy fried maryland of chicken comes with bright tasting pickled vegetables and rice. Those more familiar with the hawkers style Hainanese version might be expecting an oily chicken flavoured rice – not the case here although you still get a small serving of delicious clear chicken broth on the side.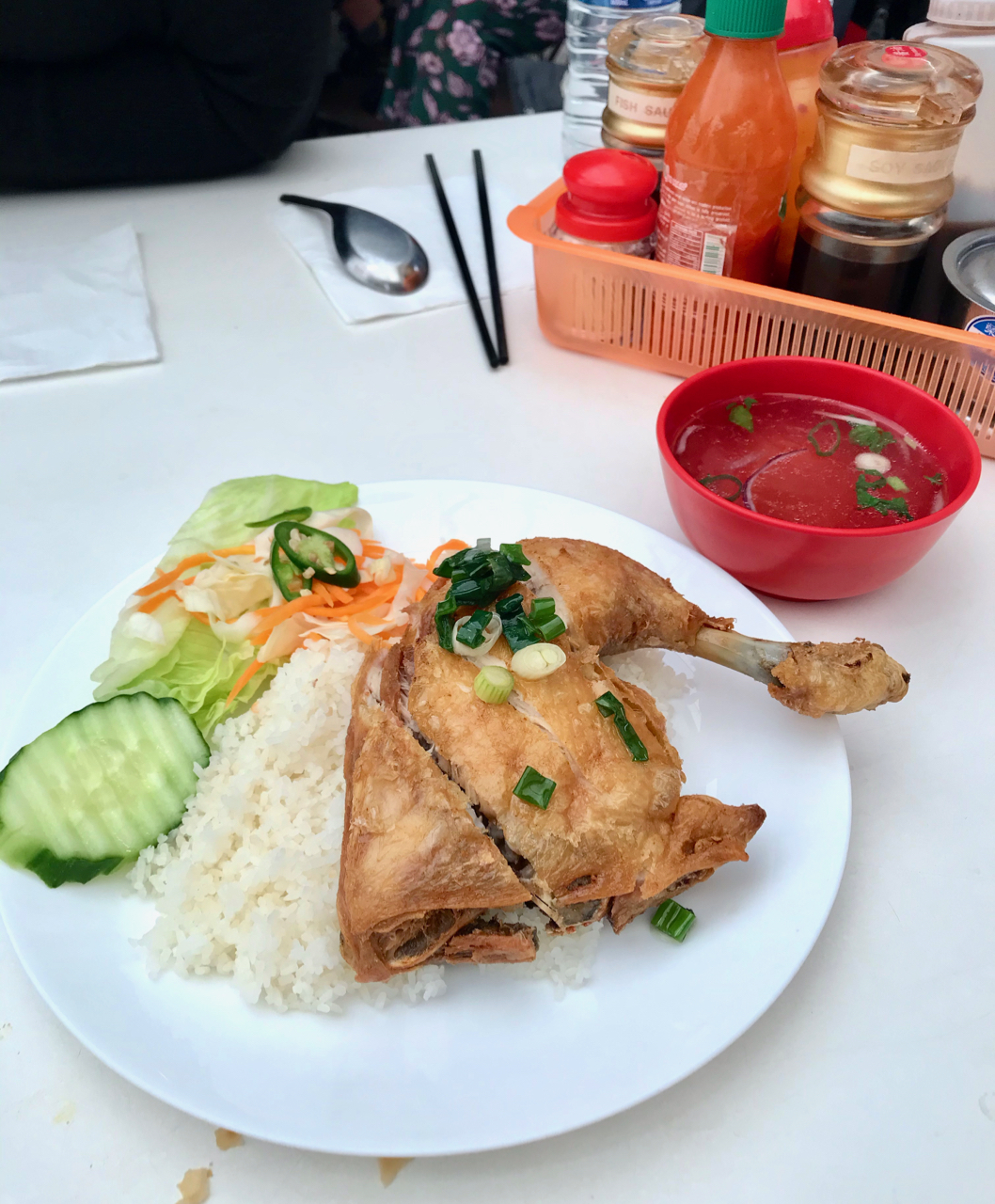 If you want a coffee that'll be strong enough to kick the eye lids well and truly open, try one of their ice coffees. The coffee is slowly drip filtered onto ice and then mixed with condensed milk. It's a real treat – especially for someone like me who has been known to drink condensed milk straight from the tin.
You visit this stall for the food, not the decor. It's basic plastic chairs around a hotchpotch of different style tables, some of them outdoor settings… but you know what? It doesn't matter because you'll be so absorbed in how good and how the cheap the food is, you won't even care.
While we often think of Northbridge or Girrawheen as the places to go for authentic Vietnamese food in Perth, this little gem in the Wanneroo Markets is the star in the north – give Vietnamese Hot Food a try – you won't be disappointed.
Vietnamese Hot food
https://www.facebook.com/Beefsoups
Shop 132, Wanneroo Markets, Prindiville Drive, Wangara
Listen to Liz Sheehan's full review with Oliver Peterson: