Slice of Perth – pizza is the star at this laneway gem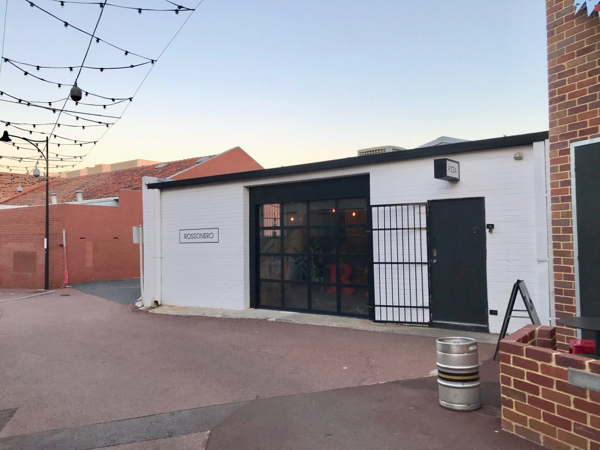 Pizza, pizza… and pizza. That's all Rossonero serve and when you're making pizza as good as theirs – why dilute it with anything else.
Located in the re-activated Lyric Lane area in Maylands, Rossonero forms part of a tight group of venues which includes a brewery and a small bar. It's like this little hidden world just back from busy Guildford road. Love.
The interior is both minimalistic and striking. A handful of booths for intimate dining line the edge of the restaurant with tables for larger groups dotted around the rest of the floor. There's plenty of space – there's no sucking in a tummy full of pizza to squeeze past other groups here.  It's loud and boisterous, making it the perfect place to bring the kids for an early dinner or a big group of vocal friends for a catch-up.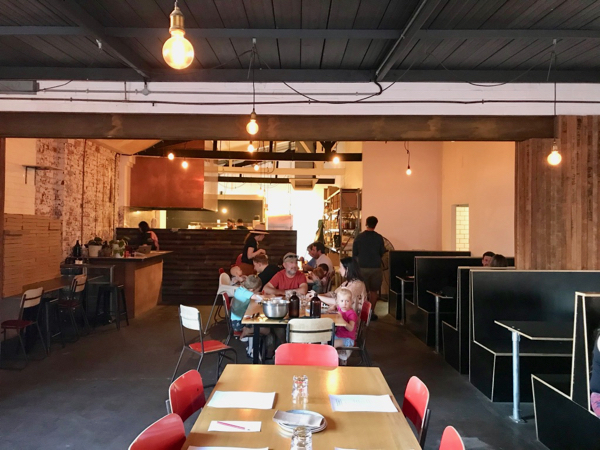 For antipasto a little cup of olives is provided compliments of the house but to really get yourself warmed up, get the "bomba" ($10) – a naked base covered in garlic, olive oil, a sprinkle of mozzarella, rosemary and sea salt. It's smaller than the other pizzas, meaning you won't fill up too much.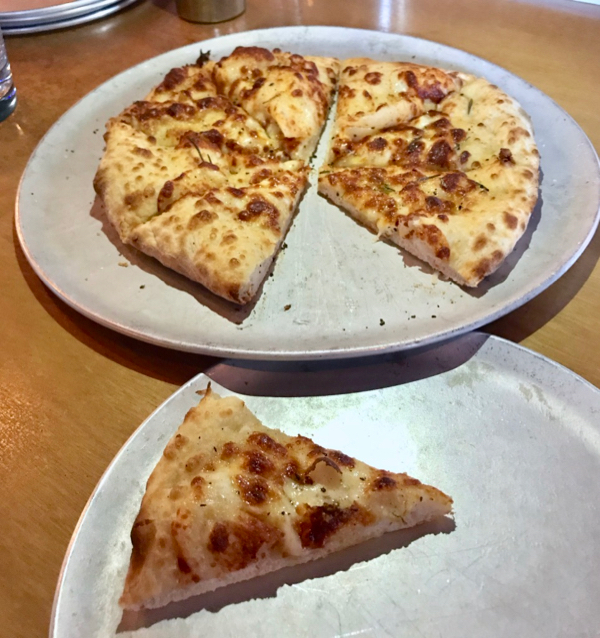 Pizza topping combinations change with the seasons but expect a couple of simple favourites alongside more inventive creations. Take the "honey boy" ($20) for example – a tomato base topped with hot sopressa, grape tomatoes and mozzarella. The heat doesn't stop there, fresh chilli is dotted over the top and then the whole lot is anointed with chilli infused honey. The sweetness of the honey takes the sting out of the fresh chilli. Genius. This is one moreish pizza.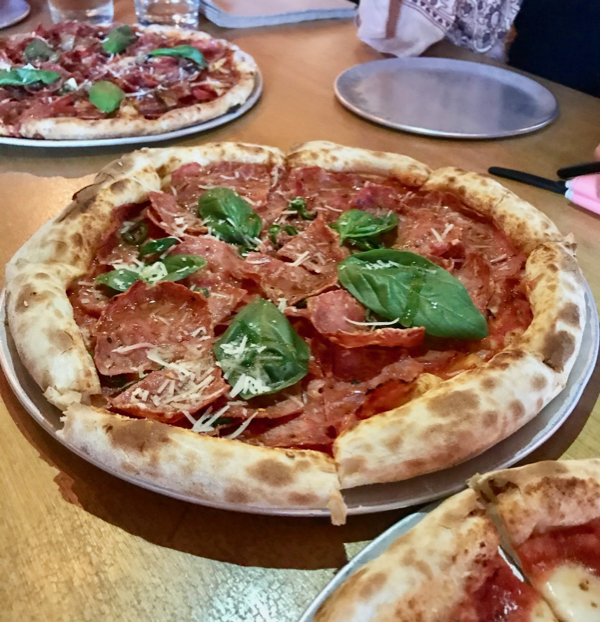 The cleverly named Brussel Crowe ($20) is a firm favourite. A garlic base is topped with creamy buffalo mozzarella and shaved pancetta. Roasted brussels sprouts are charred along the edges with plenty of body left in them. A sprinkling of shredded parmesan really topped this baby off – it was salty but in a good way… the kind of way that leaves you disappointed when the pizza is finished.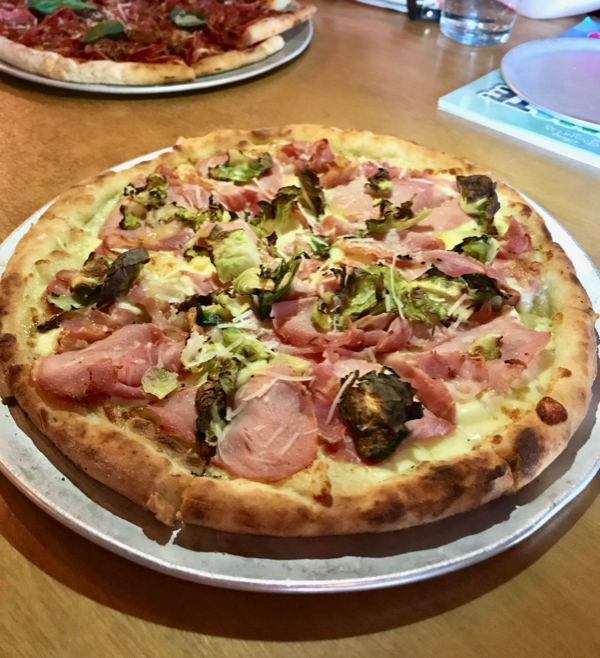 Gluten free eaters can rejoice! These would have to be, hands down, the best gluten free pizza bases I have tried and I challenge anyone in a blind taste test to tell the difference. Like the traditional dough, it's also made in-house and costs a few extra bucks but – it's worth it.
Vegan cheese is also available for anyone who wants to turn a meat-free pizza into a true vegan delight.
Despite what you may think, these aren't woodfired pizzas. Rossonero use an oven with a conveyor belt, which gives consistency with the cooking. Well… the results speak for themselves. The base is airy and light with welcome lack of stodge. It's surprising how much you can eat of this pizza without feeling stuffed.
Those who like to finish with a little sweet treat can expect something like a biscuit-y tiramisu or a dessert pizza. During the summer, these guys put the call out for people to exchange their homegrown figs for pizza. What a great way to use the local community and really keep those food miles down.
Rossonero is BYO beer, cider and wine – now we're heading into summer, take a crisp rosé or riesling.
Venture off the beaten track in Maylands to discover Lyric Lane and one of the best pizzerias in town.
Rossonero Pizzeria
18 Lyric Lane, Maylands
rossonero.com.au

Listen to Liz Sheehan's full review with Oliver Peterson: