Simpson: Injuries? 'That's footy.'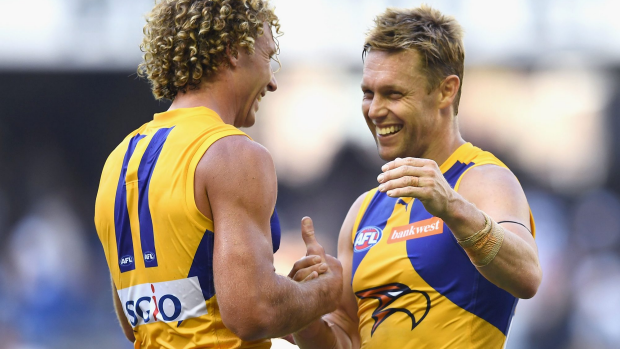 The West Coast Eagles coach is happy with his ruck stocks even though they are an injury-ridden group after Drew Petrie suffered an injury in Sunday's win over North Melbourne.
Adam Simpson described what it was like when both ruckman were forced to leave the ground within moments of each other at the clash with North Melbourne on Sunday.
The Eagles made the quick decision to put forward, Jack Darling in the centre to take on the 'Roos Todd Goldstein.
'I don't think he's our next ruckman put it that way,' he joked. 'I said to him, 'how'd you got in the centre' and he said 'I just didn't want to get a knee in the face" Adam Simpson told Karl Langdon and Paul Hasleby.
'There's not weaknesses, but there's injuries to specific areas that it's hard to fill. I thought we did OK getting [Nathan] Vardy and Drew [Petrie] as back ups , and we faced a lot of criticism about Drew as opposed to getting a young, development ruckman but we've probably made the right call to a certain extent.'
Listen to the full interview here…