Sharks mauled on drum lines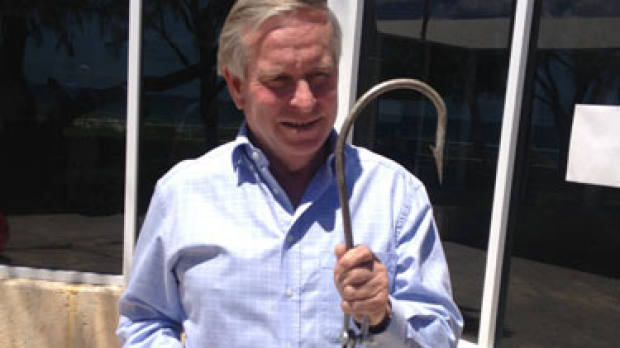 6PR has confirmed that several sharks have been found dead with injuries sustained from larger predators while caught on the controversial drum lines situated along the coastline.
A spokesperson from the Premier told 6PR that 'both the fishing contractor in the SW and the Fisheries crews are reporting minor evidence of bites on sharks caught on the lines, probably from other sharks.' 
The most recent example, and only metropolitan incident to date, was a Tiger shark caught on a drum line off Mullaloo beach late last week.
The dead animal was inspected by fisheries officers and found to have suffered 'significant shark predation'.
A source confirmed the shark was missing its tail and pectoral fin and had several bite marks that suggested it had been attacked by a several sharks of various sizes.
While this is the first time a shark in metropolitan waters has been found with attack marks a source has confirmed that the private contractor servicing the South West coast has recovered dead sharks which have also suffered predation from sharks.
With concerns about injured sharks attracting larger sharks to the area the Premiers spokesperson said that 'research used in developing the policy indicated the "scent" of baits would be detected by some sharks to a distance of a few hundred metres, dependent on currents and ocean condition'
A spokesperson for the Premier could not produce an exact number of sharks that had been attacked by other sharks while on the lines but said these incidents are in a minority, both in the SW and metro.'We won't be in a position to provide a running commentary on the shark catches, releases and disposals in the South West or metro areas until we have a good sample of data.'
The use of the drum lines has attracted controversy since their announcement and are part of the $22 million mitigation program that also includes social media reports and education programs.
Vision of the latest mauled shark being recovered was captured by protest group Western Australians for Shark Conservation.
Spokesperson for the group Ross Weir said he could not talk about the vision because of an exclusivity agreement signed with CH9's 60 Minutes program.
Mr Weir acknowledged that there was a nominal amount paid for the vision but added any money paid would go to continuing survailence and monitoring of the governments shark mitigation program.
Stay up to date on breaking news with 6PR on Twitter