Ryan Crowley test positive to banned substance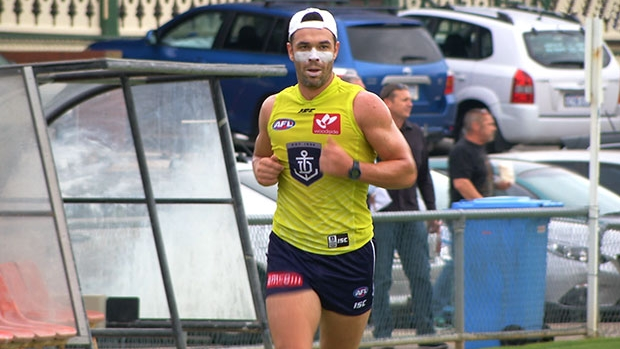 Fremantle's Ryan Crowley is awaiting a hearing date to appear before the AFL Tribunal after testing positive to a substance banned under the AFL's Anti-Doping Code.
The AFL advised the club in September last year that the Australian Sports Anti-Doping Authority (ASADA) had issued the 31-year-old with a show cause notice after his sample tested positive to a banned substance under the AFL's Anti-Doping Code.
The sample was taken on a match day after Fremantle's round 17 game on Sunday 13 July, 2014. Subsequent to being issued with the show cause notice, Crowley voluntarily accepted a provisional suspension, which commenced in September 2014.
The commencement of the provisional suspension is not an admission of guilt or wrongdoing.
By agreeing to a provisional suspension, Crowley, who has appointed independent legal advisers to assist him with the matter and is cooperating fully with the AFL and ASADA, has to wait for the AFL Tribunal to convene and make a finding.
Until this time, Crowley is still able to attend the club and train with his teammates during the provisional suspension.
Fremantle president Steve Harris said because of the AFL Anti-Doping Code's confidentiality clauses, the club has not previously commented on the matter publicly.
"We have been unable to inform our members and supporters of this matter until this time due to the code's confidentiality requirements," he said.
"We are keen for the matter to go to the AFL Tribunal but determining a date for a hearing is out of the club's control."
Harris also said it was crucial that the club provide Crowley with all the necessary support mechanisms required to deal with the matter.
"We have a continuing and ongoing duty of care for Ryan, both personally and professionally," he said.
"Ryan's ongoing health and capacity to cope with this matter have been key areas of focus for the support we have been providing him with."
Crowley said: "I would like to thank my partner Samara, my family and the club for their support over the past few months. It has been invaluable.
"I have my own legal advisers working on the matter and they have also been a great support.
"I will continue to fully cooperate on this matter with ASADA and the AFL. At this stage, I'm looking forward to AFL Tribunal hearing taking place."
The views in this article are those of the author and not necessarily those of the AFL or its clubs
Exclusive to fremantlefc.com.au