RUMOUR CONFIRMED: Tenants to be evicted from Carillon City, Lord Mayor 'very disappointed'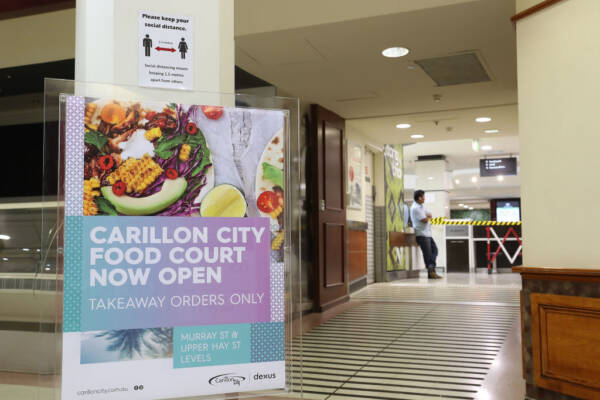 Carillon City, one of Perth's key retail spots, will be effectively shut with tenants that don't face the Hay or Murray street Malls given 28 days notice to evict on Friday by the centre's management company Dexus.
The arcade itself will remain as a thoroughfare.
The shopping centre was meant to undergo a redevelopment two years ago, but was stalled due to funding issues and the pandemic.
The news was broken on The Rumour File on Tuesday morning by 'Evicted'.
Lord Mayor Basil Zempilas was unaware of the decision, and told Gareth Parker he was "very disappointed".
"My understanding … was that without the anchor tenant it was going to be difficult for them to do the redevelopment," he said.
"But our hope always was that the Carillon would continue to operate as it is at the moment, until such time, as that more expansive and exciting development could take place.
"If what you're saying is the case, then that clearly is a very disappointing outcome for them and our city.
"We're trying to rebuild our city into the vibrant place we know it can be, this is not conducive to that.
"So the next phone call after this one, is back to Dexus to make exactly those points."
Press PLAY to hear more from the Lord Mayor below
6PR Breakfast has been sent the following statement from Dexus:
"Carillon City has the potential to support the revitalisation of the Perth CBD and contribute to the state's economic recovery as a significant job-creating project. We will continue to work with the WA Government and City of Perth to address the important issues that can unlock the CBD's transformation.

The current uncertainty around the economy, business and retail conditions, and the ongoing impacts of the Coronavirus pandemic, have all contributed to the timing of the redevelopment of Carillon City. As a result, some of Carillon City's retailers will no longer be trading for the foreseeable future. Carillon City retailers fronting onto Murray and Hay Street Malls will continue to trade and remain open.

We understand there will be an impact on retailers, shoppers and the community, and we remain committed to achieving an outcome for the city that is sustainable for all of our stakeholders."
Photo by Paul Kane/Getty Images