Recfishwest Fishing Report July 10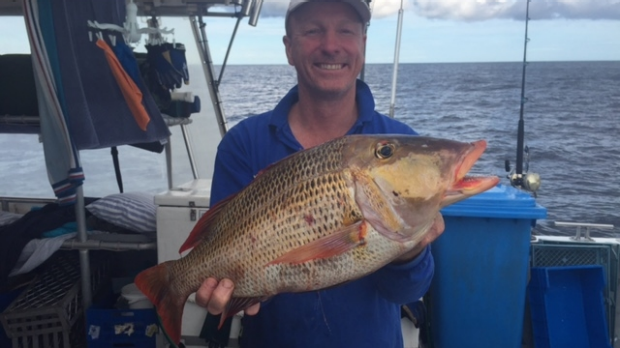 Fishing Report for the week of July 10th
Find out where the fishing are biting this week in Perth and around the state, thanks to Recfishwest. Go to recfishwest.org.au for more.
And join Karl Langdon for the Boat, Dive and Fishing Show on Saturday Morning from 5am.
PERTH:
Shore-based fishers who hit up the northern and southern rock walls in the hope of catching inshore moving pink snapper during the stormy weather on Tuesday night caught a few fish between 3 and 7kg. More snapper of similar size have been caught by boat fishers in and around Cockburn Sound and along Five Fathom Bank. Some nice catches of dhufish in the 6 to 12kg range have been reported off Rockingham and Two Rocks. An estimated 20kg dhufish was caught off Mandurah last week. Squid continue to be caught in excellent numbers along the weed beds off Fremantle and Hillarys. The big schools of salmon that have been located between Garden Island and Stragglers during the past few months seem to have become a little harder to find with boat fishers more often encountering single fish or small schools of up to a dozen fish during sessions. Salmon have occasionally been caught along the beaches, especially those that feature reef which include Cables, Cottesloe and Grant Street. Tailor have been showing up some mornings and evenings along the metro beaches with better catches reported along the offshore reefs, especially those north of Hillarys. Herring are plentiful right along the coast whereby a consistent stream of burley should produce a nice bag of the bread and butter species. Chopper tailor are making light work of the bait fishing schooling between the causeway and The Narrows. Similar activity has been reported near Canning Bridge and out from the Old Swan Brewery. Any calm evening would be worth trying for squid at the illuminated jetties situated in lower reaches of the Swan.
SOUTH WEST:
Salmon continue to be caught along the west coast beaches and through Geographe Bay with Eagle Bay, Bunker Bay, Smiths Beach and Injidup among the spots to produce the 3 to 7kg fish. Increasing numbers of tailor are showing up along the coast and there is certainly no shortage of herring around. Some nice skippy have been coming from the reef areas of Hamelin Bay and Contos. Any of the gutters that have formed following the recent big swells would be worth trying for mulloway, pink snapper and shark. The boats hitting up the Four Mile have been picking up snapper to a solid 10kg early morning and on dusk. The seagrass meadows between Eagle Bay and Abbey Beach are holding plenty of squid. Blue manna crabs have been somewhat hit and miss off Quindalup.
ALBANY:
It would be safe to say that the local samson fish and yellowtail kingfish populations have moved to shallower waters after several sambos and kings were spotted, and the odd fish hooked, inside the marina and at the channel at Emu Point last week. No one has been able to land or, at the very least, connect to one of the inshore-dwelling sambos or yellowtails for more than a few moments. Some boats targeting King George whiting have been picking up to 20 fish in a session through the inshore parts while others are struggling to put together half a dozen. Herring, skippy, pike and juvenile salmon have also been coming from the inshore areas, which have included both harbours, the sound, the islands, Goode Beach, Two Peoples Bay and Cosy Corner. Squid numbers appear to have picked up again, but the cephalopods have been particular in what colour jig they strike at times. Pink snapper between 5 and 7kg, queen snapper, red snapper, small dhufish and breaksea cod were among the species caught in 50 to 80m. Most of the beaches are fishing well for salmon, herring and sand whiting. Big skippy have been coming from Nanarup and Bluff Creek. Black bream are mostly responding to soft plastic and vibe lures in the King and Kalgan rivers. Mulloway between 25 and 80cm have been caught in the Kalgan together with juvenile salmon and herring. A couple of mulloway were also caught near the bridge of the King last week.
ESPERANCE:
Mitch Johnson and Josh Butterworth used flutter and knife jigs to catch a range of species including yellowtail kingfish and samson fish to 20kg, an 18kg blue groper, breaksea cod and nannygai last Wednesday. The bigger concentrations of pink snapper have been coming from the areas west of town. At least two dhufish not much bigger than 50cm were caught this past week. Nannygai require some effort to find, but when the concentrations been located the boats have been picking up good bags. The boats fishing in close continue to do well on sand whiting and squid. Salmon were about in better numbers this past week with Fourth Beach, Salmon Beach and the stretch between Nine Mile and Fourteen Mile all producing catches of the 3 to 7kg fish. The beaches east of town including Alexander Bay, Thomas River and Poison Creek have also seen an increase in salmon numbers. School-size mulloway and big skippy have been coming from Stockyards, Fourteen Mile and Thomas. The jetties are mostly producing herring and squid. Black bream to 45cm have been picked up in the local lakes.
GERALDTON:
Seven-year-old Lachlan Stanford caught a 3.5kg Australian salmon on a mulie and 6kg gear at the Greenough River last Thursday afternoon. Big tailor have been caught on baits and lures at the coastal reef areas, which have included Greenough, Point Moore and Chapman Road. Herring, skippy, sand whiting, chopper tailor and the odd squid can be sought at the back of The Lives and the new marina. Try the beaches north of Drummonds for whiting and mulloway. The boats have been picking up good numbers of dhufish at African Reef and pink snapper just on the surrounding ground there. A good mix of dhufish, baldchin groper, pink snapper and sweetlip have been coming from South West Bank. A 7kg red emperor was caught at the lumps east of the Wallabis last week. Spanish mackerel to 15kg and yellowfin tuna to 20kg continue to be encountered in good numbers around the islands.
KALBARRI:
Dean Robins, of Kalbarri Sports and Dive, and a mate caught two Spanish mackerel on trolled garfish north of the river mouth last Friday. Local charter boat, Reef Walker, has been finding plenty of big pink snapper for its clients. Shore-based fishers have also been landing pink snapper at Red Bluff. A good mix of bread and butter species including garfish, herring and whiting have also been coming from Red Bluff as well as at the bay at Jakes. Mulloway have been turning up at Red Bluff, the Blue Holes and Frustrations. Soapie mulloway seem to have gathered in big concentrations in the Murchison. Fingermark bream have also been caught in the system, which is also providing catches of black bream near the jetty and up river and yellowfin whiting along the sand flats. Balloon fishers have been getting among some nice size Spanish mackerel when the winds have permitted.
EXMOUTH:
The boats targeting billfish have been encountering small black marlin, striped marlin and sailfish in depths starting at 100m off Tantabiddi. A couple of small broadbill swordfish were recently caught off the west coast. Expect increasing numbers of sailfish to start appearing in the upper areas of the gulf during the coming weeks, as the sport fish tend to do during this part of the season. Spanish mackerel are worthwhile targeting along the back of the reef line. Some nice catches of red emperor, rankin cod, coral trout and spangled emperor have been coming from relatively shallow water. Mostly queenfish and trevally have been caught along the national park coast with the odd spangled emperor thrown in for good measure. Yellowfin whiting and squid are being caught in good numbers in the gulf.
BROOME:
Massive schools of baitfish located off Barred Creek are attracting an assortment of blue water predators including sailfish, small black marlin, Spanish mackerel, longtail tuna and mack tuna. Good catches of bluebone and bluelined emperor have been reported in Roebuck Bay. Bluenose and threadfin salmon have been active near Crab Creek. Quite a few queenfish are turning up along the coast with Gantheaume Point, Cable Beach and the jetty among the spots where the aerobatic speedsters have been encountered. There are still a few mangrove jack being caught in the local creeks together with estuary cod and assortments of trevally. A few barramundi were caught at Pelican Pool on baits during the recent run of neap tides.