Recfishwest Fishing Forecast July 3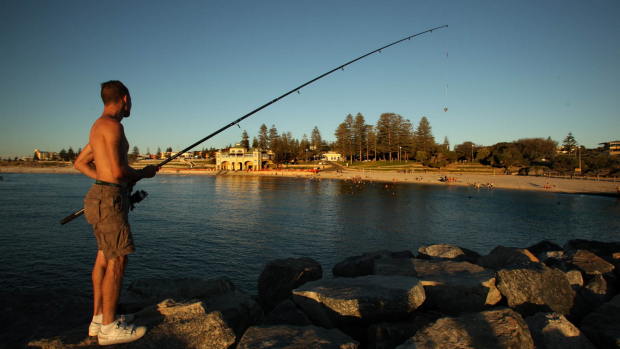 Fishing forecast  for the wk of July 3
Join Karl Langdon for is Boat, Dive and Fishing show, every Saturday morning from 5am
Find out where the fish are biting in the Perth metro are and around the state, thanks to Recfishwest. For more go to recfishwest.org.au
PERTH:
Gummy sharks have started to show up along in metropolitan waters, as they tend to do at the beginning of winter each year. Most of the gummies this past week were caught between Point Peron and North Mole, however any of the gutters that have formed along the surf beaches would be worth a try for the toothless creatures. Some nice pink snapper have been caught from the southern and northern rock walls during the stormy weather and big swells. More pinkies have been caught in depths leading up to 20m off Fremantle. There are still big schools of salmon showing up near The Mewstone and there have been a few smaller schools holding in close to shore at spots including Woodman Point, South Mole, North Mole, Cables and Grant Street. Introducing burley should get herring around any of the rock walls and beaches. Dave Thompson caught a superb 70cm tailor on a soft plastic while targeting salmon north of Cottesloe last week. Tailor are responding well to metals while they gorge on the bait schools between The Narrows and the causeway. Laith Rickman, of Bluewater Tackle World, landed a 50cm mulloway and several black bream in the upper reaches of the Canning last week. Apparently Laith's bream and croaker were all caught during a small window either side of the high tide. Blue manna crabs are still being caught by drop netters in 10m of water and deeper. The seagrass meadows off Fremantle and west of Hillarys continue to produce good catches of squid and a few cuttlefish.
SOUTH WEST:
Several pink snapper and mulloway were caught along the beach stretch between Dunsborough and Busselton after the rough weather early last week. Most of the pinkies and croakers were caught around the change of tide. Salmon continue to be caught from the Geographe Bay and west coast beaches, however big swells have limited the amount of fishing performed along the latter stretches. Herring seem to be in better numbers along the west coast. Squid catches have been largely dependant on the clarity of the water with better numbers of the cephalopods being caught along the seagrass beds off Quindalup when the water has been cleaner. Those putting in the effort, and prepared to burley and wait along the Four Mile Reef in 17 to 20m of water, have been doing well on pink snapper.
ALBANY:
When the weather has permitted the boats to head out, they have generally been doing well on red snapper, breaksea cod, queen snapper, harlequin fish, dhufish and pink snapper. A customer of Albany Rods and Tackle encountered good numbers of yellowtail kingfish and samson fish during a session last week. King George whiting have been a little hard to come by for the inshore punters. Some are suggesting to head deeper for the King George, so it may be worth spending some time searching for the prized species out the back of Michaelmas and Breaksea islands. Two Peoples Bay is producing heaps of plump sand whiting. A consistent stream of burley should result in a nice bag of herring as well as a few pike and skippy for good measure. Squid have been a little hit and miss with some scoring good hauls and others struggling to get among the cephalopods. Salmon have been turning up most days at Bluff Creek, Shelleys, Salmon Holes and Sand Patch. The far end of Nanarup has been seeing a few tailor caught early morning and on dusk. Black bream enthusiasts report bait to be the preferred option in both of the local rivers, which are mostly producing fish between 20 and 30cm. A few fanatics have been producing results on vibe-type lures and soft plastics. The odd mulloway capture has been reported from the Kalgan.
ESPERANCE:
Boat fishers report to be picking plenty of big nannygai in 40 to 80m of water. Samson fish numbers seem to be increasing as the water temperatures drop and there are still a few southern bluefin tuna around. Those targeting bread and butter species through the inshore waters have been coming home with some nice hauls of squid from the seagrass beds and whiting and herring from just behind the breakers. More herring and squid can be sought from the Tanker Jetty and Taylor Street Jetty with skippy to 30cm an addition at the latter structure. Bandy Creek boat harbour has King George whiting to 30cm, skippy, herring and flathead. There are still plenty of salmon being caught along the coast with Salmon Beach, Fourth Beach, Fourteen Mile, Eleven Mile and Roses among the better performing spots for the 3 to 7kg torpedos. Bigger skippy can be found at The Kelp Beds while Thomas River is worth a try for mulloway, shark and pink snapper.
GERALDTON:
Tailor have been turning up some mornings and evenings along the Flat Rocks to Greenough River mouth stretch as well as at Southgates, Separation Point, Pages and the beaches north of Drummonds. A few mulloway and school sharks have been coming form similar areas, however weed has made fishing weighted rigs very difficult. Good catches of whiting have been picked up at Point Moore, Separation Point, the back of The Lives and Drummonds. Bigger herring are also starting to turn up along the coast. Black bream around the 30cm mark are being caught in the Greenough River on baits and soft plastics. Reports from the Abrolhos Islands suggest there are plenty of Spanish mackerel to 15kg and yellowfin tuna between 10 and 20kg around. Big pink snapper have also been caught in the shallows off Southern and Easter groups.
KALBARRI:
A 75cm Australian salmon was surprisingly caught from the town jetty last Wednesday. Salmon seldom venture north of metropolitan waters, which makes this capture perhaps one of the most northern salmon catches ever in the state. Frank Rystenberg caught two tailor of 5.4kg and 4.6kg on mulies while fishing for mulloway at an undisclosed shore-based location on Saturday morning. Tailor between 35 and 55cm have been coming from Wittecarra and Red Bluff early morning and evening. The calm mornings are seeing good concentrations of garfish at Red Bluff together with a few herring. Mulloway have been caught from the discoloured water at the river mouth. Expect pink snapper and mulloway to be lurking within casting range of the cliffs following the recent big swells. Mostly black bream, chopper tailor and soapie mulloway have been caught in the Murchison.
EXMOUTH:
The boats trolling bibbed minnows along the back of the reef line have been picking up Spanish and shark mackerel and the occasional wahoo. Small black marlin and sailfish continue to be encountered in reasonable numbers in depths starting at 100m. Red emperor are starting to be caught in depths as shallow as 20m. Rankin cod and spangled emperor have also been picked up in similar depths while the 80m lumps and deeper have been better for goldband snapper. Shore-based fishing along the lagoon accesses has been good for queenfish, trevally and small spangled emperor. Yellowfin whiting remain in good numbers along the gulf beaches while the seagrass beds between the marina and Learmonth are holding plenty of squid.
BROOME:
Sailfish continue to be found around the bait schools about three miles off Barred Creek. Spanish mackerel are also being caught there together with longtail tuna and a few cobia ranging from 10 to 30kg. Those targeting reef fish have reported to be catching plenty of chinaman cod along with rankin cod, blue lined emperor and coral trout. Some nice mulloway have been picked up along the drop offs in Roebuck Bay, which is also fishing well for threadfin and bluenose salmon. Gantheaume Point is worth a try shore-based for Spanish and school mackerel. The jetty has queenfish, trevally and bluebone showing up, especially at the change of tide. There are still a few barramundi being caught in the Fitzroy at spots including Langis Crossing and Telegraph Pool while the local creeks have been providing some entertaining mangrove jack sessions.