Police catch driver rolling joint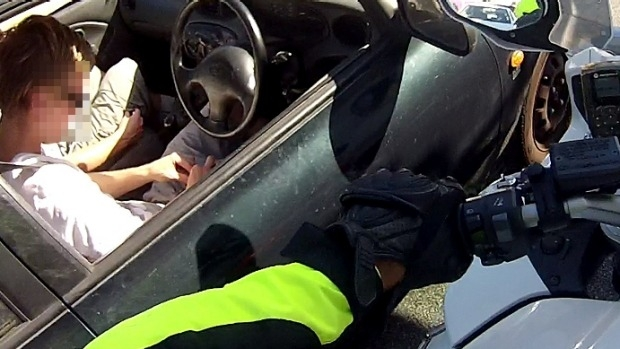 This Perth driver allegedly rolled a joint in front of a motorbike cop.
Police have released photographs of two people who would appear to be putting the "silly" into silly season.
The photos were taken from helmet cameras worn by officers on unmarked police motorbikes the week before Christmas.
In one image, a driver is captured rolling what police believe to be a joint, in full view of the officer next to him. The other depicts a female driver, who had allegedly just taken a "selfie" and was about to email it to a friend.
An alleged selfie earned this woman attention from the folks in blue.
The people in the photographs were two of hundreds caught by police acting irresponsibly on Perth roads in lead-up to Christmas.
While police have not provided specific details about the photographed incidents and what fines the people might have received, police spokeswoman Susan Usher said the motorcycle traffic enforcement group had issued 324 driver distraction infringements, three briefs and 19 cautions.
Ms Usher said of those, 177 infringements were issued by unmarked motorcycles and 147 were from marked motorcycles.
Double demerits points apply for a number of driving offences until January 4.