WA's Favourite Local – The Karalee on Preston
I tend to measure the worth of a restaurant by whether or not I'd travel back for a particular meal, (and yes I'm aware that Michelin thought of this idea first) so I tend to get a little over-excited when I find a new travel-worthy dish. And boy oh boy does the Karalee On Preston in Como have a dish I'd jump in my car to journey south for! Now you might be thinking I'm talking about the Karalee's award-winning steak sandwich (for which it's campaigning for WA's Best Steak Sandwich again this year) but I was stoked to discover another treat on the menu that sings and adds to the charm and worth of this pub as a must-visit venue.
The service here is at a level you'd expect at a fine dining establishment. The staff members were present, helpful and really knowledgeable about what they were offering. They also all seemed to genuinely care about our experience, asking the right questions and managing to be there when you needed them for a top up of water or a new napkin, but not hovering. The locals around us seemed to have connections with the staff which can sometimes feel lacking so I can see why lunchtime is so busy. There's a sense of belonging that seems to wash over you as you walk in, and I have to put this down to the efforts of the charming staff members, its nice open-plan dining area with plenty of tables and a wrap-around bar with plenty of pull-up chairs.
Now to the important stuff – the grub!
The steak sandwich's reputation precedes it and definitely makes an impact when it's put down in front of you. Now I was dining with a bit of a steak sandwich purist who, while he enjoyed it, found the combination of flavours slightly overwhelming. The twist on the Karalee's steak sandwich is the replacement of bacon, with pork belly. It's definitely impressive, and if you're after a different take on a classic dish it's a must try.
But while we're on the subject of pork belly, the hidden superstar on the menu is the sticky glazed crispy pork belly, served with mash, plum sauce and Asian greens. I simply have not had a better pork belly dish in my life. Ever. The pork belly was perfectly executed, with a delicious crispy outside and a moreish, moist inside. I'd drink the plum sauce if I could, it was that good and the veggies were precisely steamed. I'll be dreaming about this dish for a long while and I can't wait to get back and try it again.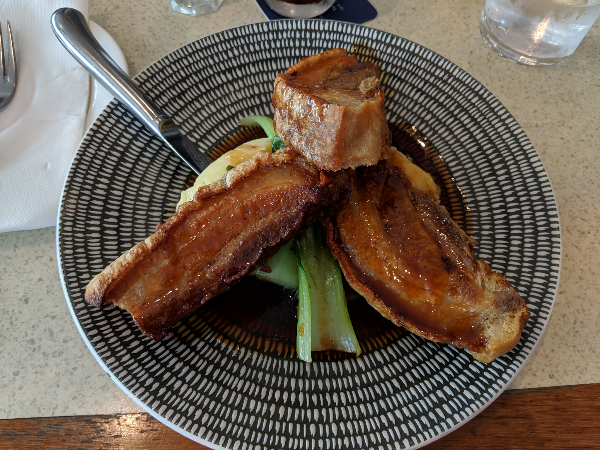 If you think a kilo of chilli mussels sounds like a lot… it is. But it's an easy challenge given how good these beauties were. This classic dish hit all the right notes with plenty of open shells full of plump morsels covered in a punchy rich sauce. It's served with char grilled sour dough – perfect for mopping up the flavoursome sauce at the end. It would be a shame to waste it! The wait staff keep a close eye, bringing over an extra bowl for the shells as soon as one fills up. Now that's service!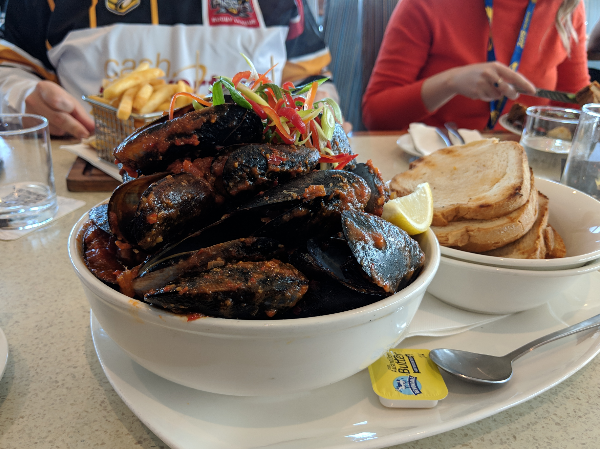 Price-wise you're probably going to pay between $26 to $36 for a main, with extra steak options and a few salads to go with. It's certainly on the pricier side, but I think portion and quality-wise it's worth it. The meals we had were worth every dollar.
Overall the menu is really solid, and really crowd-pleasing. I can imagine bringing the family to the Karalee for a birthday dinner and having everyone find something they'd like. They also manage to nail that 'pub' vibe but still feeling a little bit fancy. Lunchtime when we went was packed, with plenty of tables reserved for good reason but if you want to plonk yourself at the bar to watch the footy with a pint on a weekend evening, you're just as welcome. The wine list is thoughtful and varied. There a good options for wine drinkers with glasses and bottles available across plenty of drops. Beer drinkers will enjoy the long list and they've recently added a new cocktail menu to boot!
I'm really struggling to think of a reason not to get back to the Karalee On Preston and I encourage you to head down there soon.
The Karalee on Preston – 25 Preston Street, Como
Score 19/20
Alby – a smooth, refreshing and easy drinking West Australian lager by Gage Roads
Download this podcast here