WA's Favourite Local – The Duke Bar & Bistro
The words 'British pub' don't necessarily make my heart soar when I hear them outside of the UK. I tend to think of heavy woods which don't welcome heat and soggy snags in mediocre mash. So you can imagine my delight when I walked into the open, comfortable and thoroughly modern restaurant area of The Duke Bar and Bistro in Carramar. This establishment bills itself as a 'modern' British pub and it definitely is modern. It's as stylish as you could expect a suburban pub to be with enough nods to its theme that will even the strongest case of homesickness is sure to be placated for our recent arrivals from the 'motherland'.
Whether you're after a comfortable family meal in the table-service restaurant, a more relaxed experience in the bar and alfresco or a bit of fun in the sports bar with TAB facilities, The Duke has plenty to offer and doesn't compromise in any respect.
We went for a quiet Tuesday night dinner and were blown away with the friendly and helpful staff members who were happy to ask what kind of meal we were after and make sure we were in the right spot for what we wanted.
The menu is full of classic pub food but it's not overwhelming in any sense. It's varied but you're not going to feel like you can't make up your mind. Non-negotiables like steak sandwiches, pizzas and fish and chips are all plentiful as well as a few extras like a roasted pork belly, prawn linguine and a stand-alone chip menu made me want to start planning the next visit. Considering we were at a British pub we wanted to make sure they could do the Aussie classics well! Before our steak sandwich and Hawaiian parmi (Tuesday is $15 parmi night) we tucked into a plate of fresh, succulent chicken wings. The blue cheese sauce had heaps of flavour and Frank's hot sauce certainly packs a punch!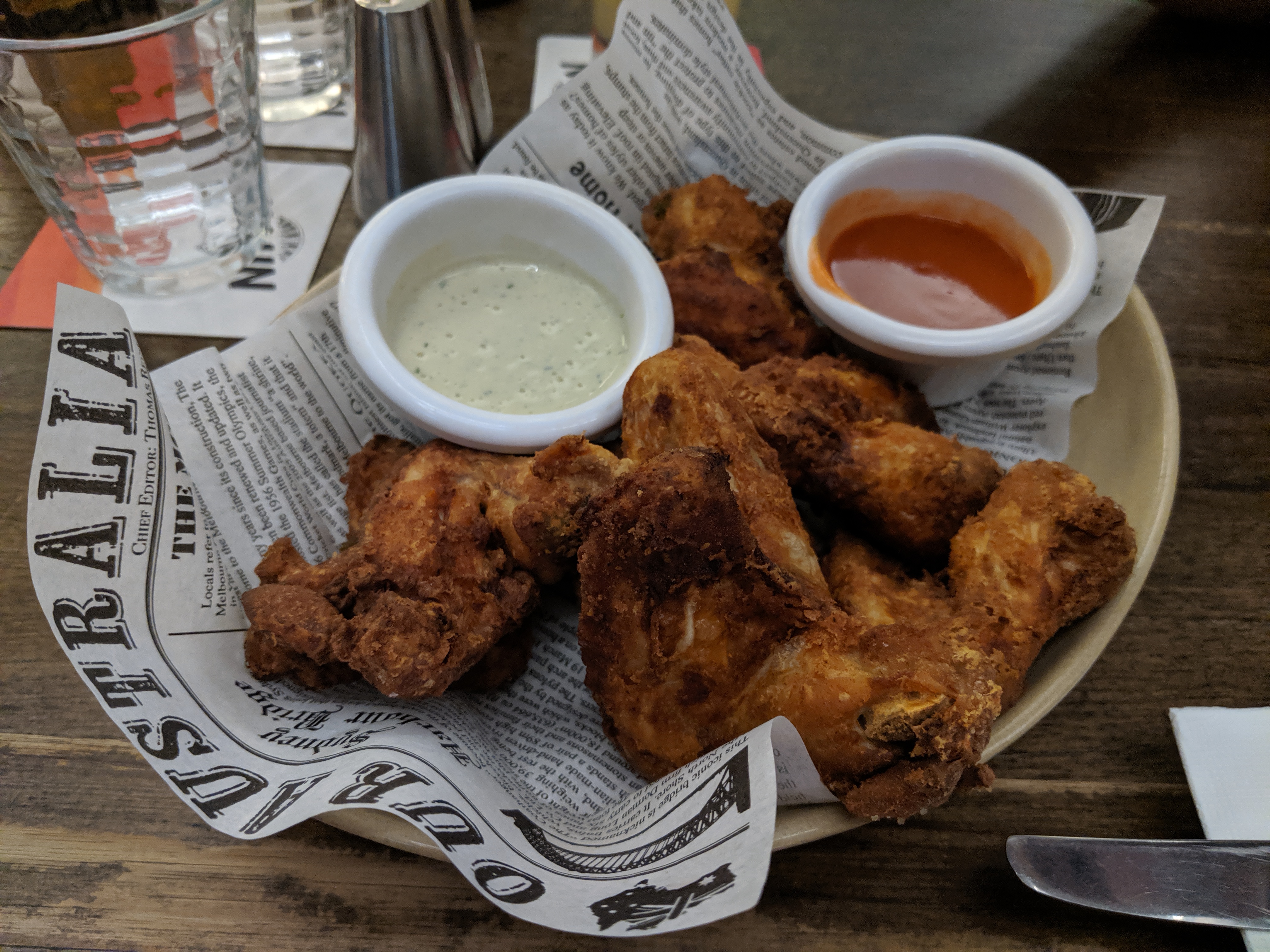 The main event was a real treat. The steak sandwich was the best I've had for a while. While it's not the world's most photogenic sandwich it makes up for it with really lovely caramelised onions, good sauce/ingredient proportions and steak that is a star, not an afterthought. The Turkish panini was lightly toasted but still had its moistness so you don't end up with that horrible feeling on the roof of your mouth afterwards and it held itself together well.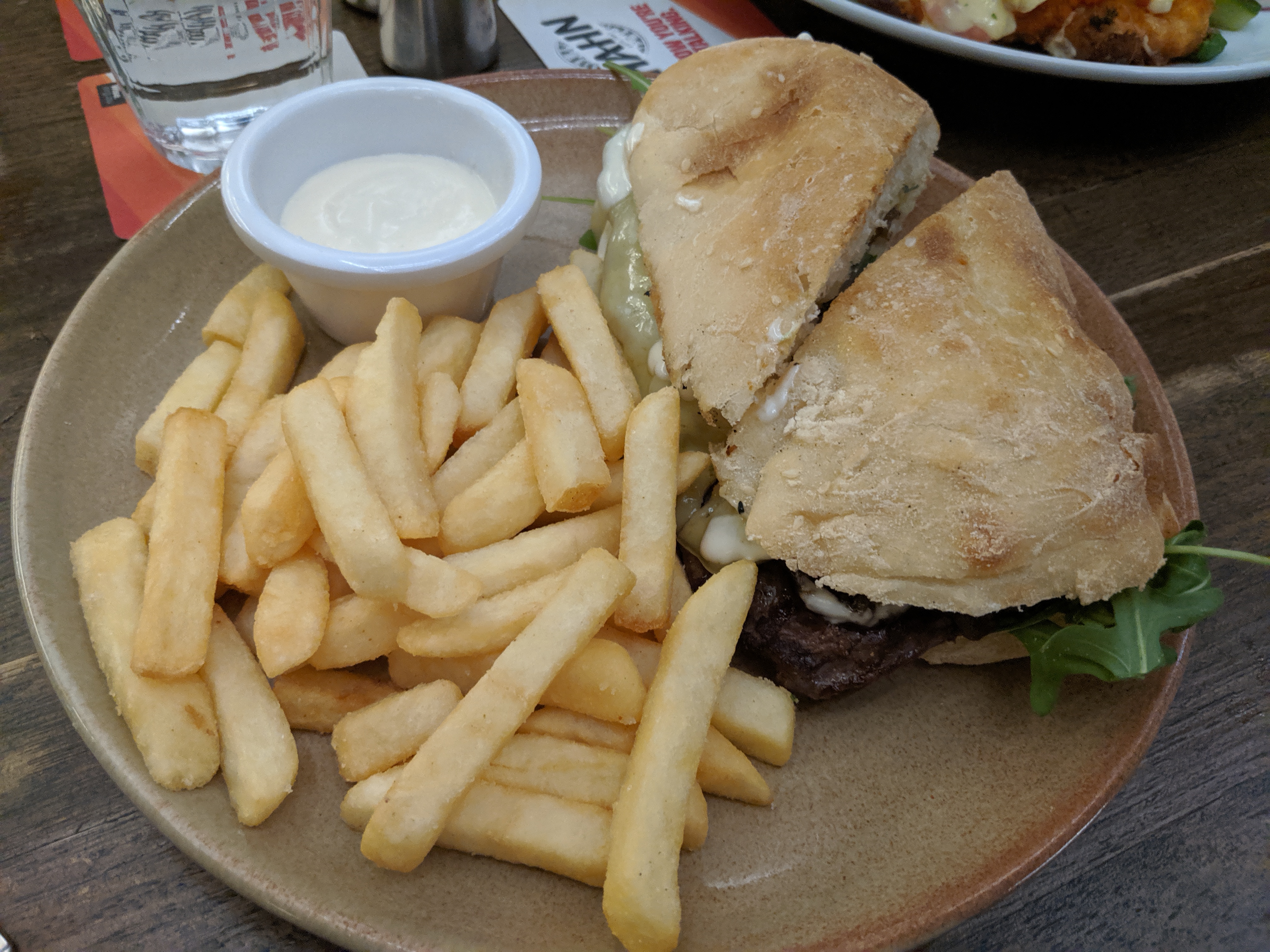 There were three options for the parmi (or Parmy as our British friends like to call it) which was a nice surprise and we picked the Hawaiian from the tradition and buffalo. It's hard to go wrong with a parmi and this one was no exception. Flavoursome and big, the canned pineapples were overlookable given how nice the combination of the ingredients were!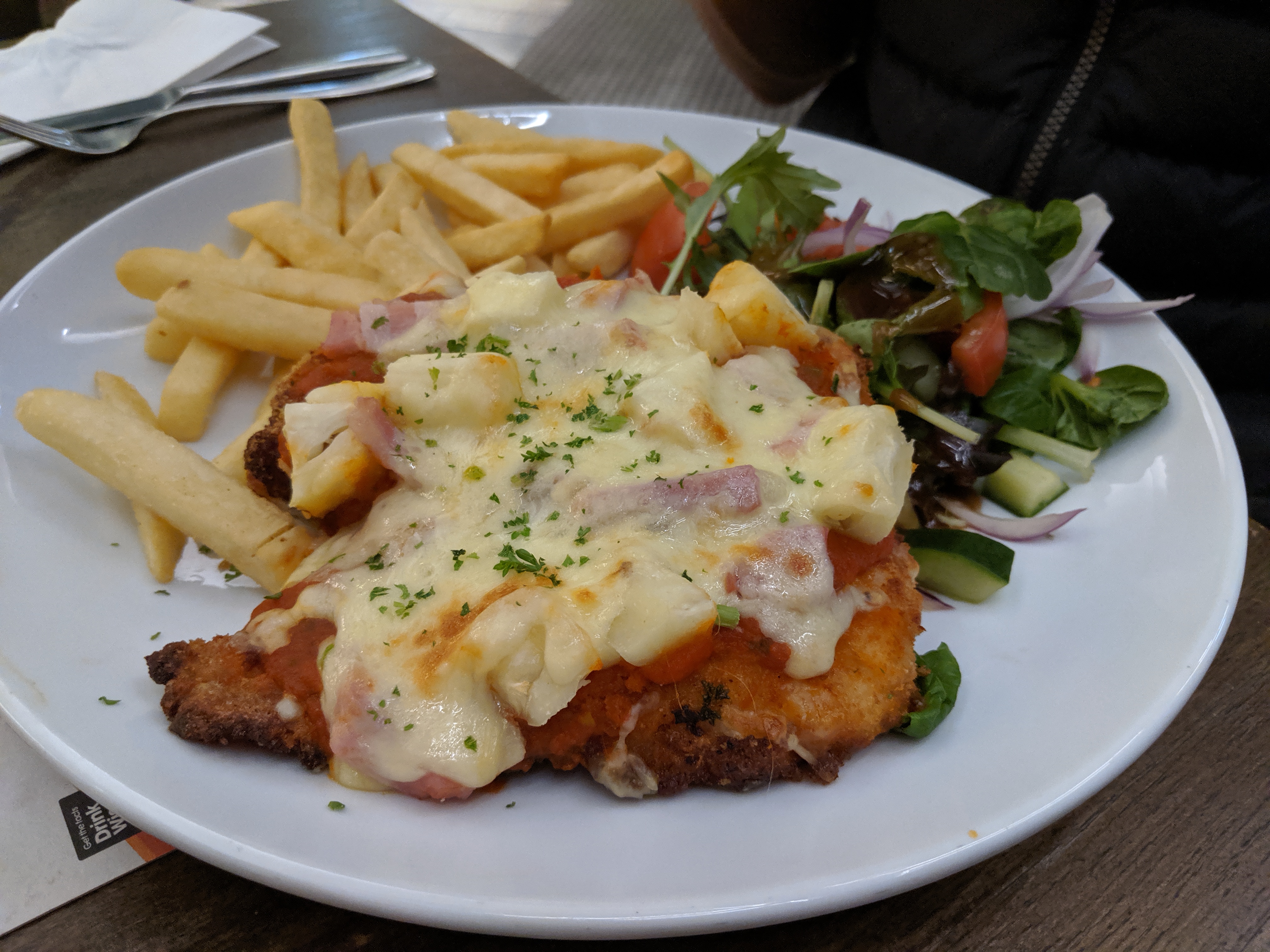 Dessert was an apple, berry and macadamia crumble, which was tasty and steaming hot with a delicious vanilla ice cream as well as that classic British accompaniment custard. Overall we were really happy with our food and would happily head back for another meal.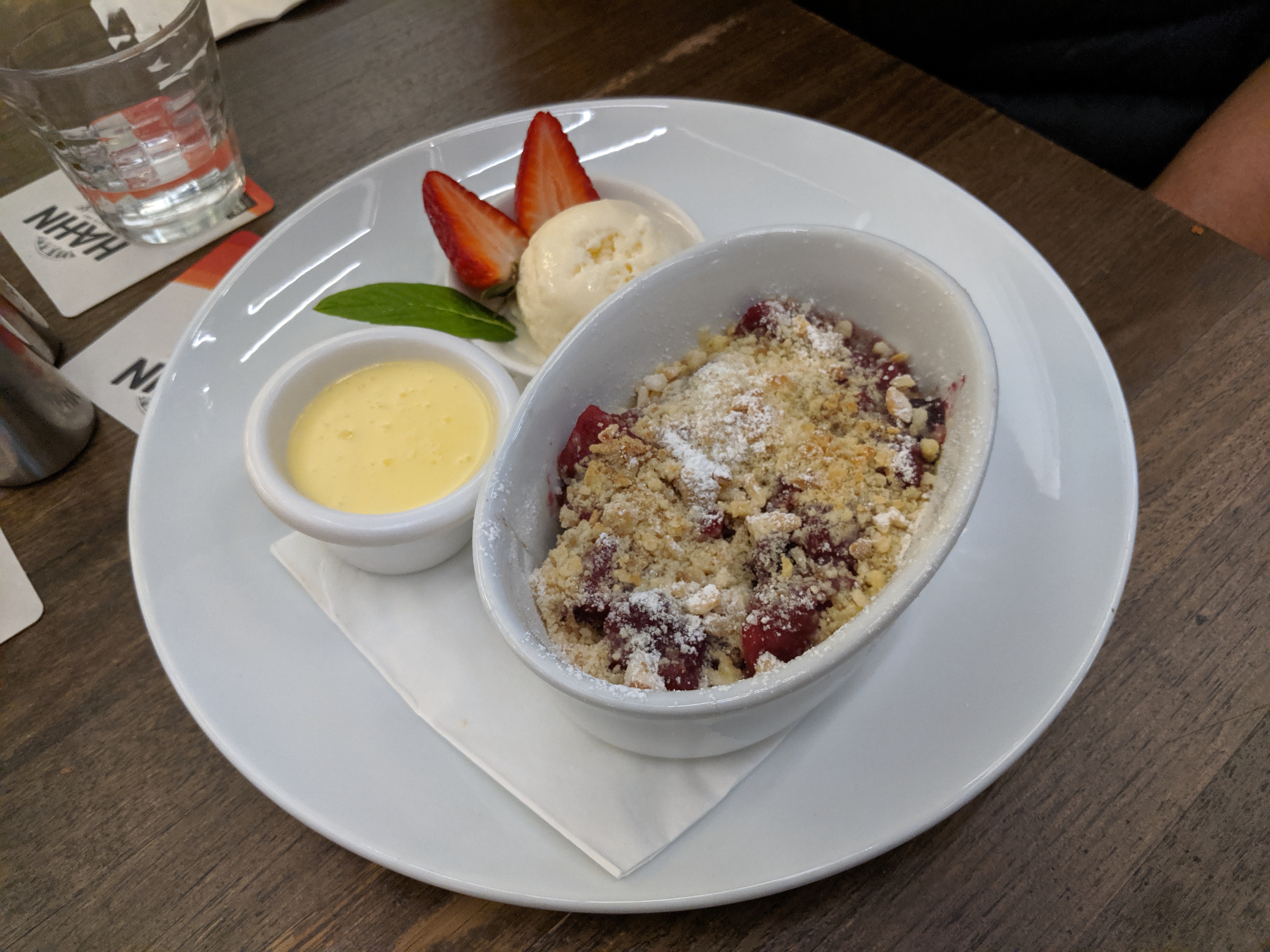 The drinks list is a real treat. You've got your usual suspects on tap plus all the hipster bottle expectations like Matsos, Rekorderlig and Pimms! The wine list is strong with plenty of Aussie drops, a few European reds and even Moet and Chandon by the bottle if you're celebrating! The real star though? The Duke's Signature G& T Range! Pick from Tanqueray Rangpur & Fever Tree Indian Tonic (with strawberry and basil) all the way through to Gordons Pink with Elderflower Tonic (with cucumber and raspberries) or mix and match to your own taste! There's also a nice looking cocktail list so maybe catch a cab and have a good sample!
I was really impressed with The Duke Bistro and Bar, my only regret was that we missed Andy's Old School Quiz which was happening in the sports bar! I can imagine lots of different kind of catch-ups happening at The Duke – big family meals (book ahead because I imagine it gets pretty popular), date nights in front of the fire in winter or in the sun in the alfresco in summer, or a mid-week knees up in the sports bar or a game on the weekend. This is a well thought about pub and frankly I'm jealous of the locals who have it around the corner!
The Duke Bar & Bistro – 2 Innesvale Way, Carramar
Score 18/20
Download this podcast here