WA's Favourite Local – Public House Kitchen & Bar
I'm not really sure what the area where Adelaide Terrace begins 'is'. There's the Concert Hall nearby, plenty of apartment buildings and lots of commercial offices as well. With that in mind I wasn't sure what the clientele would be for Public House Kitchen & Bar which you'll find right on the corner of Adelaide Tce and Victoria St when I headed there for a midweek meal on a Tuesday night. What I found was a comfortable, on trend and all-round decent inner-city pub. I can see how they've tried to make the venue comfortable for all kinds of visitors – the bar tables with stools out front for the after-work crowd, the comfortable dining area for concert-goers or relaxed diners and the break-out area at the back (which was hosting their midweek trivia which seems to be a bit of a trend for me and these reviews!).
It'd been a long day so we were ready to eat and started off with two starters – the salt & pepper squid and the char siu pork bao buns. The former was basically what'd you'd expect from a decent pub – squid seasoned well with a thought-about salad. Not life-changing but not bad in any sense.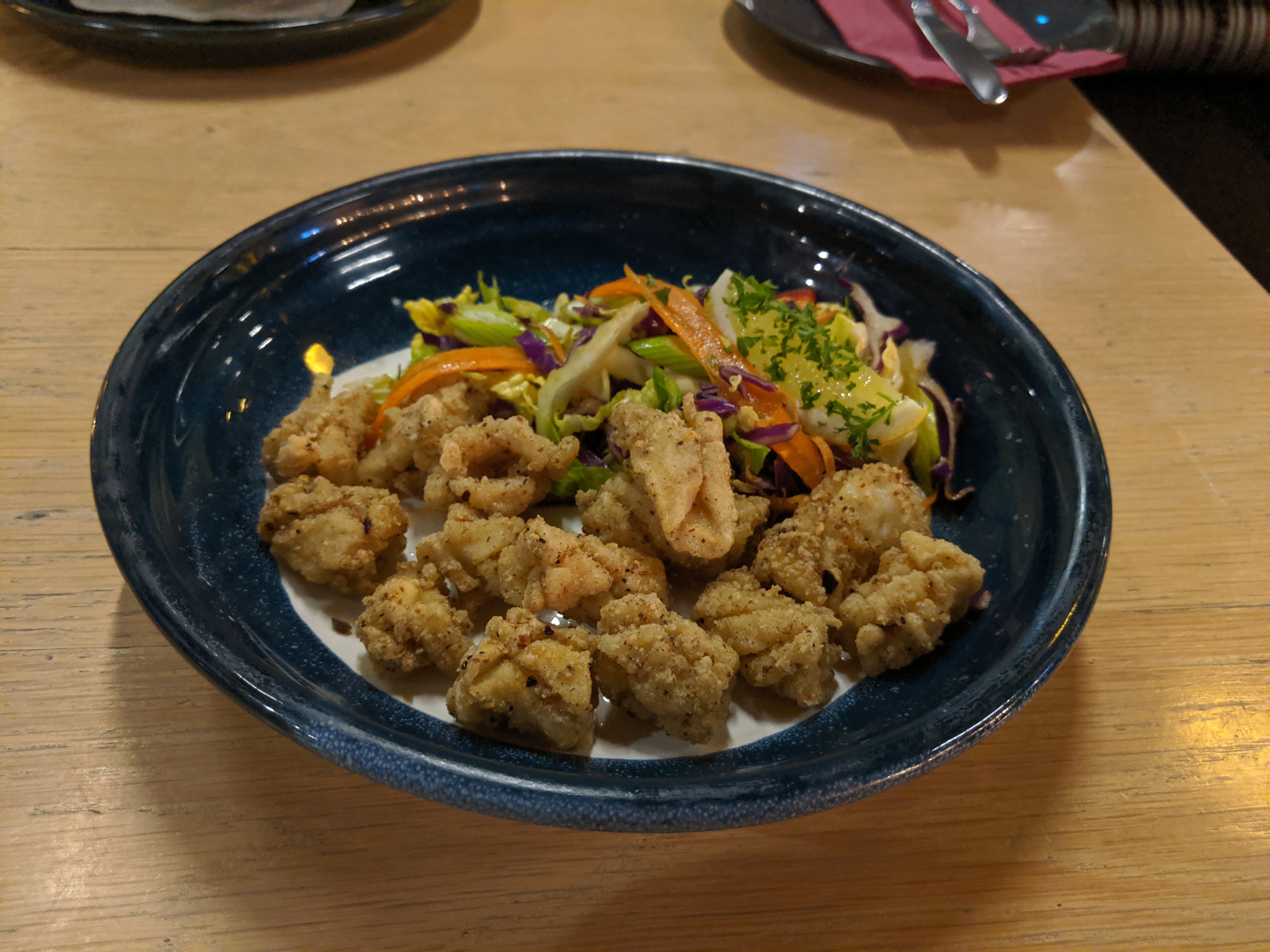 The bao buns were a treat. Ladened with kewpie mayo and slightly pickled cucumber and carrots the flavours were balanced beautifully. Bao can sometimes be a bit one-dimensional but not here. I'd head back to smash a few of these after work again in a heartbeat!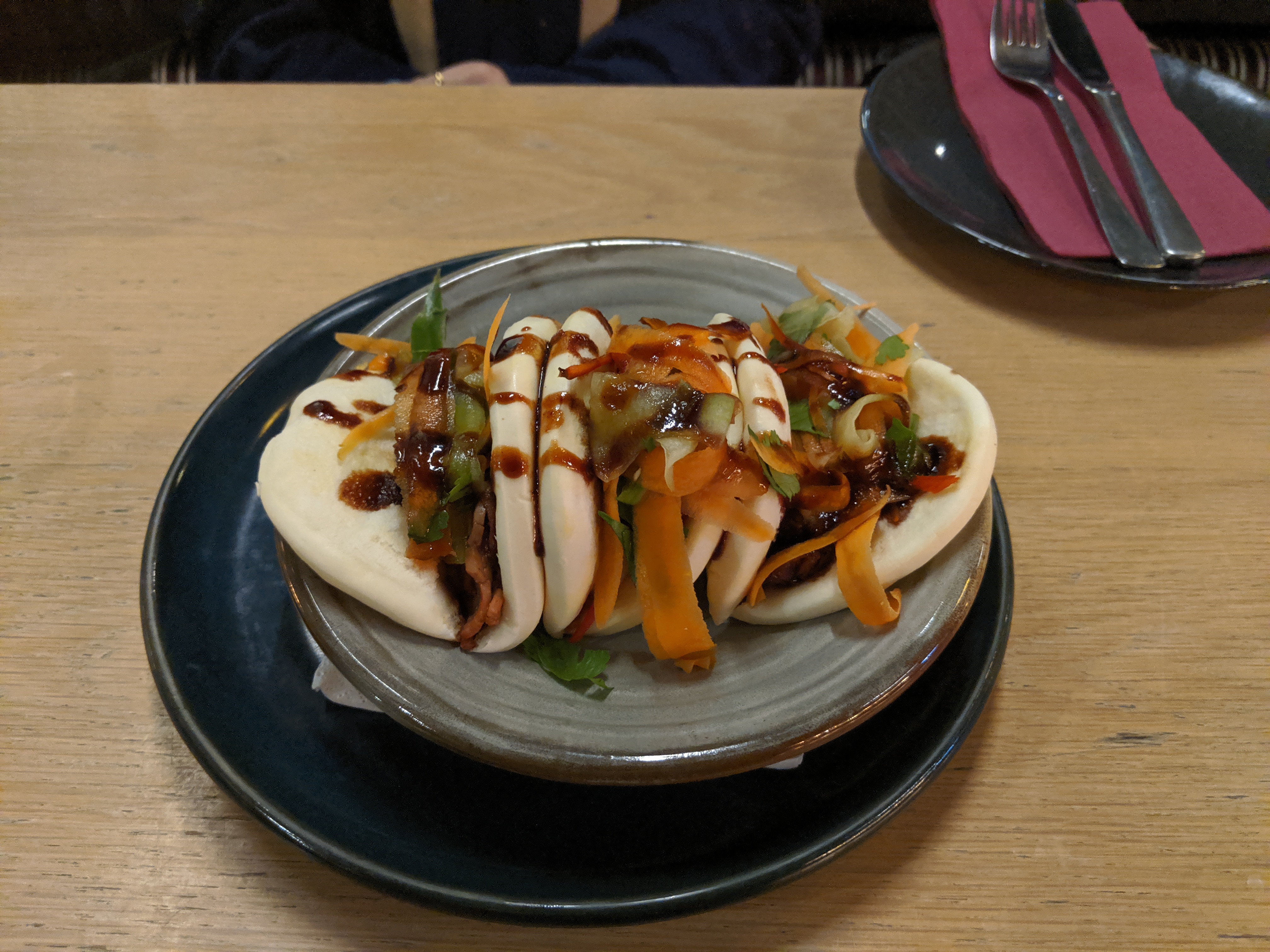 For mains we went classic – the steak sandwich and the grilled Tasmanian salmon. I'm a steak sandwich traditionalist as regular readers of WA's Favourite Local reviews will know and I was pleased to find another strong contender at Public House. The steak was cooked beautifully, was melt in your mouth and full of flavour. The bun was crispy on the outside but beautiful and moist inside and didn't fall apart too quickly. I'm also a chip snob and sadly the accompanying chips were a little smidge underdone but seasoned really well. Give them a better chance to crisp up and you're onto a winner.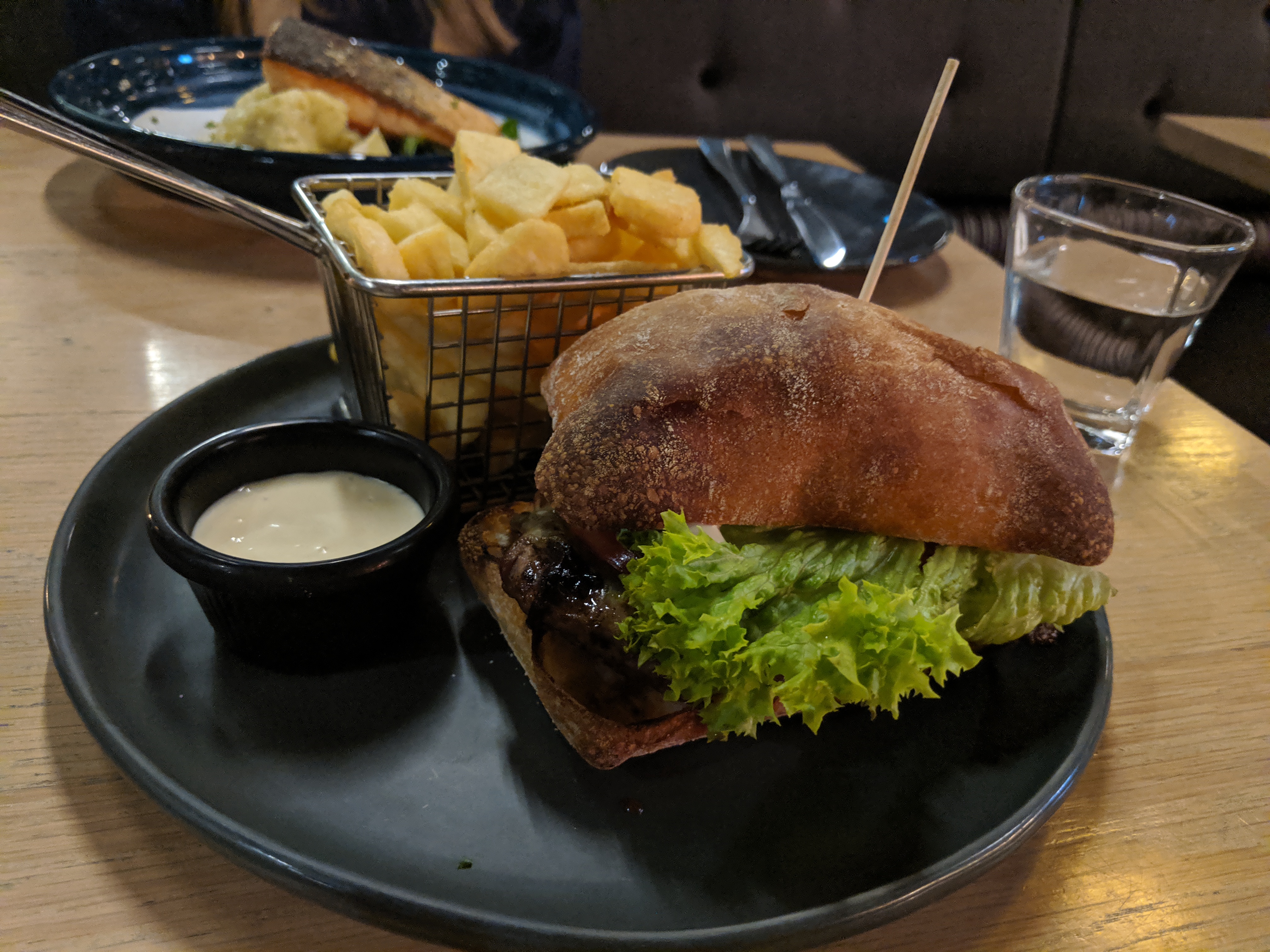 The Tasmanian salmon came with the biggest mound of lemon and fennel risotto you've ever seen which sent me into a bit of a carb-panic but it was a tasty mound! The salmon dish is on the 'fill you up' section of the menu so makes sense there was so much rice, but the salad with it was thought-about and the salmon was cooked to bloody-well perfection. Lovely and crispy on the outside but with the inside giving plenty as well.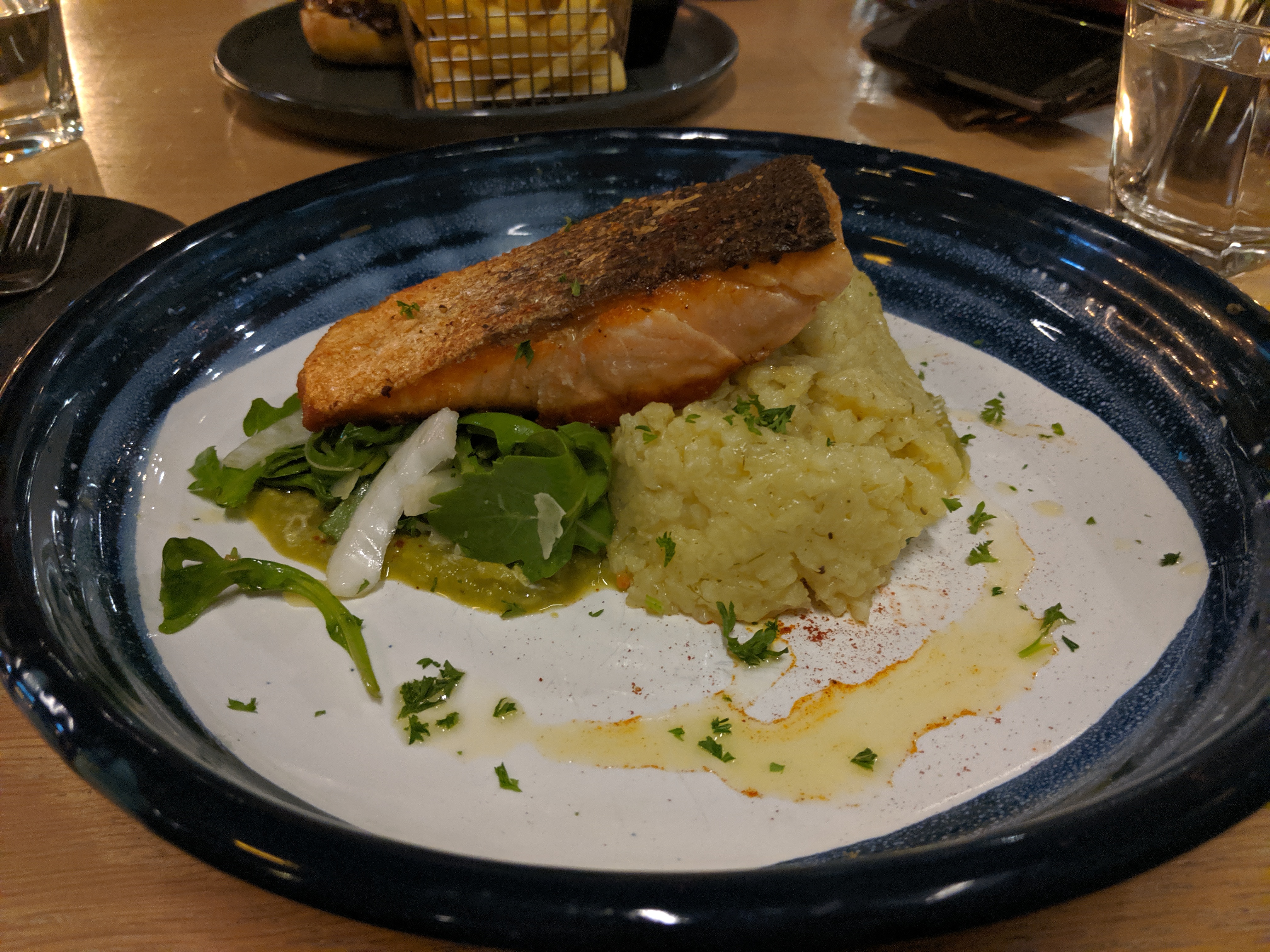 What I particularly enjoyed about the menu was that it's sorted into distinct categories so whatever visit you're having, you're going to find a dish that'll sort you out. The 'start you off or 'something light' section would be enough if you want something with your beer or a light lunch, but there's plenty to choose from 'hold on tight' or 'fill you up' if you're after a proper meal. There's even a few dishes to choose from if you're after dessert.
I enjoyed the service – quick, friendly and not too needy. But they cared about us and I felt like I was looked after. The presentation of the space is really comfortable but not daggy in anyway. I liked the fact that you could really pick whatever area you wanted for whatever kind of meal you were going to enjoy. It's sliiiightly upmarket in terms of the drinks menu. There are lots of local and Aussie beers on tap the hipster in your team will enjoy like Pirate Life and Feral but if you're after battler's beer I wouldn't hold your breath! They don't have the world's longest wine list but the fact that you can get a Rumble in the Jungle cocktail with Kraken rum made up for that for me! They offer pitchers of cocktails as well so I really feel like this is a good place to come with your mates (work or otherwise!). Make a night (or long lunch) of it and go and enjoy a solid, reliable and friendly inner-city pub!
Public House Kitchen & Bar – 263 Adelaide Tce, Perth
Score 16/20
Alby

 – a smooth, refreshing and easy drinking West Australian lager by Gage Roads
Download this podcast here