WA's Favourite Local – Bathers Beach House
There's not many places in Perth that are right on the beach with seating just metres from the water. Bathers Beach House is just the place to get your feet sandy while sipping on a cocktail and enjoying WA produce at its finest.
A variety of seating options are available inside and out, all with ocean views, but it's the coveted beach lounges that diners will really want to nab.Each pair of lounges is right on the beach all with full service. It's very Cafe Del Mar-esque with a touch of The Hamptons.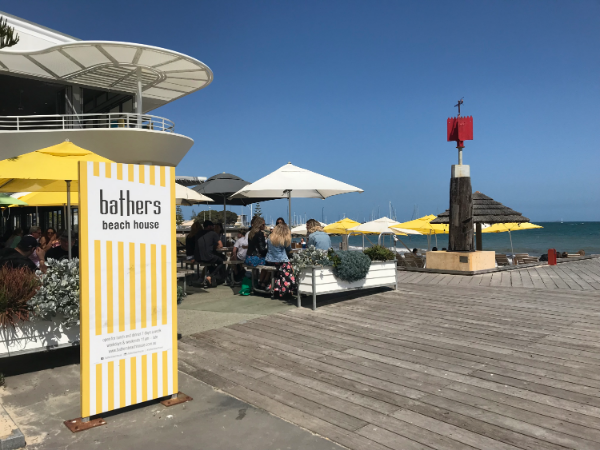 The menu lends itself to sharing with plenty of seafood featured. It's fitting for the setting. Customers can expect to see small plates like local occie, buttermilk chicken bites and whiting tacos. Those who don't share or want something more substantial have plenty of large plates to choose from that vary from pasta, fish and chips steak, slow cooked lamb and burgers. Grazing boards, including an impressive seafood platter are a good option to try a little bit of everything.
Salt and pepper squid would have to be up there as one of the best in town. None of that frozen stuff here with curls of lightly crumbed squid cooked until just done. Talk about melt in your mouth! A chilli lime aioli made for a great dipping sauce.
A trio of kangaroo skewers showcased chef's ability to use indigenous ingredients. Salt bush and macadamias with medium-rare char-grilled roo – magic. The pumpkin jam added a sweetness that really set this dish off.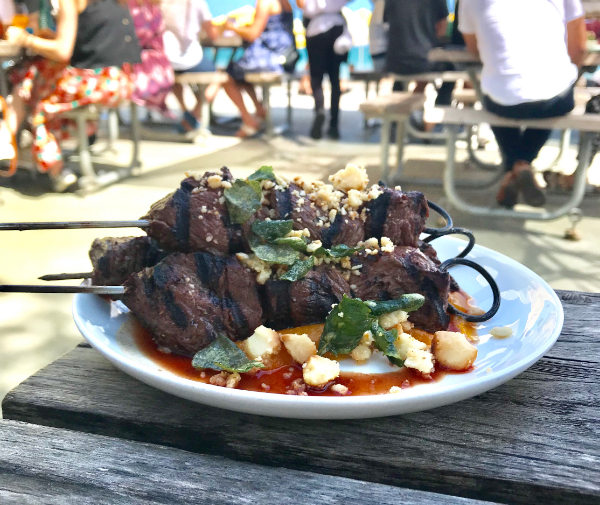 Kingfish ceviche came served with a pickled cucumber vinaigrette, puffed wild rice, grapefruit and bottarga. While the dish was fresh, the star of the show should have been the kingfish, instead it was overpowered with a pile of parsley.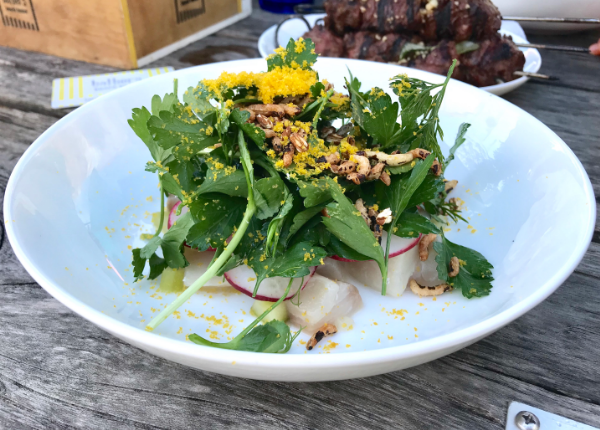 The burger didn't look like much on the plate but it hit all the right notes. A well-seasoned meat pattie served pink came with bacon aioli, egmont cheese, dill pickle, caramelized onion and the usual salad on a soft lightly toasted brioche bun. And in yet another tick for keeping things local – chips are made from Manjimup potatoes.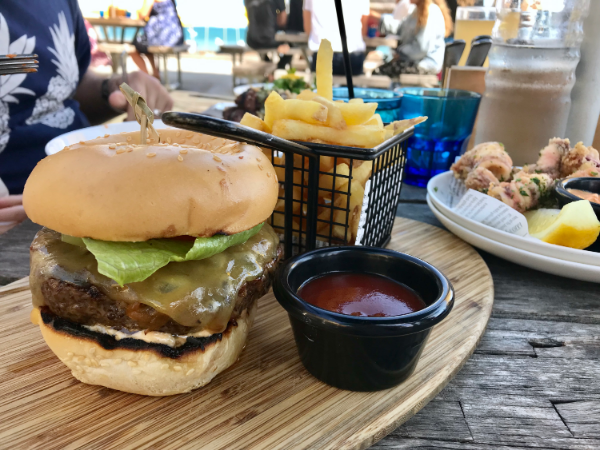 Wines are predominantly West Aussie with plenty of options by the glass. It's the same story with the beers. Loads of local craft beers on tap with the mainstream brewers in glass. Their commitment to showcasing WA craft brewers is impressive; what a treat to get a pint of Gage Roads Alby or Nowhere Man lager right on the beach in Freo.
Bookings are a must if diners want to grab some prime beach real estate here. Whether it's a catch up with your mates, a date or lunch with the fam, Bathers Beach House is a top pick.
Bathers Beach House – 47 Mews Road, Fremantle
Score – 18/20
Alby – a smooth, refreshing and easy drinking West Australian lager by Gage Roads
Download this podcast here