Sustainable Seafood Pasta
Renowned Perth chef Caroline Taylor has joined the Weekend Brunch team to inspire you in the kitchen.
Every Sunday at 11.30am Caroline will whet your appetite and give you the confidence you need to try a new recipe or two.
This week Caroline was joined by Phillip Clark,  Fins Seafood Owner to discuss all thing seafood.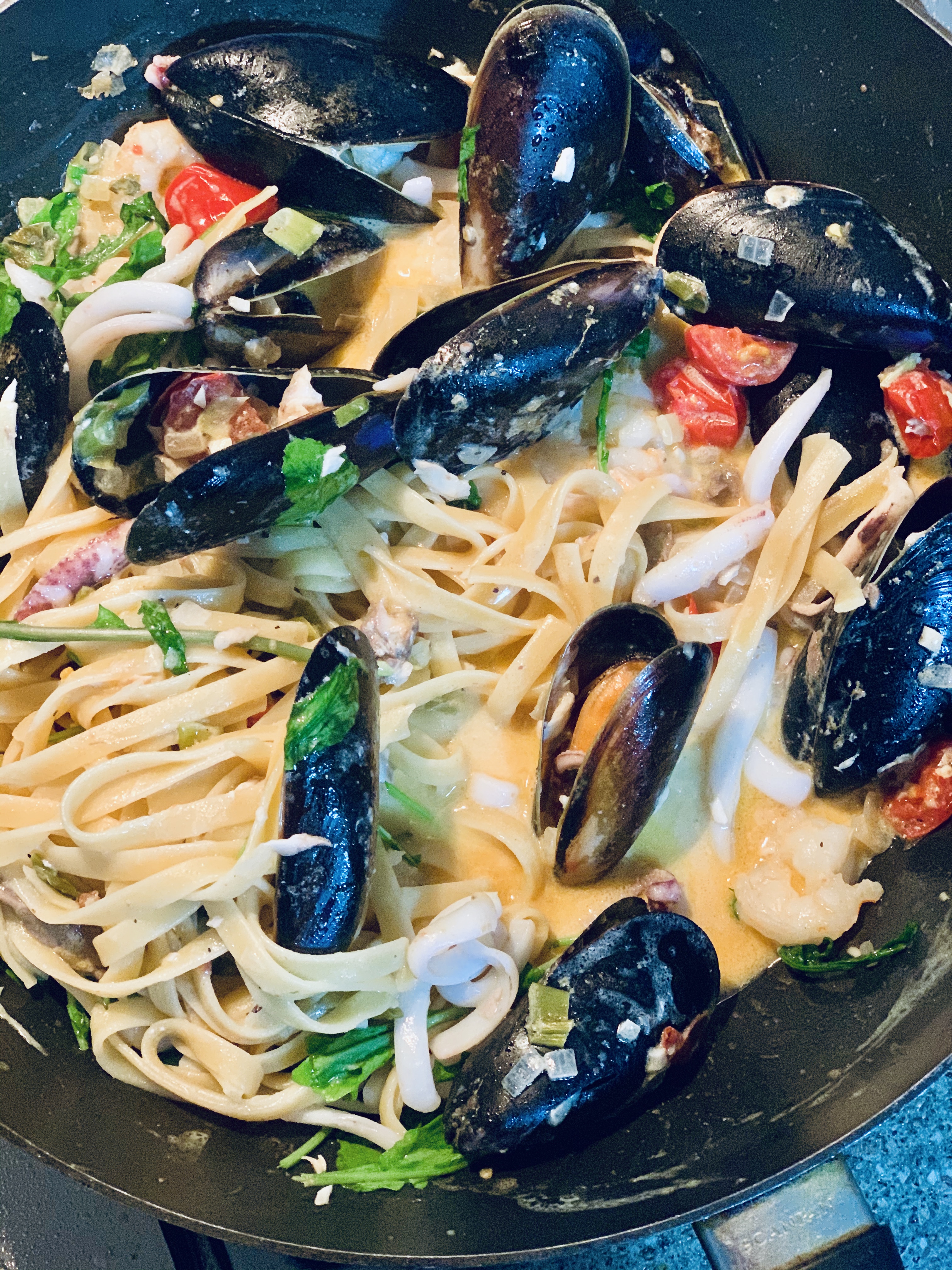 This weeks recipe
Sustainable Seafood Pasta
Serves 4
2 cloves fresh garlic (local if you can)
150g butter
200ml olive oil
1 brown onions, diced
200 ml whipping cream
1 zucchini, diced
250g MSC W.A prawns, peeled
200g squid or cuttlefish
2 fillets mullet, smoked or fried then flaked
300g W.A mussels or clams
1 punnet of sweet cherry tomatoes
1 packets of spaghetti, your preference is fine
2 kaffir lime leaves julienned finely
1 handful of fresh tarragon and garlic chives, finely diced
2 limes to garnish
salt and pepper to season
Method
Put a large pot of salted water on to boil
Prepare the seafood separately:
– Season and grill the mullet fillets, flake and set aside.
– Grill the squid and prawns in a little butter and garlic, set aside.
Sauce:
In a seperate large fry pan or wok, heat the remaining butter and oil until sizzling sautee onion, garlic until translucent then add the zucchini– cooking for 2 minutes, then add cherry tomatoes and cook for another 1 minute.
Add white wine, reduce for 2 minutes add cream and reduce for 4 minutes, season with salt and pepper.
Place spaghetti into the boiling salted water, cook from packet directions, drain, set aside and keep warm.
To serve:
Add mussels to the cream sauce and place lid on to steam for about 1-2 minutes, (they are done when they open), add pasta, prawns, squid and flaked mullet, then fresh tarragon and garlic chives.
Mix well and dish out evenly to 4 different bowls
– Finish with finely julienned kaffir lime and lime cheeks
Download this podcast here