Chef Matt Leahy's winter warmers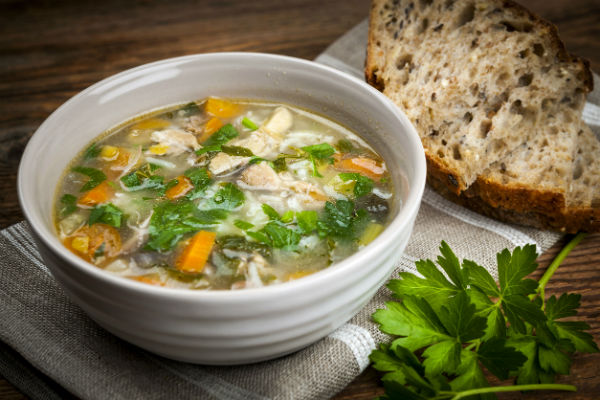 We're coming into cold and flu season… and if one of your loved ones is struck down with a nasty virus, Chef Matt Leahy, of Ultimo Catering, has a tried and true remedy.
A hearty chicken soup is the ultimate "get well soon" food and Chef Matt's take on the classic could be just what the doctor ordered!
Get Well Soon Chicken Soup
For the stock
1 whole, small-sized chicken
2 large onions, finely chopped
1/2 tablespoon chopped sage
1 teaspoon chopped thyme
1/2 tablespoon apple cider vinegar
1 large carrot
1 large stick of celery
For the soup
2 litres of chicken stock
400g shredded chicken meat
120g crushed tomato
150g finely chopped celery
150g finely chopped carrots
2 – 5 cloves garlic minced
1 tablespoon finely grated ginger
1 teaspoon finely grated turmeric
40g finely chopped parsley
40g finely chopped fresh coriander
200g green lentils, pre cooked
Seasoning
Method
For stock
Prepare the stock by placing the whole chicken in a large stock pot with the herbs, vegetables, onions and vinegar. Cover with cold water.
Cook at a strong simmer, partially covered, for roughly 90 minutes. The chicken will be ready when the meat starts to separate easily from the bone.
Remove the carrots and celery from the cooking pot and discard. Drain liquid from the meat and set aside. Separate the meat from the bone and set aside 400g of shredded chicken for your soup
Measure out your stock – you should have roughly two litres. If you have more, you can reduce the liquid. If you have less, just add additional water.
For the Chicken Soup
Add the finely chopped celery, carrots and a dash of olive oil to the bottom of a cooking pot on a medium heat. Let it simmer for 3-5 minutes or until the vegetables soften.
Add your stock to the cooking pot, together with the crushed tomato, chicken meat and pre cooked lentils. Bring to a gentle simmer and cook for 5-10 minutes or until vegetables soften further.
Add the garlic and spices and simmer for another minute or so. Season well. Remove the pot from the heat and stir through the coriander and parsley. Serve immediately.
Listen to the full segment below:
Download this podcast here